This post may contain affiliate links. Please see my disclosure page for more details.
Last Updated on: 19th September 2021, 06:21 pm
Cambodia's capital city has some impressive sights to behold. Extravagant buildings, some of which make up the King's residence, markets selling interesting goods, and historic sites that reveal Cambodia's dark history.
Although many tourists travel to Cambodia to see the magnificent Angkor Wat, amongst the most popular things to do in Siem Reap, Phnom Penh definitely should not be skipped. This underrated tourist destination has so many important things to see, and here's how to see the most important sites with just 2 days in Phnom Penh.
Follow this Phnom Penh itinerary on your next trip to Cambodia.
Can't read now? Pin for later!
My Favorite Travel Booking Sites for 2023
These are my favorite companies that I use on my own travels.
Protect Your Trip via Safety Wing
Find the best city tours, day tours, bus tours, & skip-the-line tickets on GetYourGuide and Viator.
Find the best deals on hotels & vacation rentals on Booking.com.
For English-speaking private airport transfers, book through Welcome Pickups.
For road trips and independent travel, rent a car through Discover Cars.
Find information and cruise reviews on Cruise Critic.
For packing and travel essentials order via Amazon.
Book an affordable family or romantic photography session on your trip through Flytographer (Use the code HISTORYFANGIRL for 10% off your first photoshoot).
For travel guidebooks to have with you during your trip, I always pick one or two from Rick Steves and Lonely Planet.
Phnom Penh Itinerary: Day 1
Here's how to spend your first day in the city.
Pay a Visit to The Killing Fields of Choeung Ek
Saying Cambodia has had a tough history is an understatement. The Pol Pot-led regime lead to the deaths of millions of innocent Cambodians. The death toll is estimated to be around two million men, women, and children.
There were many killing fields in Cambodia, and the Killing Fields of Choeung Ek has now become a major historic monument in Phnom Penh. This site is the mass grave for over 20,000 people who were previously tortured at the Tuol Sleng Genocide Museum until the confessed. Then, they were taken blindfolded to the killing fields at night where they were murdered.
All of this happened in the not too distant past. Pol Pot led the country in the 1970s. As upsetting as it is to hear about what happened to innocent people, it is even more saddening to hear this was happening less than fifty years ago.
Visiting this attraction, and later, the Tuol Sleng Genocide Museum will be a heavy day. But regardless, this is a must-see in Cambodia.
Shop at the Russian Market
More commonly known as the Russian Market, Phsar Tuol Tom Poung should definitely be on your list of things to do in Phnom Penh. It's quite close to the Tuol Sleng Genocide Museum which is next on the agenda, so it's a great place to stop off after the Killing Fields and give your mind a break from Cambodia's bleak history.
Grab some great Khmer snacks here, my favorites are fried banana and Khmer coffee. Like Vietnamese coffee (which is incredibly tasty), Khmer coffee is also really sweet. This is perfect for me and my sweet tooth!
As well as food, shop for souvenirs here. The Russian Market is the place to buy Cambodian souvenirs and gifts.
Visit Tuol Sleng Genocide Museum (S21 Prison)
What used to be a school, Tuol Sleng is now known as the prison and torture camp for innocent Cambodians who were held captive here until they confessed to crimes they did not commit. The museum features a memorial park inside the grounds, the cells in which the prisoners lived, and some of the areas where the prisoners were tortured. This prison held up to 20,000 people.
I would recommend you to visit the Killing Fields before visiting S21 Prison. The stories you hear on the audiobook, the sights of the torture rooms, and the displayed photographs are a lot harder to bear at Tuol Sleng Genocide Museum.
Browse the Daughters of Cambodia Visitors Centre
Human trafficking is an issue within Cambodia's society. Thankfully, in recent years, support is now provided to the survivors of trafficking. Daughters of Cambodia is a lovely cause to support on your next trip to Cambodia.
Find the lively turquoise shop on one of the main roads in Phnom Penh. It's a great place to go for a delicious meal. I'd recommend stopping here after visiting Tuol Sleng for a late lunch. Prices are reasonable, at only $7 USD for a cheeseburger or $6.50 USD for gnocchi.
Afterward, visit their gift shop for various souvenirs. Their origin makes for a great story when giving the souvenirs as gifts back home.
Take a Mekong River Cruise
Before sunset, take a walk down the Preah Sisowath Quay Waterfront. There are great restaurants and bars lining the streets. Be sure to look out for their happy hours that may start as early as 3 pm.
The lively riverside is a great place to spend your first evening in Phnom Penh. Just before the sun sets, river cruises down the Mekong River will begin. This is the best way to watch the sunset in Phnom Penh. Either buy your tickets online or if you want to grab a great deal, walk down to the waterfront and haggle with the merchants for a great price. Be sure to choose a reputable company.
As you watch the sunset on a Mekong River cruise, most tours will serve you a delicious dinner featuring traditional Khmer foods.
Eat at the Phnom Penh Night Market
When traveling, I always try to choose a place to eat where I see locals, in the hope that food will be more reasonably priced and more authentic compared to restaurants targeted at tourists.
While the Phnom Penh Night Market isn't exactly a restaurant, locals outnumber tourists here. I'll admit, there isn't a huge variety of food, but it sure is tasty.
Most of the stalls here display an array of ingredients at the front of the stall, like prawns, meats, vegetables, and skewers. There will usually be a couple of varieties of noodles to choose from, for example, a yellow egg noodles and a rice noodle. Just point to the sides you would like in your meal and choose your noodles. The base cost for the noodles and Asian greens should be around $1 USD.
My favorite part about the night market is the seating arrangements. Colorful mats are placed on top of the ground, with one or two allocated to each stall. The vendor will tell you which mats you can sit at and they'll bring the food to you.
For dessert, try out the ice cream. My favourite flavours are coconut and tutti fruitti.
Afterward, head to the clothing stalls to shop up a storm.
Phnom Penh Itinerary: Day 2
Your first day was most likely emotionally draining but rewarding and educational. Day two is a little lighter.
Visit the National Museum
Start your next day in Phnom Penh at the National Museum. Visit Cambodia's largest museum to learn about the country's history, more specifically, about the Khmer Empire, which stretched all the way from Thailand at its peak.
There are beautiful artworks on display, including sculptures and bronze ornaments. There are ornaments of both Buddhist and Hindu origins.
Tickets are $10 USD per person.
One thing I love about Cambodia's historical and cultural attractions is how informative they are. The audiobooks provide so much information and if you ever end up at an attraction with the option to hire an audiobook, it definitely will be worth the cost!
Tour the Royal Palace
The Royal Palace is located only a few minutes from the National Museum, so it makes sense to head here afterward. This attraction is very popular for tourists, so start your day early to beat the crowds.
The Royal Palace displays amongst the most elaborate architecture in Cambodia. As you stroll through the palace, you'll admire the buildings and the manicured gardens.
Be sure to visit the Silver Pagoda within the grounds, towards the south side. Inside the pagoda houses golden Buddhas.
The Royal Palace really emphasizes the wealth of some in Cambodia. It does, however, emphasize the inequality, which is a current issue in Phnom Penh's society.
Like the National Museum, entry into the Royal Palace will also cost you $10 USD per person.
Have Lunch at David's Handmade Noodles
When we visited David's Handmade Noodles, we were just strolling through the town. This place caught our eye and one of the chefs was positioned in a small outside kitchen bench, literally making their hand-pulled noodles right in front of us.
We took a seat near the chef, which was so entertaining to watch. Not only did we get to see him make his famous noodles, but we also saw him make dumplings in record time. He had the process down to a fine art.
Apart from the noodles, I'd definitely recommend the amok curry, which is a traditional Khmer dish. The amok is typically served with fish, but they may also contain other meats or vegetarian options.
Visit the Independence Monument
The Independence Monument commemorates Cambodia's independence from France in the mid-twentieth century. The monument itself is in the shape of a lotus flower which is said to represent enlightenment. The flower was of utmost importance in the Khmer era.
The huge monument is actually the centerpiece to a busy roundabout. Around the area is Botum Pagoda Park. The park is a little haven from the busy surrounding traffic around Phnom Penh. We saw lots of ex-pats exercising around this area in the late afternoon.
Shop at the Central Market
From a birdseye view, the Central Market looks futuristic, similar to a space ship. The heart of the building is a central white and yellow dome. Extending out from the dome are four long arms.
The whole building is filled with stalls, and since its indoors, it's a great place to shop during the day when the sun is at its worst. Like the Russian Market, you'll be able to find great sweet snacks here as well as souvenirs. Goods here tend to be slightly more expensive than you will find elsewhere, so bring your bargaining hat.
Climb Wat Phnom
Wat Phnom is another great place to be for the sunset in Phnom Penh. It's a one-kilometer walk from Central Market, making it a great place to go next.
The entrance fees are $1 USD. Be sure to dress politely in temple wear. That means covered shoulders and knees. Bring a sarong with you or a scarf with you as a cover-up if it is easier than coordinating an appropriate outfit. Remove your shoes before entering the wat.
There are quite a few steps up to the temple. For this reason, try to avoid visiting in the heat of the day. The temple is guarded by extravagant serpent sculptures.
The biggest issue about visiting during sundown, however, are the crowds at this time. Locals and tourists alike are found in and around this temple at sunset. If this is something that would take a lot away from your experience, visit an hour or two earlier, then spend your sunset by the Mekong River.
Eat Dinner at Friends the Restaurant
Possibly the most well-known restaurant in Cambodia, Friends the Restaurant is surely worth a stop. It's actually across the road from David's Handmade Noodles, the restaurant I recommended for lunch.
After Wat Phnom, head back to the heart of the town for some dinner. Friends the Restaurant is bright and lively, and the food is delicious.
Prices are reasonable for Western-style food. Their food is vegetarian and vegan-friendly, and their menu includes desserts and cocktails as well. Vegetarian pasta will cost you around $6 USD, and a buttermilk chicken burger will cost $7 USD. Cocktails are priced from $3.50 USD.
Drinks at Juniper Gin Bar
There are two types of people in this world: the ones who love enjoying a gin and tonic, and the ones who simply can't stand tonic. I'm for sure the former – a G&T topped with juniper berries is my favorite cocktail.
This rooftop bar is class! The atmosphere is incredible, the views are great, and the furnishings are elegant. Grab a cocktail during happy hour from as low as $3 USD. Even for Southeast Asia, these prices are great – I once paid $20 USD for a cocktail at a rooftop bar in Bangkok.
Thank to you to Delilah for sharing these great tips! Delilah Hart is a writer and photographer making her way around the globe. Follow her adventures on her travel blog which endeavors to help people travel the world better. See below for my own Cambodia tips.
More Cambodia Travel Resources
Headed to Cambodia? I have lots of resources to help you plan your trip!
Check out the best things to do in Seim Reap, how to visit Angkor Wat at sunrise, and make sure to beware of the Angkor monkeys!
If you're interested in Cambodian history, check out the history of the Khmer Empire and Angkor.
5 Things to Bring to Cambodia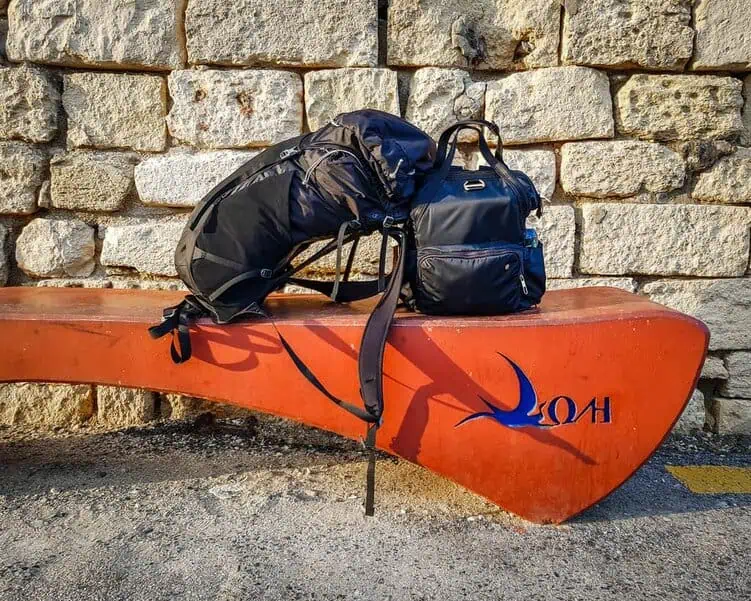 The Lonely Planet Cambodia guidebook for your trip. I used a Kindle version during my time in Cambodia. It's hard to find guidebooks once you're actually on the ground.
Backup Charging Bank for your cell phone since you'll be using it as a camera, GPS, and general travel genie.
A Camera since Cambodia is super photogenic. For my trip I used my Nikon D810 and my Samsung8 smartphone.
A Full-Sized Travel Towel for anyone taking advantage of Cambodia's hostels and guesthouses. This is the best travel towel in the world, and you'll need it if you are staying in hostels or anywhere that requires you to bring your towel.
A Great Day Bag so you can carry what you need with you (like your camera, snacks, water, sunscreen, cash, etc). My current favorite is the Pacsafe Citysafe, which is especially great for Cambodia because it has many anti-theft features designed to deter pickpockets. It also transitions to a night bag more easily and won't embarrass you if you go to dinner directly after sightseeing all day.
Don't Forget About Travel Insurance!
Before you leave for Cambodia make sure you have a valid Travel Insurance Policy because accidents happen on the road. I pay for World Nomads, and I happily recommend them. It's especially important to get travel insurance if you'll be hanging out in cities like Hanoi where tourists can easily become the targets of pickpockets.
I have been a paying customer of World Nomads for travel insurance for three years, and I happily recommend them. If you get sick, injured, or have your stuff stolen, you'll be happy to have the ability to pay for your medical bills or replace what's stolen or broken.
Pin this Guide on How to Spend 2 Days in Phnom Penh for Your Trip