This post may contain affiliate links. Please see my disclosure page for more details.
Last Updated on: 19th June 2023, 06:42 pm
Looking for beautiful quotes about Austria?
The country has inspired some truly beautiful travel quotes. So whether you're looking for travel inspiration or Austria Instagram captions or Facebook statuses, here are my favorite Austria quotes!
Read next: 250 Inspirational Travel Quotes & Travel Instagram Captions
Can't read now? Pin for later!
My Favorite Travel Booking Sites for 2023
These are my favorite companies that I use on my own travels.
Protect Your Trip via Safety Wing
Find the best city tours, day tours, bus tours, & skip-the-line tickets on GetYourGuide and Viator.
Find the best deals on hotels & vacation rentals on Booking.com.
For English-speaking private airport transfers, book through Welcome Pickups.
For road trips and independent travel, rent a car through Discover Cars.
Find information and cruise reviews on Cruise Critic.
For packing and travel essentials order via Amazon.
Book an affordable family or romantic photography session on your trip through Flytographer (Use the code HISTORYFANGIRL for 10% off your first photoshoot).
For travel guidebooks to have with you during your trip, I always pick one or two from Rick Steves and Lonely Planet.
How to Use these Austria Quotes
Feel free to use this post to find beautiful quotes about Austria for your photo captions, Austria Instagram captions, Austria Whatsapp status, Viber status, Austria Facebook status, or however you want!
If you do use one, I'd love if you linked or tagged me so I can enjoy your work! 
If you use one on a website, please link to this post. Otherwise, you can follow and tag me on social media so I can see you using them in action:
Instagram: @historyfangirl
Facebook: Stephanie Craig – History Fangirl
Twitter: @ahistoryfangirl
The Best Austria Quotes & Austria Instagram Captions
Here are my favorite quotes about Austria, including inspiration from poems, literature, pop culture, and quotes by famous Austrian authors!
Austria Travel Quotes
Then she stood on tiptoe and kissed him sweetly on the lips, "I promise you a love affair with a sun-bathed Austrian princess beyond anything you imagine—in love, in beauty, in intensity. A love that will power you to the end of our time together. You are going to be a fortunate man." –Paul A. Myers
Anyway, zis is Austria. –Bertrand R. Brinley
So many civilizations have come and gone on this land- Celts, Romans, Normans, Mongols, French. Who knows how many more? –Karen Essex
Vienna is just the best place to be. -Conchita Wurst
The voice of the intellect is a soft one, but it does not rest until it has gained a hearing. -Sigmund Freud
Home is one's birthplace, ratified by memory. -Henry Grunwald
While other nations do battle, you lucky Austria, you wed. -Maria Theresa
It was in 1590–winter. Austria was far away from the world, and asleep; it was still the Middle Ages in Austria and promised to remain so forever. Some even set it away back centuries upon centuries and said that by the mental and spiritual clock it was still the Age of Belief in Austria. But they meant it as a compliment, not a slur, and it was so taken, and we were all proud of it. I remember it well, although I was only a boy; and I remember, too, the pleasure it gave me. -Mark Twain
Sisi knew that it was hopeless to live up to the fairy-tale princess with stars in her hair of the Winterhalter portrait, an image that sold everything from chocolates to liver salts in Vienna, but she found it impossible not to try. Beauty was her gift, her weapon, and her power, and she dreaded its passing. –Daisy Goodwin
Once you have looked at the land from atop the Kahlenberg, you will understand what I write and who I am. -Franz Grillparzer
After the verb 'to Love', 'to Help' is the most beautiful verb in the world. -Bertha von Suttner
If a composer could say what he had to say in words he would not bother trying to say it in music. -Gustav Mahler
I would definitely return to Austria. They were all good experiences for me, but definitely Austria because there were some ancient Celtic, sacred sites that were in the forest that were quite beautiful. -Nicolas Cage
I am thrice homeless, as a native of Bohemia in Austria, as an Austrian among Germans, and as a Jew throughout the world. Everywhere an intruder never welcomed. -Gustav Mahler
Kids go crazy for the Krampus tradition and dress up as little monsters – they have beautiful masks, handmade from wood. Our village in Austria puts on a special play in which the creature tells an old beggar to repent his sins; when he refuses, he's beaten up by lots of Krampuses at once. -Conchita Wurst
When I was four years old, my father, who was a colonel in the army, was stationed in Salzburg, Austria. Across the street from our house was an ancient castle on a cliff. So when I first heard fairy tales, I felt as if the magic of 'Cinderella' or 'Sleeping Beauty' was taking place right in my own neighborhood. -Mary Pope Osborne
In her darkest hours, Diana, Princess of Wales, could have used a friend like Empress Elisabeth of Austria. The two lived similar lives, a century apart. -Nell Scovell
I thank my God for graciously granting me the opportunity of learning that death is the key which unlocks the door to our true happiness. -Wolfgang Amadeus Mozart
Everything I write, I've written the first draft in Austria. -Peter Morgan
The past is malleable and flexible, changing as our recollection interprets and re-explains what has happened. -Peter L. Berger
Funny Quotes about Austria
I have the feeling that I was born in Vienna in order to live in Paris. -Romy Schneider
Who could deny that our Austria is richer than any other country? As the saying goes: "We have money like manure. -Franz Grillparzer
The opera always loses money. That's as it should be. Opera has no business making money. -Rudolf Bing
There are professions more harmful than industrial design, but only a few. -Victor Papanek
In Austria an editor who can write well is valuable, but he is not likely to remain so unless he can handle a saber with charm. -Mark Twain
They are miserly, the princes of Austria, you need not grieve about it; they may not donate anything, but they allow themselves tobe fleeced, the good lords. -Franz Grillparzer
Austrian Food Quotes
There is a dessert dish in Austria called Kaiserschmarrn – it's kind of like a sweet raisin pancake with eggs and sugar. It's definitely not something I can eat often, but if I've done well at a race, sometimes that's my celebration treat! -Lindsey Vonn
I grew up in Austria, and for me, real comfort food is Wiener Schnitzel. Wiener Schnitzel and mashed potatoes because it reminds me of my youth… It reminds me when I grow up and it feels very comforting. -Wolfgang Puck
After tea, it's back to painting – a large poplar at dusk with a gathering storm. From time to time instead of this evening painting session I go bowling in one of the neighboring villages, but not very often. -Gustav Klimt
I learned more from the one restaurant that didn't work than from all the ones that were successes. -Wolfgang Puck
Love Travel Quotes?
I'm a little obsessed with travel quotes. If you are too, check out this massive guide to 250 Inspirational Travel Quotes & Travel Instagram Captions, plus:
5 Things to Pack for Your Trip to Austria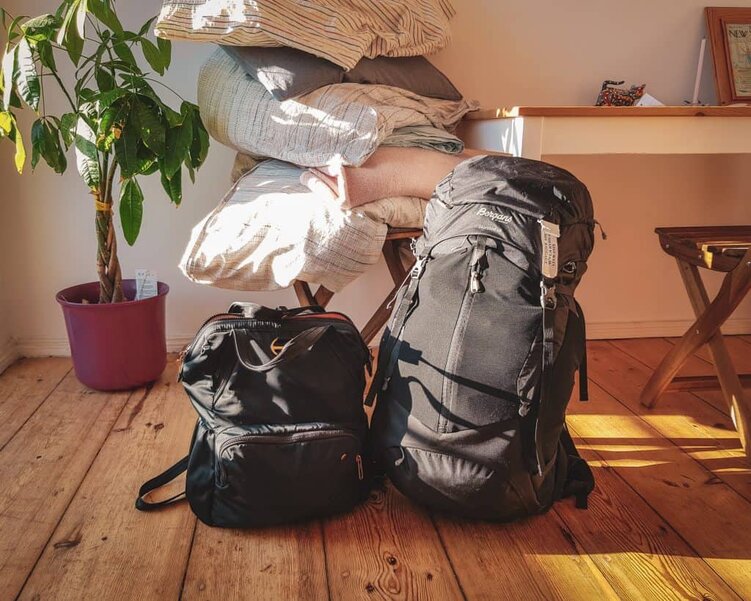 I have an entire Austria packing list, but make sure you bring these five items:
The Lonely Planet Austria guidebook for your trip. It can be hard to find big, international guidebooks once you land (or they'll be way overpriced). Get yours ahead of time, either a hard copy or on a Kindle.
An Unlocked Cell Phone so that you can use an Austrian sim card while here to help navigate public transportation and when you're on the road.
Backup Charging Bank for your cell phone since you'll be using it as a camera, GPS, and general travel genie.
A Camera since Austria is super photogenic. I use a mix of my Nikon D810 and my Samsung8 smartphone these days.
A Great Day Bag so you can carry what you need with you (like your camera, snacks, water, sunscreen, cash, etc). My current favorite is the Pacsafe Citysafe, which is especially great for Austrian cities because it has many anti-theft features designed to deter pickpockets. It also transitions to a night bag more easily and won't embarrass you if you go to dinner directly after sightseeing all day.
More Austria Travel Resources
If you're looking to explore Austria, check out Schoenbrunn Palace Tour in Winter and A Day Trip from Vienna to Bratislava. If you want more caption ideas, check out these Austria puns.
Don't Forget About Travel Insurance!
Before you leave for Austria make sure you have a valid Travel Insurance Policy because accidents happen on the road. I pay for World Nomads, and I happily recommend them. It's especially important to get travel insurance if you'll be hanging enjoying time in big cities where travelers can attract pickpockets or participating in winter sports.
I have been a paying customer of World Nomads for travel insurance for three years, and I happily recommend them. If you get sick, injured, or have your stuff stolen, you'll be happy to have the ability to pay for your medical bills or replace what's stolen or broken.
Pin these Austria Quotes & Austria Captions for Your Trip!