This post may contain affiliate links. Please see my disclosure page for more details.
Last Updated on: 19th June 2023, 06:40 pm
I love the idea of watching a Bollywood travel movie, but I don't know where to start!
After Bride & Prejudice (and its luscious scenes from Goa and London) I'm at a loss for where to go next! (And does that move even count as Bollywood)?
So I asked Mayuri from Canada Crossroads, an Indian-Canadian travel expert, to help point me in the right direction! These are her recommendations for the best Bollywood travel movies.
Can't read now? Pin for later!
My Favorite Travel Booking Sites for 2023
These are my favorite companies that I use on my own travels.
Protect Your Trip via Safety Wing
Find the best city tours, day tours, bus tours, & skip-the-line tickets on GetYourGuide and Viator.
Find the best deals on hotels & vacation rentals on Booking.com.
For English-speaking private airport transfers, book through Welcome Pickups.
For road trips and independent travel, rent a car through Discover Cars.
Find information and cruise reviews on Cruise Critic.
For packing and travel essentials order via Amazon.
Book an affordable family or romantic photography session on your trip through Flytographer (Use the code HISTORYFANGIRL for 10% off your first photoshoot).
For travel guidebooks to have with you during your trip, I always pick one or two from Rick Steves and Lonely Planet.
The Best Bollywood Travel Films
Growing up Bollywood movies were my jam.
Full of fiction, yet stunning cinematography from the Swiss Alps to streets in London and night lights in New York, these best travel movies Bollywood editions to inspire wanderlust!
Bollywood films are long, typically 2 to 3 hours, and are filled with romance, dramatic locations, and scenery.
They are a perfect dose of travel and entertainment from the comfort of your living room! 
Zindagi Na Milegi Dobara
Zindagi Na Milegi Dobara is a beautiful story about three friends  Kabir (Abhay Deol), Arjun (Hrithik Roshan), and Imraan (Farhan Akhtar), who head out on a 'bachelor' trip before Kabir gets married.
The movie features stunning locations in Spain: Barcelona, Costa Brava, Seville Bunol, and more.
The movie has comedy, drama, wanderlust-ing moments, and a message to live in the moment, rather than running after life goals (where Arjun wants to retire at 40).
The trip turns into an opportunity to mend fences, heal wounds, fall in love with life, and combat their worst fears.
The characters travel from Barcelona to Seville, Buñol, and various parts in Andalucia, road tripping.
The movie showcases La Tomatina Festival, bullfighting, tapas hopping, and a Bollywood version of flamenco!
Watch the trailer:
Queen
This is the Indian Queen, based on the movie's main protagonist, Rani.
Rani literally means Queen, in Hindi. Rani (portrayed by Kangana Ranaut) decides to venture on her honeymoon alone after her fiance calls off the wedding.
Rani explores Paris, followed by Amsterdam on her solo travel journey.
She lived a sheltered life in Delhi, and the movie captures her naive side – from 'almost' getting her bag stolen, eating nonvegetarian food, being nervous in a co-ed/mixed hostel to meeting a friend in the Red Light District in Amsterdam.
The movie is filled with light comedy scenes, yet it opens up the difficulties of new travels, solo travels, and culture shock.
Watch the Trailer:
Rang de Basanti
A movie that reminds me so much of my time in New Delhi, where I studied history at the university – the vibrant college life and a passion to make a difference.
The movie is based on six college friends, whose life completely changes when a British documentary maker, Sue, approaches them to make a movie, based on her grandfather's diary, highlighting the story of Indian revolutionaries.
Her grandfather served in the British Indian Army, and in the movie, she inspires them to rebel for a good cause, when Flight Lieutenant Ajay Rathod dies in an unfortunate flight mishap.
The movie highlights various parts of Delhi, including a road trip to Rajasthan; more than the locations the movie celebrates the free-spiritedness of the 6 young people, and their emotional and mental process turns them into rebels for a cause.
Watch the Trailer:
Chennai Express
A movie by Indian superstar Shahrukh Khan with Deepika Padukone, Chennai Express showcases the best scenes from southern India.
Chennai Express is a love story between a southern belle, whose father is a gangster and an average Delhi boy.
This movie is not one of Shahrukh Khan's best, but the locations in the south along with the train journeys give you a sneak peek into the travels in this part of India.
It is a comedy-drama, filled with tons of dance and music!
The foot-tapping dance number, 'Kashmir Tu, Main Kanyakumari,' has been extensively shot at the Munnar Tea Plantation in Kerala, bringing it to the travel limelight.
Watch the Trailer:
Yeh Jawaani Hai Deewani
A love story, a story of friendships, and a story of a wanderer,Yeh Jawaani Hai Deewani is a wanderlust movie, coupled with a relationship twist, the loneliness associated with travel, and finally settling down in life (in a 'normal' definition).
Although I do not believe in the traditional definition of "settling down", where you drop your travels and live a routine, average life, the film beautifully brings out Bunny's (the main protagonist Ranbir Kapoor ) zest for travel.
His room is filled with wanderlust from posters on the wall, a travel journal, and his passion for photography. He goes on to become a successful travel creator globetrotting the world.
After a few years, he misses his friends and his love Naina (Deepika Padukone), and returns to make amends.
The movie showcases amazing scenes from Jammu and Kashmir, Himachal Pradesh, Rajasthan (in India), and Paris.
Watch the Trailer:
Highway
Highway, directed by Imtiaz Ali, is one of the most stunningly shot Bollywood travel movies in India.
The movie stars Alia Bhatt and Randeep Hooda, who road trips in the northern part of the Indian subcontinent.
Highway throws the spotlight to northern India's rugged, untouched beauty.
While London, Paris, and New York are still popular bucket list destinations, this movie adds a few more Indian gems to that list.
The movie captures the beauty of landscapes in Spiti (Himachal Pradesh), Aru Valley (Jammu and Kashmir), and various locations in Punjab.
The road trip is one of self-discovery for the female lead, who led a lavish style prior to the journey and discovers freedom after being kidnapped and trapped.
Watch the Trailer:
Dil Chahta Hai
Dil Chahta Hai is a story of 3 best friends Akash (Aamir Khan), Sameer (Saif Ali Khan), and Siddharth (Akshaye Khanna), and their growing relationship and discovery of life after University/college studies.
The movie is shot in India and Australia. It showcases carefree moments in Goa (India) and travels to Australia where Akash immigrates after a fallout with his friends.
Dil Chahta Hai showcases the love and relationships of various characters and their perusal of the same.
Watch the Trailer:
Happy Ending
Happy Ending is a movie about Yudi (Saif Ali Khan), who is suffering from writer's block. He embarks on a journey in search of inspiration for his next story and ends up falling in love with a best-selling author who doesn't believe in love.
The movie was entirely shot in Los Angeles and San Francisco, California.
The song "Tu Mere Jaisa" from the movie showcases the romantic side of the beautiful city of San Francisco from the views of the stunning Bay area, crooked street and winding streets, including Palace of Fine Arts, Ghirardelli Square, Golden Gate Bridge, and downtown area.
Watch the Trailer:
Ek Main Aur Ekk Tu
Ek Main Aur Ekk Tu is a romantic comedy set in Las Vegas, Nevada. The story revolves around Rahul, who has lost his job and ends up befriending a free-spirited hairstylist – Riana.
They have a crazy night, Vegas-style,  get married, become friends whilst waiting for an annulment, and travel to India for a much-needed break.
The movie captures the beauty of Las Vegas at night, its architectural marvels and things to do, outside of gambling!
Watch the Trailer:
Namastey London
Namastey London, as the name suggests, is centered around London, so you can expect tons of beautiful scenes from the city. The movie is based on a true story.
It depicts the clash of cultures when an Indian farmer marries a girl from London and highlights their different lifestyles and perspectives.
Watch the Trailer:
Mayuri is the creator of Canada Crossroads – a Canada travel and living blog, where we share our journey to Canada, moving here, and exploring this wonderful country on weekends!
India Travel Resources
Are you interested in Bollywood to prepare for an upcoming trip to India? If so, check out the best India quotes and India puns for Instagram captions, plus the best Mumbai puns, Taj Mahal quotes, and Taj Mahal puns for Instagram.
5 Things to Pack for Your Trip to India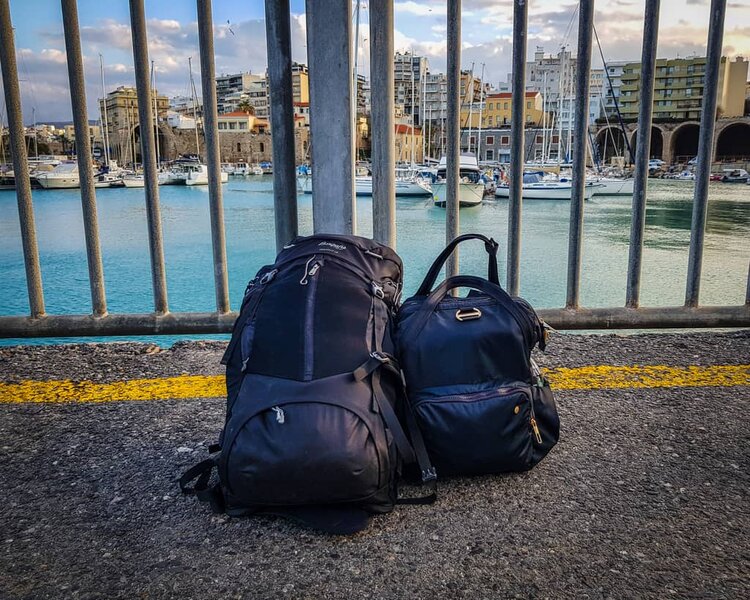 The Lonely Planet India guidebook. It can be kind of a pain to find the major guidebooks once you land, or you'll find them overpriced. I always like to pick mine up ahead of time.
An Unlocked Cell Phone so that you can use a local sim card while here to help navigate public transportation and when you're on the road. 
Backup Charging Bank for your cell phone since you'll be using it as a camera, GPS system, and general travel genie.
A Camera since India is super photogenic. I use a mix of my Nikon D810 and my  Samsung8 smartphone these days.
A Great Day Bag so you can carry what you need with you (like your camera, snacks, water, sunscreen, cash, etc).
My current favorite is the Pacsafe Citysafe, which is especially great for India because it has many anti-theft features designed to deter pickpockets. 
Don't Forget About Travel Insurance!
Before you leave for India make sure you have a valid Travel Insurance Policy because accidents happen on the road.
I pay for World Nomads, and I happily recommend them. It's especially important to get travel insurance if you'll be hanging out in cities like New Dehli and Mumbai where tourists can easily become the targets of pickpockets.
I have been a paying customer of World Nomads for travel insurance for three years, and I happily recommend them.  If you get sick, injured, or have your stuff stolen, you'll be happy to have the ability to pay for your medical bills or replace what's stolen or broken.
Pin this Guide to the Best Bollywood Travel Movies for Your Trip Inspiration!