This post may contain affiliate links. Please see my disclosure page for more details.
Last Updated on: 1st April 2021, 01:10 am
London is one of the most popular cities in the world for tourists, but it is a very expensive city to visit. You can easily reduce your vacation costs by visiting a few of the many free things to do in London!
The best part of all these free activities in London is that they are high-quality attractions that you would probably be interested in visiting even if they had an admission fee! This post has a variety of free things to do in London, so you'll be able to find the perfect activity for you no matter what you're interests are!
Erica Riley shares her best tips for finding the best free London activities!
Can't read now? Pin for later!
The Best Free Things to Do in London
In no particular order…
Hyde Park
Hyde Park is one of the most famous and popular free things to do in London. It is located in the heart of the Kensington neighborhood and is filled with nearly endless things to do and see.
Hyde Park opened to the public in 1637 and it quickly became a favorite of the locals and remains so to this day. The park covers over 140 hectares of land, so even on the busiest of days, you can normally find a quiet place in the park to relax. The most popular areas- especially around The Serpentine lake- get really crowded on summer days, but you'll be able to find a place all to yourself if you look hard enough!
Hyde Park is the perfect place to rent a bike and go for a ride. There are biking paths all around the perimeter of the park that you can enjoy. Just make sure you don't bike inside the adjoining Kensington Gardens as bikes are not allowed to be ridden in that park.
The first half-hour of your bike ride is completely free when you rent a bike in Hyde Park. You need to return it to a bike rack before the first 30 minutes are up, or you'll be charged for an additional half hour's worth of riding, which costs a couple of pounds.
Hyde Park is one of the most beautiful places in central London and no trip to London is complete without visiting it!
Trafalgar Square
You've most likely heard of Trafalgar Square and seen it featured in a number of television shows and movies. It is a public square in the heart of London walking distance from Big Ben and Buckingham Palace.
The square is most known for the huge monument in the middle of the square that has four gigantic lions guarding it. The lions look huge in photographs, but they are even bigger when you see them in person!
Trafalgar Square is home to the National Portrait Gallery. The National Portrait Gallery is a free art museum and features artwork by some of the most famous artists in history. There are seven Vincent van Gogh paintings in the gallery including the famous Sunflower painting. It is well worth stopping in at the museum while you're in the area.
The square is a popular place for street performers. You'll always find at least a handful of street performers in the square no matter what time of day it is!
Trafalgar Square hosts a number of festivals and events throughout the year. You never know what you'll stumble upon when you're in the area. It makes the whole experience of Trafalgar Square to the next level and makes it even more fun!
Imperial War Museum London
The Imperial War Museum London (IWM London) is part of a group of free and paid museums all over the United Kingdom that focuses on the UK's past and present military history.
There are three divisions of the Imperial War Museum in London: Churchill's War Rooms, HMS Belfast, and the IWM London. Only the museum is free, and the other two locations have paid admissions.
The Imperial War Museum London is home to a number of permanent exhibits that start during WWI and continue all the way up to 2015. The permanent exhibits discuss present-day peace and security threats and measures, the Holocaust, WWI, WWII, how wars affect ordinary citizens, and so much more.
It is an extremely informative museum, but it does it in an engaging way. You won't feel bored at IWM London!
The museum is open every day from 10 am to 6 pm and is completely free to enter. It is also one of the best places in London to snag some reliable free wifi!
One of the things that help you understand a city more is learning about its past. The Imperial War Museum London is one best ways to learn about London's military past and present. The conflict has played a huge role in shaping London and the UK as we know it today, so you may as well learn about it!
The Changing of the Guards
There is hardly anything more iconic than the changing of the guards ceremony at Buckingham Palace. It is one of the most popular free things to do in London, and you'll have to get there early if you want to snag a good spot.
The ceremony takes place every Monday, Wednesday, Friday, and Sunday from August to May and daily in June and July. The ceremony starts at 10:43 am at St. James' Palace, but the part of the ceremony that is most famous and popular starts at Buckingham Palace at 11:40 am and ends at 11:45 am.
Watching the changing of the guards ceremony at St. James' Palace is the perfect way to see the changing of the guards ceremony while avoiding the majority of the crowds. You won't have Buckingham Palace as the backdrop for the ceremony, but it is certainly a more relaxing experience!
If you choose to watch the ceremony at Buckingham Palace, be sure you're there at least 15 minutes before the ceremony is set to begin. It'll already be pretty crowded at that time, but you'll still be able to get a spot with a decent view.
To get a front-row spot with a great view, you'll have to be at Buckingham Palace about half an hour before the ceremony begins.
Take a Walking Tour
Walking tours are one of the best ways to learn about a city, and London has a ton of free walking tours you can join! There are walking tours where you explore royal sights. Nerdy tours where you visit Harry Potter filming locations or literary sights. Walking tours where you visit famous graffiti locations.
You can even follow the footsteps of Jack the Ripper. There is no end to the free walking tours you can go on in London!
Free walking tours are put on by locals who are experts in their given subjects. There is no cost to join the tour, but you are expected to tips your tour guide at the end of the tour. Most walking tours last between 2 and 2.5 hours. They require a lot of walking so make sure you have comfortable shoes on!
You learn so much on each tour. There are so many walking tours to choose from in London that you can go on a tour a day for a week and still not experience them all!
Many of the free walking tours are in the morning, just after lunch, or in the evening after dinner hours. They are super easy to fit into your schedule and really help to elevate your trip to London!
Camden Market
There are countless markets to explore in London, but Camden Market is one of the most famous and popular London markets. Camden Market is known as the best outdoor market in London, so you know it is good!
It is a large outdoor market that features restaurants, food trucks, street performers, and shops. Obviously, it will cost you money if you want to eat or buy anything, but wandering around the market is completely free.
The market is so full of life and color. There is always something going on, and it is fun just wandering around people watching.
You don't need to buy anything to have a good time at Camden Market! The market gets really busy on weekends and evenings (especially in the summer)! If you want to experience the market when it is a little quieter, stop by on a weekday just before or after the lunch hour.
You'll get the full experience of the market without being swallowed up by the huge weekend and evening crowds.
Tower Bridge
Tower Bridge is one of the most iconic sights in all of London. No trip to London is complete without catching a glimpse of Tower Bridge! You can pay to go to the top of Tower Bridge, but it isn't worth the price. It is quite expensive, and the experience isn't worth the price of admission.
It is, however, free to walk across Tower Bridge, and that is a worthwhile experience!
There are two entrances to Tower Bridge. One is just outside the Tower of London and the other is on the other side of the river at South Bank. It doesn't take more than a few minutes to walk across Tower Bridge. It is a great way to get from one side of the River Thames to the other and experience some amazing views in the process.
There are a number of stairs you have to walk up and down to access Tower Bridge. If you have mobility issues, there is an elevator you can take, so it is still fairly accessible for most people.
Highgate Cemetery
There are a lot of famous people buried in London, but you have to pay an admission fee to see most of their graves. The most famous people are resting in Westminster Abbey, which has a very steep price of admission.
Highgate Cemetery is the perfect solution to that problem.
It is completely free to visit Highgate Cemetery, and it has a number of famous people buried on its grounds. The most famous people buried at Highgate Cemetery are Karl Marx and Douglas Adams. Douglas Adams is a really cool one if you're a sci-fi nerd!
The cemetery is divided into two sections. There is the East Cemetery and the West Cemetery. There are very specific rules around when you can visit, so be sure to check out their website for the most up-to-date visitor information.
This is one of the most unique free things to do in London but don't write it off just because it is a bit odd! The grounds are absolutely gorgeous, and it is calming to walk through the grounds and greenery.
There are 170,000 people buried at Highgate Cemetery, and there are a lot of unique and different grave stones. You never know what you'll see when you turn the corner.
Highgate Cemetery is truly a beautiful place. Spending an afternoon wandering through the grounds may be one of the best afternoons you have in London!
Cromwell Road Museums
Cromwell Road is one of the best places to go if you're looking for free things to do in London!
It is home to three world-class museums that are free to enter and is walking distance from Hyde Park. The three museums on Cromwell Road are:
Victoria and Alberta Museum (museum of applied and decorative arts and design)
Natural History Museum (a must-visit for anybody who is interested in dinosaurs)
Science Museum (more geared towards children than adults)
All three museums are neighbors, so you can pop into one after the other. There is so much to see in these three museums that you can spend the entire day exploring them and still not see everything!
The most unique museum of the three is the Victoria and Albert Museum. It has a number of artifacts that span across multiple centuries that you won't see anywhere else. There are re-creations of entire living rooms and offices in the museum. The museum also features a lot of fashion pieces and art from various time periods and countries.
The Natural History Museum has one of the most impressive dinosaur exhibits in the world and will blow your mind!
But be sure to explore more than just the dinosaurs! The museum is also home to an incredible human evolution exhibit.
The Science Museum is curated to appeal more to kids than adults, but it is still an incredible museum. You learn a lot about the human body, space, engineering, and all the important foundations of science. There are a number of temporary exhibits that rotate quarterly, so you never know what you'll get to learn when you visit!
No matter what museum you choose to visit, you'll have a great time. You'll leave inspired and excited to learn more!
British Library
The British Library is one of the most underrated free things to do in London. People assume it is an ordinary museum, but it is so much more!
It is a fully operational library, but it also has three completely free exhibits for visitors to view. There are two additional exhibits that rotate, but there is an admission fee to visit them.
The three free exhibits are:
Treasures of the British Library
The Philatelic Exhibit
Sound Gallery
Treasures of the British Library is without a doubt the best exhibit. It features some of the world's rarest and most significant books, manuscripts, and scripts. There are works by Shakespeare, Gandhi, Florence Nightingale, Leonardo da Vinci, and many, many more. The exhibit features over 2,000 items, so no matter what your literary interests, there is something you'll love!
It features more than just books and manuscripts.
You can sit at Jane Austen's desk, see some of the first pictures ever taken of the moon, and see one of the oldest maps in history. It is truly an experience like no other!
The Philatelic Exhibit is a stamp collector's dream. It is home to some of the oldest and rarest stamps in the world. Even if you're not a stamp collector, it is really interesting to wander through.
Sound Gallery is the newest addition to the British Library. It is a collection of over 7 million video and audio clips. You put on some headphones and listen to a series of clips selected by the museum curators. It is an interesting way to bring in the modern world's obsession and reliance on video and audio.
The British Library is a hidden gem in London. It is well worth dedicating an hour or two to exploring all the literary treasures it holds!
Final Thoughts
London is expensive, but they are ways around its high costs. London is full of world-class attractions that are completely free. You don't feel like you're sacrificing any part of your London experience by checking out a few of the free things to do in London in this post.
Of course, there is a plethora of other free things to do in London!
There are plenty of parks in central London and a number of other museums (including the British Museum) that are free to visitors. You can easily do one or two free activities in London a day and still find free things to do in London next time you're in the city!
5 Things to Pack for Your Trip to England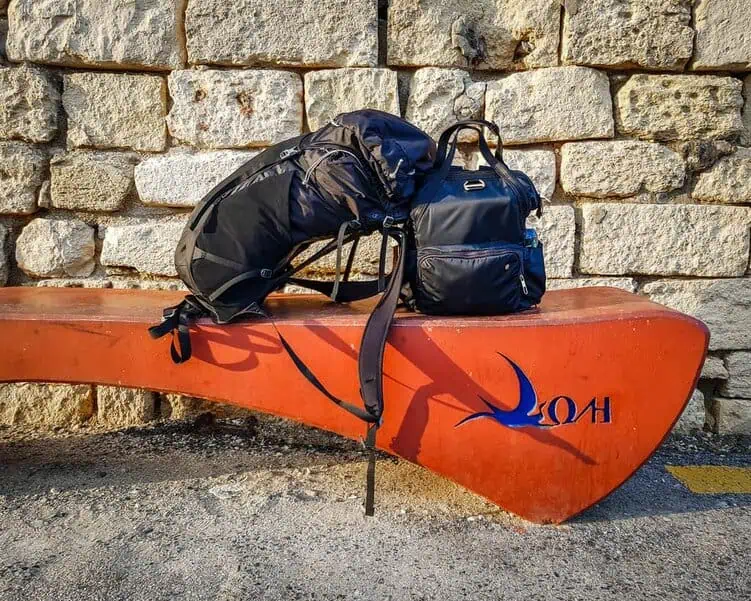 If you're headed to London, I have an entire packing list that goes over exactly what to bring to with you. However, here are five items you don't want to forget!
The Lonely Planet Great Britain guidebook for your trip. It can be kind of a pain to find the major guidebooks once you land, or you'll find them overpriced. I always like to pick mine up ahead of time.
An Unlocked Cell Phone so that you can use a British sim card while here to help navigate public transportation.
Backup Charging Bank for your cell phone since you'll be using it as a camera, GPS, and general travel genie.
A Camera since London is super photogenic. I use a mix of my Nikon D810 and my Samsung8 smartphone these days.
A Great Day Bag so you can carry what you need with you (like your camera, snacks, water, sunscreen, cash, etc). My current favorite is the Pacsafe Citysafe, which is especially great for cities like London because it has many anti-theft features designed to deter pickpockets. It also transitions to a night bag more easily and won't embarrass you if you go to dinner directly after sightseeing all day.
More London Travel Resources
If you're interested in visiting UNESCO sites and London historic sites, check out my posts on How to Visit the Tower of London, How to Visit Westminster Abbey, and How to Visit Westminster Abbey.
Love to listen while you plan your travels? I have episodes about London on both of my podcasts. You can check my podcast episode about the Roman Baths, The History of Windsor Castle, and Banqueting House.
You can also listen to my travel podcast episode about London. Plus here are all the best travel podcasts I use to plan my trips.
Don't Forget About Travel Insurance!
Before you leave for London make sure you have a valid Travel Insurance Policy because accidents happen on the road. I pay for World Nomads, and I happily recommend them. It's especially important to get travel insurance if you'll be hanging out in cities like London where tourists can easily become the targets of pickpockets.
I have been a paying customer of World Nomads for travel insurance for three years, and I happily recommend them. If you get sick, injured, or have your stuff stolen, you'll be happy to have the ability to pay for your medical bills or replace what's stolen or broken.
Pin this Guide to the Best Free Things to Do in London for Your Trip!