Note: This post may contain affiliate links. Please see my disclosure page for more details.
While most people think about visiting Milan in the summer or autumn, visiting Milan in winter is a great way to experience some of the city's best festivals, enjoy the museums and monuments without the crowds, and appreciate the hearty nature of Milan's cuisine. Here are the best things to do during winter in Milan plus tips for what to wear and what to bring with you!
Can't read now? Pin for later!
The Best Things to Do in Mian in Winter
In no particular order…
Enjoy a city without lines or tourists
If you don't mind rainy days, constant fog, and cold weather, with some occasional snow from time to time, winter has to be the best time of the year to visit Milan.
It's much easier to visit museums, parks, churches, and other interesting attractions when the weather is not as favorable as in summer because not only are there fewer tourists, but locals usually hit the ski slopes or simply stay at home more.
In winter, it's much easier to obtain tickets for everything, and many attractions even offer special off-season prices, more convenient and affordable.
I have an entire list on the best things to do in Milan year-round, but here are my top five can't-miss spots that you will still want to see even in winter:
Visit the Duomo
Considered one of the most imposing masterpieces of Gothic art in the world, this forest of never-ending spires, mythological creatures, terrifying gargoyles, and saints took over five centuries to be completed. You can go on a guided tour of the cathedral and the rooftop or you can get a skip-the-line ticket and explore on your own.
Galleria Vittorio Emanuele II
Known as the gathering place of Milan, the fantastic Galleria joins through its main passage the Duomo Square and the Scala Square. Inside the gallery, high-end stores share the space with historic Italian shops and restaurants. You can visit on your own or as part of a Milan walking tour.
One of the finest examples of Renaissance in the Lombardy region, features a magnificent 16-sided lantern, a bright brick facade, and a beautiful portal supported by Corinthian columns.
>>Check ticket availability.<<
Book a visit to Santa Maria Delle Grazie Church and discover Leonardo's Last Supper
Although the church alone is worth a visit, the main reason to visit is certainly to admire Leonardo's fresco The Last Supper, which covers one wall of the refectory. The whole complex has been declared a UNESCO Heritage Site.
Getting tickets can be a complicated process since tickets sell out (yes, even in winter)! I have an entire guide to how to get tickets to the Last Supper here.
>>Check ticket availability.<<
Warm up in Milan's Historic Churches
I am obsessed with the churches in Milan, from the bone chapels to the ones displaying Lucretia Borgia's hair. Exploring these corners of the city is also a great way to stay warm since most of your visit will be indoors!
Check out the remarkable National Museum of Science and Technology Leonardo Da Vinci
Over 100.000 different pieces are featured in at the Museo Nazionale Della Scienza e Della Tecnologia Leonardo Da Vinci making it the most important science museum in the country. You can get your tickets ahead of time and even book a private tour.
Enjoy the Ambrosiano Carnival
Maybe not as famous as the Carnival in Rio (Brazil) or the local Carnival in Venice, Milan also has its carnival version, the Carnevali Ambrosiani. The celebration takes place in February, right before the Lent period, and locals enjoy attending the imposing parade that takes place in the area of Milan's Duomo. During the celebration, both adults and kids enjoy wearing masks that have been previously decorated by themselves.
Experience the Arts & Culture Scene
If you're looking for something to do in Milan at night when it is cold out, you're in luck! Winter is the best period in Milan to spend your evening at the opera, a ballet, or orchestra performance.
The famous Teatro alla Scala publishes its winter program and tickets go on sale. There's no better moment to enjoy unique masterpieces thought and written by the best Italian composers of all times, such as Verdi, Puccini, or Rossini. You can either book a guided visit, buy a ticket to enjoy a night of ballet, or even admire the pieces exhibited in its Museo Teatrale, the theater's museum.
Hit the Slopes
Probably one of the favorite things to do in winter for Milan locals is to pack their ski gear and head to one of the many ski resorts in the area. The people from the Lombardy region are very keen on winter sports, including skiing, snowboarding, and mountain climbing (alpinism), to name just a few.
Milan is located in a favorable location when it comes to winter sports. Several excellent resorts can be reached after a short car ride from the city center, and which have activities especially for beginners and advanced skiers as well as for families with little skiers.
One of the best-known and probably the most visited ski region is Courmayeur. There are runs for every level but what makes Courmayeur famous are the challenging runs for advanced skiers. Other very popular ski resorts in the region include Madonna di Campiglio and Belluno.
Attend the Sant'Ambrogio Festival
Patron saint of the city, Saint Ambrose is a saint to whom most Milanese are devoted. December is the month when the saint is honored not only in the famous Basilica of San Ambrogio but everywhere in Milan and the Lombardy region.
One of Milan's most important festivals, it is famous for the huge quantity of street food you can taste in every corner of Milan. Artisans craft and sell their art in public parks while street artists offer free performances including dancing, music, and theater.
Experience the magic of snow in Milan
Snow is not as common in the center of Milan as one might imagine, although it might be possible to experience the occasional snowflake while wandering the city during winter. If you're lucky enough to visit on one of those rare snowy days, head directly to the Navigli to admire the magic landscape of the snow falling on the beautiful canals of Milan.
If the temperatures are really low for long enough, the surface of the channels freezes forming a fantastic iced mirror that, at night, reflects the lights of bars and cafeterias, creating a magic atmosphere.
Visit a Food Fair
Winter is the perfect season to attend one of the many festivals that take place in Milan. While summer is a great moment to visit because the city is virtually empty; in winter, the city comes alive with a unique collection of festivals and fun opportunities to learn about the local culture.
Starting in November, when the weather starts to get chilly in town, the magnificent Expo dei Sapori takes place in the huge exhibition center of Fiera Milano. Completely devoted to representing Italian flavors and cuisine, the Expo dei Sapori is a great opportunity to taste unique Italian food and wines.
If you aren't in town during a food fair, don't worry. Besides eating Milan cuisine in the city's fabulous restaurants. You can also go on a guided food tour of the city to learn about Milanese traditional food.
Indulge in Hot Chocolate!
Nothing like cold weather to slowly sip a cup of hot chocolate while reading a book or simply looking the world go by through a window. Choose one of the many traditional cafes along the Corso Vittorio Emanuele II, or even around the Duomo Square and order a traditional cup of hot chocolate.
It usually comes with a gigantic whipped cream topping and some chocolate flakes on top that melt with the heat of the beverage. Order a local pastry to go with it, and you'll be enjoying one of the most pleasant activities you can do on a cold day in Milan.
Shop for Quality Winter Clothes
Good quality winter clothes are easy to find everywhere in Milan during the cold season. Elegant coats, warm pashminas and scarves, suits, and sweaters, but also gloves, hats, and all kinds of fantastic knitwear can be seen and picked from the windows of Milan's best shops and boutiques.
However, if you want to save some money and still get a few good bargains, you can do so right after Christmas, when price tags are reduced and the sale season begins.
If you want to dig into Milan's shopping and fashion culture, you can go on a Private Fashion & Shopping Walking Tour.
Discover Sormani Library
Winter is a perfect time of the year to enjoy some quality time on your own. I cannot picture any more perfect picture than an afternoon spent exploring the shelves and book titles in any of Milan's ancient libraries.
Sormani is a unique library with an elegant and cozy atmosphere where you can spend hours perusing ancient manuscripts and books. The Sormani Library treasures over 650,000 books and magazines from all times and it's open to the public. It's located close to the Duomo and nothing beats the experience of a visit to this quiet but exiting retreat in town.
Go Christmas Shopping
There's no more magic season in northern Italy than Christmas. Milan is a great place to find unique Christmas decorations right before the holidays or immediately after, a real bargain for those buying decorations for next year's celebration.
Head to La Rinascente Store, on Corso Vittorio Emanuele to buy some of the most beautiful Christmas decorations you will find of the market. If you're on a budget, instead, peruse the stalls in the different Christmas markets that take place all over town and find the prettiest decors at a bargain.
Attend the Milan Fashion Week
One of the top events of every season for fashion lovers takes place every year in Milan. Starting from January with Men's Fashion Week, designers present new proposals and ideas for the upcoming fall. Women will love to visit in February, instead, when the attention is devoted to them through the Women's Fashion Week.
During this period, the city is full of celebrities while the most important fashion designers in Europe and all over the world present their unique collections ranging from classic styles to more extravagant looks.
Although getting a ticket to the most prestigious fashion shows are hard to get, it's easier and more affordable to get passes to attend fashion shows hosted by new designers. In these shows, the atmosphere and the dress-code are certainly more relaxed and are a great opportunity to have a preview of the upcoming trends.
Ice Skating for Everyone!
Ice rinks are a thing in Milan in winter. People from all ages meet and have fun hanging out in one of the many ice rinks that can be found in town.
The most popular of all is the one mounted in the Piazza del Duomo, although it is not as big as you would expect it's the one that young people prefer. Another famous spot is the Darsena Ski Rank as well as Palazzo della Regione Ski Rank.
The entrance fee is quite affordable (from 5 to 8 euros), and it's also possible to buy chocolate snacks and hot drinks too.
What to Wear for Winter in Milan
Consider this a mini Milan winter packing list. These are the items you will want to walk around Milan. If you plan on going skiing, also make sure to pack your ski attire and ski gear.
Women's Milan Winter Attire
Here's what women should bring.
A Winter Coat: You need that can handle the cold like this North Face parka.
Thermal Layers: This ultra-lightweight down layer is my new #packinggoals. I don't own one, but my friend Allison does and she wore hers while we were stuck at a Serbian bus stop in the cold early morning. I was so jealous, and this is on my future packing lists for anywhere I go that's cold. It's great because you can wear it on its own when you need a quick layer of warmth, but you can also wear it under your coat when it's really cold outside.
Shoes: Upgrade your regular city boots to a waterproof version.
Socks: Upgrade your socks to thick, warm wool socks.
Gloves: In Milan, you'll be doing a lot of navigating on your smartphone, especially when you need to use public transit. I found it incredibly annoying to have to take my gloves off every few minutes, so I upgraded to tech-friendly gloves like these. They're also clutch for using your phone to take pictures.
Winter Scarf: You want a thick knit scarf that you can pull up and cover your face when necessary.
Leggings: You'll want to be covered from head to toe when you're outside. Regular leggings are great for late autumn, but for winter swap them for leggings that are lined with fleece for extra warmth. You can wear them under dresses or even slip them under your jeans.
Hat: A fleece-lined knit cap will keep you warm, and you'll fit right in with the locals.
Men's Milan Winter Attire
Here is what I suggest men wear in winter. Just like with women, this is good for walking around the city, but make sure to pack your ski clothes and gear if you'll be doing activities in the snow.
A Winter Coat: You need that can handle the cold like this North Face parka.
Wool Baselayer: You'll want an extra boost of warmth under your shirt as a wool baselayer.
Shoes: Upgrade your regular city boots to a waterproof version.
Socks: Upgrade your socks to thick, warm wool socks.
Gloves: Upgrade to tech-friendly gloves like these so you can use your smartphone for pics and to help navigate.
Winter Scarf: You want a thick knit scarf that you can pull up and cover your face when necessary
Hat: A fleece-lined knit cap will keep you warm, and you'll fit right in with the locals.
5 Things to Bring with You to Milan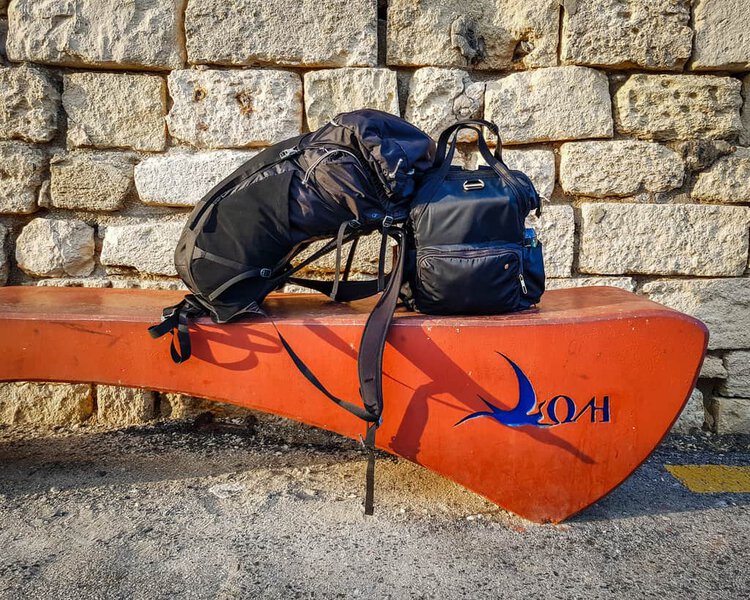 The Lonely Planet Italy guidebook or the Rick Steves Italy guidebook for your trip. It can be kind of a pain to find the major guidebooks once you arrive in Italy, or you'll find them overpriced. I always like to pick mine up ahead of time.
An Unlocked Cell Phone so that you can use an Italian sim card while here to help navigate the trains.
Backup Charging Bank for your cell phone since you'll be using it as a camera, GPS, and general travel genie.
A Camera since Milan is super photogenic. I use a mix of my Nikon D810 and my Samsung8 smartphone these days. (Though many of these pics in this post were on my old Nikon D40).
A Great Day Bag so you can carry what you need with you (like your camera, snacks, water, sunscreen, cash, etc). My current favorite is the Pacsafe Citysafe, which is especially great for Italy because it has many anti-theft features.
More Milan Travel Resources
Here are some resources to help you plan your trip to Italy. First, here are the best things to do in Milan and what to do in Milan at night. And here are the best Milan dishes you need to try while you're here.
If you're planning to see DaVinci's Last Supper, here's a guide to getting tickets for Santa Maria delle Grazie so you don't miss it! (Tickets sell out early).
Next, while you're in Milan, you should make time to see these other beautiful Milan Churches.
If you'll be spending time in Rome, check out my interview with Mike Duncan on the history of The Roman Forum. I also have several episodes of my travel podcast, Rick Steves Over Brunch about Rome and Venice. Plus I have 101 Italy Quotes for Italy Instagram captions.
You can also check out my guide to visiting Ostia Antica from Rome, plus 50 Eternally Beautiful Rome Quotes and 50 Hilarious Rome Puns.
If you'll be spending time in Venice, check out my favorite Venice quotes and Venice puns.
Finally, check out my list of books to read before your vacation in Italy.
Don't Forget Travel Insurance!
Before you leave for Italy make sure you have a valid Travel Insurance Policy because accidents happen on the road. I pay for World Nomads, and I happily recommend them. It's especially important to get travel insurance if you'll be hanging out in cities (like Milan…ahem) where tourists can be the victims of pickpockets. Italy is the only country I've been to (out of almost seventy) where I've had someone try to pick my pocket…and it was in Milan!
I have been a paying customer of World Nomads for travel insurance for two years, and I happily recommend them. If you get sick, injured, or have your stuff stolen, you'll be happy to have the ability to pay for your medical bills or replace what's stolen or broken.
Pin this Guide to What to Do in Winter in Milan for Your Trip!