This post may contain affiliate links. Please see my disclosure page for more details.
Last Updated on: 19th June 2023, 06:42 pm
Looking for beautiful quotes about Cambodia? Kampuchea has inspired some truly beautiful travel quotes. So whether you're looking for travel inspiration or Cambodia Instagram captions or Facebook statuses, here are my favorite Cambodia quotes!
Read Next: 250 Inspirational Travel Quotes & Travel Instagram Captions
Can't read now? Pin for later!
My Favorite Travel Booking Sites for 2023
These are my favorite companies that I use on my own travels.
Protect Your Trip via Safety Wing
Find the best city tours, day tours, bus tours, & skip-the-line tickets on GetYourGuide and Viator.
Find the best deals on hotels & vacation rentals on Booking.com.
For English-speaking private airport transfers, book through Welcome Pickups.
For road trips and independent travel, rent a car through Discover Cars.
Find information and cruise reviews on Cruise Critic.
For packing and travel essentials order via Amazon.
Book an affordable family or romantic photography session on your trip through Flytographer (Use the code HISTORYFANGIRL for 10% off your first photoshoot).
For travel guidebooks to have with you during your trip, I always pick one or two from Rick Steves and Lonely Planet.
How to Use these Cambodia Quotes
Feel free to use this post to find beautiful quotes about Cambodia for your photo captions, Cambodia Instagram captions, Cambodia Whatsapp status, Viber status, Cambodia Facebook status, or however you want! If you do use one, I'd love if you linked or tagged me so I can enjoy your work! 
If you use one on a website, please link to this post. Otherwise, you can follow and tag me on social media so I can see you using them in action:
Instagram: @historyfangirl
Facebook: Stephanie Craig – History Fangirl
Twitter: @ahistoryfangirl
The Best Cambodia Quotes & Cambodia Instagram Captions
Here are my favorite quotes about Cambodia, including inspiration from poems, literature, pop culture, and quotes by famous Cambodian authors!
Cambodia Travel Quotes
Cambodian dust whipped up in the wind and stuck to my clothes like clay. I put a hand between my face and the sun and blinked Phnom Penn dust from my tired eyes. One idea, drink, beamed light in all directions across my dark consciousness. –Craig Stone
Here was something I already knew to be true about myself: Just as there are some wives who will occasionally need a break from their husbands in order to visit a spa for the weekend with their girlfriends, I will always be the sort of wife who occasionally needs a break from her husband in order to visit Cambodia. Just for a few days! -Elizabeth Gilbert
Without Cambodia, I may never have become a mother. Part of my heart is and will always be in this country. And part of this country is always with me. -Angelina Jolie
The most beautiful thing in Cambodia isn't the country – it's the Cambodian people. -Rithy Panh
When I'm traveling, I like extremes. It's nice for me to go to Canada in the mountains where it's snowing or to Cambodia where it's stifling. -Jessica Henwick
When I first arrived in Cambodia, I found it very buzzy and very happening. It seemed like quite a cool place, and everyone, tourists and locals, seemed to be in good spirits! -Stacey Dooley
A combination of stir-fry and salad, Lok Lak is a popular staple in Cambodia. It's usually made with beef, but in olden times, in the country's mountainous areas, venison would've gone sizzling into the wok. -Jonathan Miles
Quotes about Angkor & the Khmer Empire
When Angkorian society began, Paris and London were not much more than elaborate villages. Europe was crawling with barbarians, and here were the Khmer engineering sophisticated irrigation systems and constructing the biggest temple in the world. –Kim Fay
I loved Cambodia; watching the sunrise at Angkor Wat was really beautiful. -Michael Landes
Quotes about the Cambodian Genocide and the Khmer Rouge
If you find that you want to share the powerful experiences and emotions you have when you learn more about the Khmer Rouge and the Cambodian genocide, that's a good thing! You can share the pictures you take on social media, especially if you share how you feel and facts about what happened.
You can also use these quotes to educate and share along with your pictures and thoughts. It can be difficult to sum up how you feel visiting these places, so it's okay if you want to lean on quotes about the Cambodian genocide from people who know more than you! You'll still be helping to educate the world on an even that is too easily forgotten.
If you want to share your visits to Cambodia's hallowed places and monuments, please do so respectfully. This means avoid kitschy poses, keep photographs centered on the experience rather than yourself, etc. Avoid being an "Instagram girl" or "Instagram boy" at all costs. If you want to take pictures of yourself there, keep them simple and somber. And please, absolutely no yoga poses.
This is what the war has done to me. Now I want to destroy because of it. There is such hate and rage inside me now. The Angkar has taught me to hate so deeply that I now know I have the power to destroy and k***. –Loung Ung
Mother's tenderness toward my younger sisters caused more tears to pool in my eyes. I felt too old to be hugged and caressed by her, yet my body yearned for her touch; at least this once. I couldn't recall the last time she had shared the same warmth with me. The countless months of hardship had created an ocean of distance between us. It would be too awkward to hug her now. I sat across from her with tear-stained cheeks, wondering if she could feel my sadness and if she knew I loved her unconditionally. –Jennifer H. Lau
What inspired me most was the resilience of the Cambodian people. The country is still living with the trauma of the brutal Khmer Rouge regime. People lost everything – family, friends. The rich culture of Cambodia was nearly extinguished. They are a nation of survivors. And while poverty and infant mortality affect a disproportionate amount of the people there, those I met were hopeful for the future and doing the best they can with what they had. -Joy Bryant
Operating from 1975 to 1979, S-21 became the most infamous of 196 such prison camps the Khmer Rouge established throughout Cambodia, primarily because so many of its prisoners were the purged party loyal – and because Duch's methods were so stunningly brutal. -Michael Paterniti
I remember my mother taking me as a very little kid to the roof of our home in Phnom Penh, Cambodia, to look at the bombs exploding in the distance. She didn't want us to be scared by the booms and the strange flashes of light. It was her way of helping us to understand what was happening. -Tammy Duckworth
Cambodia was not a mistake; it was a crime. The world is diminished by the experience. -William Shawcross
My second TV assignment ever was to go to Cambodia to look at the state of the country in the dying days of the Khmer Rouge. I was naive, awkward, and not very good at writing to pictures. -Emily Maitlis
I left Cambodia when I was 12 or 13. I didn't really escape, but I needed to go away. -Rithy Panh
I saw the waterboarding device in Cambodia's notorious Tuol Sleng prison in Phnom Penh and did not see another until I was strapped down on an identical one at SERE. Waterboarding was administered as a 'stress demonstrator' to show that an enemy could make one say anything. And one does. -Malcolm Nance
If Cambodia is to survive, she needs many voices. -Dith Pran
Yet, only years after the Nazi-era, millions were sent to their deaths in places such as Cambodia, Bosnia and Rwanda, and the world once again took too long to act. -Allyson Schwartz
When I arrived in America, though I had left the war physically far behind, in my mind, the soldiers were still chasing to k*** me, my stomach was always hungry, and my fear and distrust kept me from opening up to new friendships. I thought the war was over when I left Cambodia, but I realize now that for survivors and all those involved, the war is never over just because the g**s have fallen silent. -Loung Ung
Love Travel Quotes?
I'm a little obsessed with travel quotes. If you are too, check out this massive guide to 250 Inspirational Travel Quotes & Travel Instagram Captions, plus the best Thailand quotes, Vietnam quotes, Myanmar quotes, India quotes, Indonesia quotes, Bali quotes, and Nepal quotes. I might have a problem.
Want more? If you still want more travel quotes, check out my travel quotes page.
More Cambodia Travel Resources
Headed to Cambodia? I have lots of resources to help you plan your trip!
Check out the best things to do in Seim Reap, how to visit Angkor Wat at sunrise, and make sure to beware of the Angkor monkeys!
If you're interested in Cambodian history, check out the history of the Khmer Empire and Angkor.
Headed to the capital? Check out how to spend two days in Phnom Penh.
5 Things to Bring to Cambodia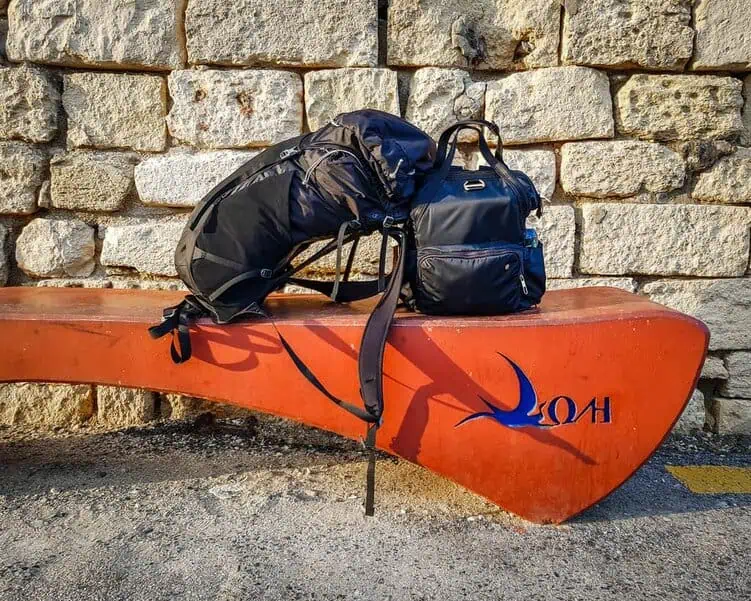 The Lonely Planet Cambodia guidebook for your trip. I used a Kindle version during my time in Cambodia. It's hard to find guidebooks once you're actually on the ground.
Backup Charging Bank for your cell phone since you'll be using it as a camera, GPS, and general travel genie.
A Camera since Cambodia is super photogenic. For my trip I used my Nikon D810 and my Samsung8 smartphone.
A Full-Sized Travel Towel for anyone taking advantage of Cambodia's hostels and guesthouses. This is the best travel towel in the world, and you'll need it if you are staying in hostels or anywhere that requires you to bring your towel.
A Great Day Bag so you can carry what you need with you (like your camera, snacks, water, sunscreen, cash, etc). My current favorite is the Pacsafe Citysafe, which is especially great for Cambodia because it has many anti-theft features designed to deter pickpockets. It also transitions to a night bag more easily and won't embarrass you if you go to dinner directly after sightseeing all day.
Don't Forget About Travel Insurance!
Before you leave for Cambodia make sure you have a valid Travel Insurance Policy because accidents happen on the road. I pay for World Nomads, and I happily recommend them. It's especially important to get travel insurance if you'll be hanging out in cities like Phnom Pehn and Siem Reap where tourists can easily become the targets of pickpockets.
I have been a paying customer of World Nomads for travel insurance for three years, and I happily recommend them. If you get sick, injured, or have your stuff stolen, you'll be happy to have the ability to pay for your medical bills or replace what's stolen or broken.
Pin these Quotes about Cambodia for Your Trip!