This post may contain affiliate links. Please see my disclosure page for more details.
Last Updated on: 19th September 2021, 06:18 pm
If you're like me, you like the romance and excitement of dating while traveling. If you're going to be traveling alone, it can be daunting enough to make friends while traveling solo, let alone find someone to go out with! Yet there are so many great ways to meet dates on the road!
This post might seem a little off-topic on this website, but it's something I'm passionate about. I actually met my fiance using Tinder while traveling to Bulgaria, and if I hadn't taken that plunge we wouldn't still be together three and a half years later. We celebrated the birth of our son in January, so I'm really grateful every day that I took that risk!
I also have several friends who met their significant others on the road, including my business partner! So whether you're looking for a happily ever after or just a really fun vacation fling, there's a lot of fun to be had.
However, I'm definitely no dating expert, so I asked Emma Jones to share some tips on how to date while traveling. See below for her fabulous tips!
Can't read now? Pin for later!
My Favorite Travel Booking Sites for 2023
These are my favorite companies that I use on my own travels.
Protect Your Trip via Safety Wing
Find the best city tours, day tours, bus tours, & skip-the-line tickets on GetYourGuide and Viator.
Find the best deals on hotels & vacation rentals on Booking.com.
For English-speaking private airport transfers, book through Welcome Pickups.
For road trips and independent travel, rent a car through Discover Cars.
Find information and cruise reviews on Cruise Critic.
For packing and travel essentials order via Amazon.
Book an affordable family or romantic photography session on your trip through Flytographer (Use the code HISTORYFANGIRL for 10% off your first photoshoot).
For travel guidebooks to have with you during your trip, I always pick one or two from Rick Steves and Lonely Planet.
Dating while traveling is one of my favorite topics to chat about with my girlfriends. Having been a digital nomad for the past five years, I have quite a handful of stories to share: happy dates, weird dates, adventurous dates, and dates that ended up with a broken heart (life happens).
I'll tell you, spending those lonesome evenings with a cocktail while watching tropical sunsets or having candle-lit dinners all by yourself isn't fun. When you are traveling alone, dating can be a game-changer. So here I am, sharing my top ten tips for dating while traveling that will help to make your trips far more enjoyable.
10 Best Tips for Dating While Traveling
In no particular order…
Smile at People
Smiling and being nice to people while traveling has helped me to make friends, receive a few invitations to parties, and land a couple of dates. You know what they say, positive energy attracts positive people, so looking happy rather than grumpy can get you a long way.
Smile is a reassuring signal that you are approachable. If you bump into somebody that you like during your travels, don't be shy and show them your pearly whites. This can be enough of a reason to start a conversation and see where it takes you.
I usually throw in a couple of flirty questions to see if a guy responds to my subtle signals and suggests that we go on a date. Don't be afraid if he appears to be just a friendly type with no plans of dating. If worse comes to worst, you'll end up making a new friend.
Hang Out at Hostels
Even if you prefer staying in hotels or AirBnB's, hostels might be great places to connect with friendly backpackers.
I usually choose accommodation based on what works out the best financially in a given country or city, but I need my privacy. So I often book a private room in a hostel, and then socialize and hang out with people in the common areas.
If I end up staying in Air BnB, I sometimes pop into hostel bars for traveler-friendly socials. I won't deny it; usually, there's a drink or two involved while sharing your travel stories with other jet setters. What could be a better environment to meet other people who fly solo (pun intended)?
Take a Day Trip
Adventure day trips are the best for meeting fellow travelers who share the same sense of adventure. There is nothing more that unites people than team activities and adrenaline.
Bumpy horseback ride across the mountains, black water rafting, or a bit more chilled speed boat ride to a paradise island will give you a lot of opportunities to get to know people on the tour. You never know, maybe that tanned charmer who pulls you back up on the raft after it tips over the rapids will invite you for a drink after the day trip finishes.
Even if it doesn't transition to a romantic date, you may find a travel buddy for the rest of your trip.
Go to a Trendy Bar
Research the best local bars online and pick the one where people tend to mix and mingle. I usually read reviews on social media and Trip Advisor to determine which bars have the right vibe. It's always a bonus if there is a live band playing. It is way easier to get to know people when you are dancing and singing along in a crowd.
This strategy works exceptionally well on the weekends when the locals go out to chill after work. So don't forget to pack your party dress and a pair of heels (or cute and comfy ballerina slippers) so you have an outfit ready for the night out.
Also, you may need this outfit for a romantic second or third date if you meet someone special in a different environment. You'll thank me later!
Sign Up for a Cooking Class
One of my favorite activities while visiting foreign countries is taking a cooking class to learn some secrets of the local cuisine. Those classes are usually organized for a small group of people, so the chances are that you will have an opportunity to chat with every person in the group.
From my experience, food-related conversations are very engaging and easy to carry on, and the topics are endless. You can quickly become the star of the group by telling your adventurous foodie stories about tasting Iguana eggs in El Salvador or deep-fried scorpions in Thailand.
Cooking classes always finish with lunch, sharing all the food that you cooked together. So, if you hit it off with somebody, you could seal the deal and exchange contacts over your newly cooked cuisine!
Check Out Expat Groups
If you are a long term traveler like myself, or you end up going on an extended trip and stay more time in one place, online expat groups could be an excellent place to meet people from different countries and walks of life. Search "expats + city" or "expats + country" on Facebook and see what you come up with.
In larger cities, you can even find expat groups built around one hobby or lifestyle, for example, foodies or outdoor lovers.
Once accepted to the group, introduce yourself, mention what you are up to: sightseeing, museums, drinks or anything you like, and ask if somebody wants to keep you company. People in those groups tend to be very friendly, so you will surely get some replies.
If you have more time and are too shy to post your message in a group, see if any group events are coming up shortly. All that you'll have to do is click "Attending" and show up on the day.
Go on a Walking Tour
Almost every large city around the world has a free walking tour that you can search for on Google. A group of people meets at an agreed place, and a local guide takes you to see some landmarks of the city while telling some history and fun facts and pointing out places of interest along the way.
Walking tour guides are usually young and fun. They ask people to introduce themselves before the tour, which may be an excellent excuse for a conversation with the person you fancy while walking from one spot to another. Don't miss the opportunity to ask something about the country that they come from; it is a universal ice breaker between travelers.
Quite often, walking tours end with self-organized drinks in a bar or local pub, so if you've been eyeing that stranger during the whole tour and didn't have a chance to have a chat, this may be your best chance to do it.
Don't Rule Out Dating Apps (TL;DR: It's Great to Use Tinder While Traveling)!
When everything else fails, and you end up at a dinner table with a phone in your hand, dating apps are a surefire way to strike up a conversation with someone. No matter your intentions, you can chat as much as you want and have a virtual company for drinks or late-night conversations.
Once, I met a guy on Tinder, who ended up being my virtual guide through the city I was visiting, sending me tips and recommendations while I was wandering the streets. In the evening, we met for dinner, followed by the whole night of salsa dancing (ahh, memories).
Ask a Stranger for Directions
If you are not courageous enough to strike a conversation with gorgeous strangers that you bump into while traveling, arm yourself with a map from your hotel reception and keep your eyes open while you walk around the city. Being lost in a foreign city is a legit excuse to approach that charmer and ask for directions.
One of my friends who saw a guy she liked passing by in the city she was visiting approached him and asked how to get to the park she wanted to see. Not only did he volunteer to walk her there, but he also invited her to a concert the same evening. A couple of years later, after long-distance dating and impromptu trips to meet each other, they got happily married.
Visit Cool Cafes
Cool cafes often have shared seating options, such as communal tables or armchairs arranged around smaller tables. There you will see solo coffee drinkers fiddling with their phones or browsing on their laptops. "Excuse me, do you know what's the wifi password here?" or "Do you mind watching my stuff for a second while I go to the bathroom?" are two universal phrases that can be a beginning to a conversation.
So scan the coffee shop with your eyes before sitting down, and choose your seat wisely. If there is nobody to chat with on your radar, you can always prop yourself at the bar and strike a conversation with a happy-go-lucky barista about the origin of coffee beans or compliment their latte art skills. You may end up with free espresso and some useful tips about other cool coffee shops in town.
No matter how shy you are approaching people and initiating conversations, dating while traveling is pretty straightforward. Shared activities and adventures allow you to connect with people in a laid back way. So keep your eyes open, enjoy your travels, be nice to people, and the fun (and dates) will follow!
Emma Jones enjoys observing and exploring the world around her and writing about her discoveries. Her favorite topics are dating and human relationships, and she likes to analyze them from a psychological perspective. She is a contributing author at Thought Catalog, GoDates, and several other media outlets.
5 Things to Bring on Vacation if You Plan on Dating while Traveling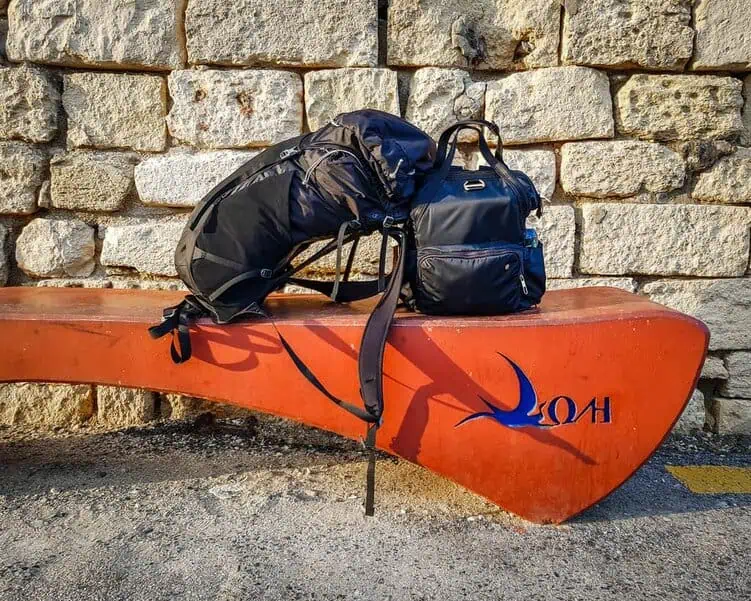 Being ready for a date on the road doesn't have to be stressful! Just make sure you bring these five things:
An Unlocked Smartphone so you can use dating apps like Tinder while traveling. I currently use a Samsung8 smartphone. It's important to make sure you have a local sim card or roaming data so if you do need to use your phone you're able to make a call.
Backup Charging Bank for your cell phone since you want to make sure your phone is always charged while on a date. This is an important safety measure!
A Full-Sized Travel Towel if you decide to stay in hostels to be able to meet people. This is the best travel towel in the world, and you'll need it if you are staying anywhere that requires you to bring your towel.
A book to read while you're hanging out in cafes. This is a great way to clear your mind and enjoy your trip, but it also helps you to look more approachable than if you're buried in your smartphone. I like to bring a book (or buy one on my trip) that takes place in the city or country where I'm traveling.
A Great Day Bag that also transitions into a good evening bag so you can carry what you need with you for the day (like your camera, snacks, water, sunscreen, cash, etc), but also take it with you out at night. My current favorite is the Pacsafe Citysafe, which is especially great for travelers because it has many anti-theft features designed to deter pickpockets.
Solo Travel Resources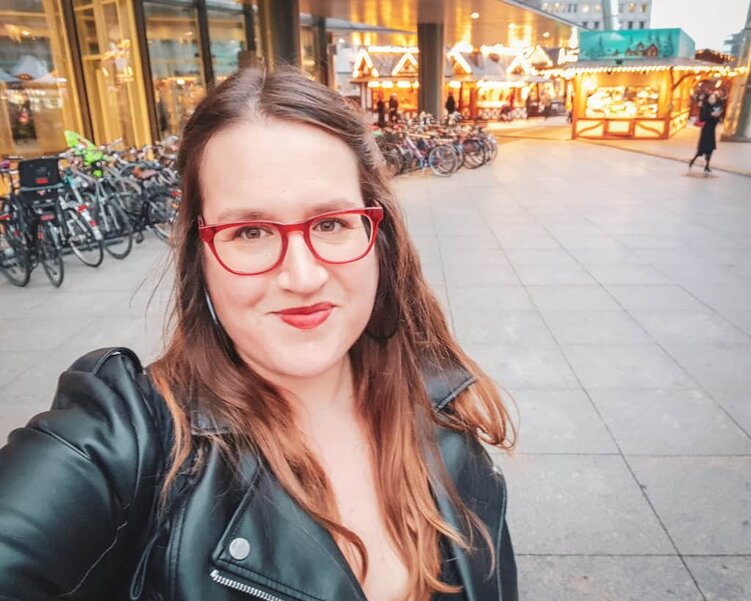 If you're going to be traveling solo, check out this great guide to traveling alone for the first time plus advice for making friends while traveling solo!
Don't Forget About Travel Insurance!
Before you leave for your trip make sure you have a valid Travel Insurance Policy because accidents happen on the road. I pay for World Nomads, and I happily recommend them. It's especially important to get travel insurance when traveling solo so loved ones back home can assist if you end up needing help. Make sure someone back home has your policy information!
I have been a paying customer of World Nomads for travel insurance for three years, and I happily recommend them. If you get sick, injured, or have your stuff stolen, you'll be happy to have the ability to pay for your medical bills or replace what's stolen or broken.
Pin this Guide to Dating while Traveling for Your Trip!