This post may contain affiliate links. Please see my disclosure page for more details.
Last Updated on: 19th June 2023, 06:42 pm
Looking for hilarious Cambodia puns to share with friends before a trip to Cambodia?
Or perhaps you want a few clever puns to use as Cambodia Instagram captions or a Cambodia status on your trip?
Here are my favorite Cambodia jokes and puns to help make your amazing trip even more enjoyable!
Read Next: 101 Travel Puns & Jokes for Hilarious Travel Instagram Captions
Can't read now? Pin for later!
My Favorite Travel Booking Sites for 2023
These are my favorite companies that I use on my own travels.
Protect Your Trip via Safety Wing
Find the best city tours, day tours, bus tours, & skip-the-line tickets on GetYourGuide and Viator.
Find the best deals on hotels & vacation rentals on Booking.com.
For English-speaking private airport transfers, book through Welcome Pickups.
For road trips and independent travel, rent a car through Discover Cars.
Find information and cruise reviews on Cruise Critic.
For packing and travel essentials order via Amazon.
Book an affordable family or romantic photography session on your trip through Flytographer (Use the code HISTORYFANGIRL for 10% off your first photoshoot).
For travel guidebooks to have with you during your trip, I always pick one or two from Rick Steves and Lonely Planet.
How to Use these Cambodia Puns & Jokes
Feel free to use this post to find puns and jokes about Cambodia for your photo captions, Cambodia Instagram captions, Cambodia Whatsapp status, Viber status, Cambodia Facebook status, or however you want!
If you do use one, I'd love it if you linked or tagged me so I can enjoy your work!  
If you use one on a website, please link to this post. Otherwise, you can follow and tag me on social media so I can see you using them in action:
Instagram: @historyfangirl
Facebook: Stephanie Craig – History Fangirl
Twitter: @ahistoryfangirl
A quick note: please do not use a pun for a caption about visiting one of the monuments and hallowed places that reference the Khmer Rouge.
If you're looking for some help with a caption for one of these, I have a section in this post that lists poignant quotes to use instead.
The Best Cambodia Puns for Cambodia Instagram Captions
Here are my favorite Cambodia puns for every circumstance.
Cambodia City Puns
You Siem Reap what you sew.
The Phnom Penh is mightier…
In hot Pursat
Cambodia is Phnom-inal
It's time to hit the Battambang.
The price is Kep.
Girls just wanna have Skuon.
Cambodia Travel Puns
It doesn't matter who's right and who's Koh Rong.
Why are you Russian to get your shopping done?
X markets the spot.
At Tonle Sap, you gotta fake it 'til you lake it.
Angkor Puns
I wat to go to there.
It dawned on me at Angkor Wat (for your visit to Angkor Wat at sunrise)
Angkor stole the monkey to my heart
Why don't you Khmer?
Bayon Watch
Cambodia Food Puns
Cambodia is noodles of fun.
They really put some pepper in my step.
I fish you were here! (For more, check out my post on the best fish puns).
I spider with my little eye…
That's the kampot calling the kettle black.
Want more Hilarious Travel Puns?
I'm a little obsessed with travel puns. If you are too, check out my massive list of travel puns, plus the best Vietnam puns, Thailand puns, Myanmar puns, India puns, Nepal pun, Indonesia pun, and Bali puns.
For more great travel quotes, check out my entire library of Travel Quotes, Puns, & Memes.
More Cambodia Travel Resources
Headed to Cambodia? I have lots of resources to help you plan your trip!
Check out the best things to do in Seim Reap, how to visit Angkor Wat at sunrise, and make sure to beware of the Angkor monkeys!
If you're interested in Cambodian history, check out the history of the Khmer Empire and Angkor.
Headed to the capital? Check out how to spend two days in Phnom Penh.
Still looking for more caption ideas? Check out the best Cambodia quotes.
5 Things to Bring to Cambodia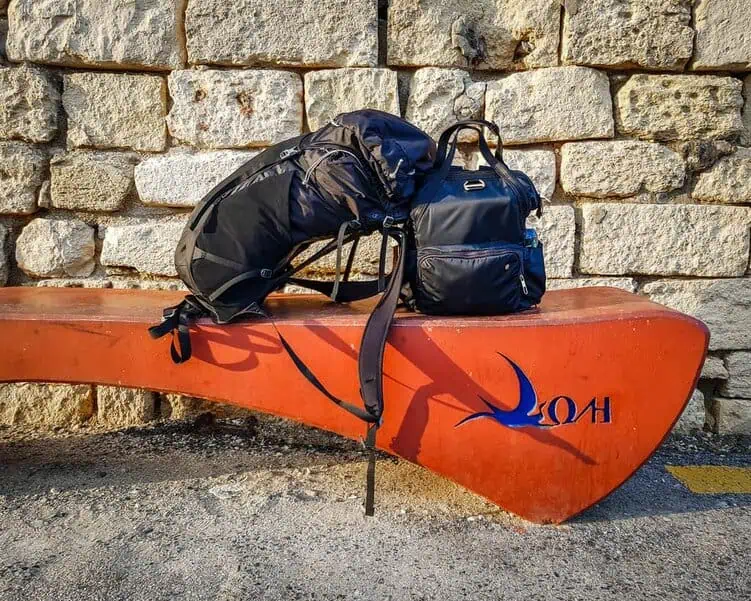 The Lonely Planet Cambodia guidebook for your trip. I used a Kindle version during my time in Cambodia. It's hard to find guidebooks once you're actually on the ground.
Backup Charging Bank for your cell phone since you'll be using it as a camera, GPS, and general travel genie.
A Camera since Cambodia is super photogenic. For my trip I used my Nikon D810 and my Samsung8 smartphone.
A Full-Sized Travel Towel for anyone taking advantage of Cambodia's hostels and guesthouses. This is the best travel towel in the world, and you'll need it if you are staying in hostels or anywhere that requires you to bring your towel.
A Great Day Bag so you can carry what you need with you (like your camera, snacks, water, sunscreen, cash, etc). My current favorite is the Pacsafe Citysafe, which is especially great for Cambodia because it has many anti-theft features designed to deter pickpockets.
It also transitions to a night bag more easily and won't embarrass you if you go to dinner directly after sightseeing all day. 
Don't Forget About Travel Insurance!
Before you leave for Cambodia make sure you have a valid Travel Insurance Policy because accidents happen on the road.
I pay for World Nomads, and I happily recommend them. It's especially important to get travel insurance if you'll be hanging out in cities like Hanoi where tourists can easily become the targets of pickpockets.
I have been a paying customer of World Nomads for travel insurance for three years, and I happily recommend them.  
If you get sick, injured, or have your stuff stolen, you'll be happy to have the ability to pay for your medical bills or replace what's stolen or broken.
Pin this Guide to the Best Puns about Cambodia & Cambodia Jokes for Your Trip!