This post may contain affiliate links. Please see my disclosure page for more details.
Last Updated on: 8th August 2021, 11:39 pm
Looking for hilarious Cyprus puns to share with friends before a trip to Cyprus? Or perhaps you want a few clever puns to use as Cyprus Instagram captions or a Cyprus status on your trip? Here are my favorite Cyprus jokes and puns to help make your amazing trip even more enjoyable!
Read Next: 101 Travel Puns & Jokes for Hilarious Travel Instagram Captions
Can't read now? Pin for later!
How to Use these Cyprus Puns & Jokes
Feel free to use this post to find puns and jokes about Cyprus for your photo captions, Cyprus Instagram captions, Cyprus Whatsapp status, Viber status, Cyprus Facebook status, or however you want!. If you do use one, I'd love if you linked or tagged me so I can enjoy your work!
If you use one on a website, please link to this post. Otherwise, you can follow and tag me on social media so I can see you using them in action:
Instagram: @historyfangirl
Facebook: Stephanie Craig – History Fangirl
Twitter: @ahistoryfangirl
The Best Cyprus Puns for Cyprus Instagram Captions
Here are my favorite Cyprus puns for every circumstance.
Cyprus Travel Puns
Pissouri loves company.
In Cyprus, it's all Greco to me.
Kourion my wayward son.
Here, Kiti kitty.
Is it Troodos beaches are the best in the world?
Agia Napa on the beach. (Need more beach puns? Check out 101 Boss Beach Puns).
Hello, Dali
Portents of Tomb
Stop castle-n me. (Want more castle puns? Check out 50 Regal & Hilarious Castle Puns).
You salty.
I lake you a lot.
Hey Gorge-ous.
I got here in the Nicosia of time.
Icon-t wait to get to Cyprus.
All you need is Love Bridge
Latsi how long I last before I need a nap.
Aphrodite's Rock 'n Roll
It's promenade-ly displayed.
I don't give a flying Fig Tree.
You Cypriot-a know.
Cyprus Food & Drink Puns
Halloumi to introduce myself. (Need more cheese puns? Check out 101 Delicious Cheese Puns).
Where can afella get a drink around here?
I think olive you.
Loukoumi now.
Wine not?
Want more Hilarious Travel Puns?
I'm a little obsessed with travel puns. If you are too, check out:
For more great travel quotes, check out my entire library of Travel Quotes, Puns, & Memes.
More Cyprus Travel Resources
Headed to Cyprus? Check out my guide to the best Cyprus beaches. Then hit up my guide to the best things to do in Cyprus.
If you love visiting UNESCO World Heritage Sites, I have overviews on visiting the Painted Churches in the Troodos, Paphos, and Choirokoitia.
If you love street art, here are my favorite pieces of street art in Nicosia. And here's why I didn't like the town of Paphos.
5 Things to Pack for Cyprus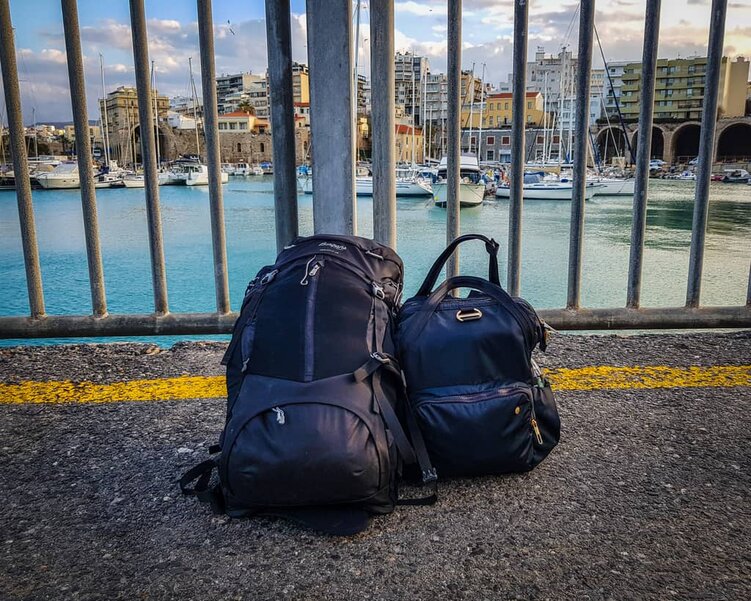 The Lonely Planet Cyprus guidebook for your trip. It can be hard to find big, international guidebooks once you land (or they'll be way overpriced). Get yours ahead of time, either a hard copy or on a Kindle.
Beach Bag: You can throw everything in a canvas tote bag or a multi-purpose day bag like this large Longchamp that I use as a purse on the road and a beach bag when needed.
Go Pro: If you have one, bring it here. You're going to want to get underwater photography at most of the beaches.
Full-Sized Travel Towel: This towel is the perfect travel towel to have for both using at your hotel/hostel but also taking to the beach since it's so big and beautiful. Rolls up small and comes with its own pouch so it takes up almost no room in your beach bag. Seriously, I'm obsessed with my travel towel.
Water shoes or sandals that can handle rocks, since many of the beaches here have underwater rocks. I use these Travel Jellies.
Don't Forget About Travel Insurance!
Before you leave for Cyprus make sure you have a valid Travel Insurance Policy because accidents happen on the road. I pay for World Nomads, and I happily recommend them. It's especially important to get travel insurance if you'll be enjoying the great outdoors or Cyprus's famous nightlife.
I have been a paying customer of World Nomads for travel insurance for three years, and I happily recommend them. If you get sick, injured, or have your stuff stolen, you'll be happy to have the ability to pay for your medical bills or replace what's stolen or broken.
Pin these Cyprus Puns & Jokes About Cyprus for Your Trip!