This post may contain affiliate links. Please see my disclosure page for more details.
Last Updated on: 8th August 2021, 10:45 pm
Looking for hilarious France puns to share with friends before a trip? Or perhaps you want a few clever puns to use as France Instagram captions on your trip? Here are my favorite France jokes and puns to help make your amazing trip even more enjoyable!
Read next: 101 Quotes about France to Inspire Your Travels & Your France Instagram Captions
Can't read now? Pin for later!
How to Use these France Puns & Jokes
Feel free to use this post to find puns and jokes about France for your photo captions, France Instagram captions, France Whatsapp status, Viber status, or however you want!. If you do use one, I'd love if you linked or tagged me so I can enjoy your work!
If you use one on a website, please link to this post. Otherwise, you can follow and tag me on social media so I can see you using them in action:
Instagram: @historyfangirl
Facebook: Stephanie Craig – History Fangirl
Twitter: @ahistoryfangirl
France Puns & Jokes about France
Looking for some so-bad-their-good France puns? Here are my absolute favorites, gathered from the darkest, punniest corners of the internet, plus quite a few I've written myself. Feel free to use these for your Instagram Captions in France! It would be a shame to let a good pun go to waste!
General France Puns
France is always a beret good time!
Feeling very France-y today!
Summer in France is st-Eifel-ing.
I Musee, the French have great taste in art.
France – it's just a oui bit different!
It's time to say Versailles to France.
There's so much to do here so I'm never Bordeaux-ed.
Can I go to France this year? Of Corsican!
I'm in love with France, and I ain't Lyon.
I'll try to keep it brief, but I have so much to Marseilles about France.
I always feel like a winner in France, which is great because I hate Toulouse.
When in France, I have Nantes-thing to complain about.
From up here, I Cannes see the whole French Riviera!
It's impossible to Rouen a trip to France.
I read Reims of info before I got here, but nothing can prepare you for how beautiful this place is.
Can't wait to start our French Tours!
French Food Puns
You better baguette about it!
Life is pain au chocolat.
I hate to leave, but it's time for me to escargot.
In France, we have breakfast of champignons.
Being in France gives me the crepes.
Hey, macaroon-a!
France, one day our paths will croissant again.
French food is brie-ond belief!
Feeling French onion soup-er in France!
France is the creme brulee of the crop!
Our hotel is nice and duck confit.
Hugs and quiches.
The D-eclair-ation of the Rights of Man
Wine not?
Let's rent a cocavan and take a road trip around France.
French History Puns
How do you Charlemange-age to get through the last few days before vacation?
I'm in such a Henri to get to France!
I love a good shindig. Just call me Napoleon Bonapart-y.
Welcome to Louis-ville.
Should I bring a costume with me? I love a good dis-Guise.
French, French Revolution
This trip is going to be La Belle Epoque.
Don't make such a Dreyfus about it.
I can't believe you have the de Gaulle to say that to my face.
French history is nothing to Lafayette at.
French Literature & Art Puns
Don't come to France without any Monet.
Feeling fin-tastic.
We Rodin a taxi around the city after dark.
Can I be Candide with you?
Are these pants too tight in the Balzac?
France is beautiful in every Cezanne.
I hate to Gauguin, but I have to catch my flight.
It's a beautiful Degas!
I've loved my vacation in France, but it's time to Hugo.
Have you come up with any hilarious jokes about France or France puns recently? If so, leave them in the comments, and I'll add it to the list!
Want more Travel Puns?
I'm a little obsessed with travel puns. If you are too, check out:
5 Things to Pack for Your Trip to France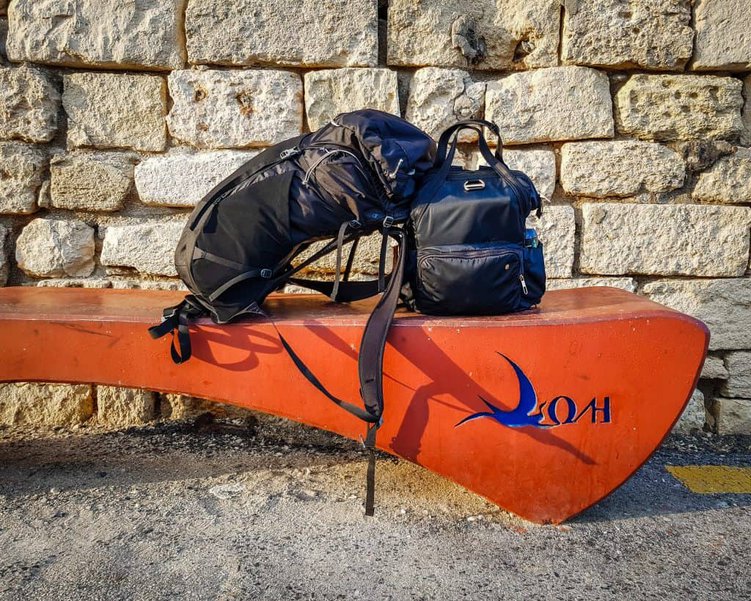 The Lonely Planet France guidebook or the Rick Steves Paris guidebook for your trip. It can be kind of a pain to find the major guidebooks once you arrive in France, or you'll find them overpriced. I always like to pick mine up ahead of time.
An Unlocked Cell Phone so that you can use a French sim card while here to help navigate the trains.
Backup Charging Bank for your cell phone since you'll be using it as a camera, GPS system, and general travel genie.
A Camera since France is super photogenic. I use a mix of my Nikon D810 and my Samsung8 smartphone these days.
A Great Day Bag so you can carry what you need with you (like your camera, snacks, water, sunscreen, cash, etc). My current favorite is the Pacsafe Citysafe, which is especially great for Paris and Bordeaux because it has many anti-theft features.
More France Travel Resources
Headed to Paris? Check out the 10 Historic Churches in Paris you should see and the best quotes about Paris, plus this podcast episode Rick Steves Over Brunch: Highlights of Paris and my favorite Paris puns.
If you're interested in exploring northern France, check out my photo essay from Normandy and my podcast episode on The Beaches of Normandy.
If you're looking for more France Instagram captions or other travel quotes and didn't find what you're looking for, you can also check out 101 Quotes about France and 250+ Real & Inspirational Travel Quotes (with Images!).
Don't Forget Travel Insurance!
Before you leave for France make sure you have a valid Travel Insurance Policy because accidents happen on the road. I pay for World Nomads, and I happily recommend them. It's especially important to get travel insurance if you'll be hanging out in cities (like Paris…ahem) where tourists can be the victims of pickpockets.
I have been a paying customer of World Nomads for travel insurance for three years, and I happily recommend them. If you get sick, injured, or have your stuff stolen, you'll be happy to have the ability to pay for your medical bills or replace what's stolen or broken.
Pin these France Puns & Jokes for Your Trip!