This post may contain affiliate links. Please see my disclosure page for more details.
Last Updated on: 19th September 2021, 01:13 pm
Looking for hilarious Indonesia puns to share with friends before a trip? Or perhaps you want a few clever puns to use as Indonesia Instagram captions on your trip? Here are my favorite Indonesia jokes and puns to help make your amazing trip even more enjoyable!
Read next: 25 Gorgeous Indonesia Quotes & Indonesia Instagram Captions
Can't read now? Pin for later!
My Favorite Travel Booking Sites for 2023
These are my favorite companies that I use on my own travels.
Protect Your Trip via Safety Wing
Find the best city tours, day tours, bus tours, & skip-the-line tickets on GetYourGuide and Viator.
Find the best deals on hotels & vacation rentals on Booking.com.
For English-speaking private airport transfers, book through Welcome Pickups.
For road trips and independent travel, rent a car through Discover Cars.
Find information and cruise reviews on Cruise Critic.
For packing and travel essentials order via Amazon.
Book an affordable family or romantic photography session on your trip through Flytographer (Use the code HISTORYFANGIRL for 10% off your first photoshoot).
For travel guidebooks to have with you during your trip, I always pick one or two from Rick Steves and Lonely Planet.
How to Use these Indonesia Puns & Jokes
Feel free to use this post to find puns and jokes about Indonesia for your photo captions, Instagram captions, Indonesia Whatsapp status, Viber status, or however you want!. If you do use one, I'd love if you linked or tagged me so I can enjoy your work!
If you use one on a website, please link to this post. Otherwise, you can follow and tag me on social media so I can see you using them in action:
Instagram: @historyfangirl
Facebook: Stephanie Craig – History Fangirl
Twitter: @ahistoryfangirl
Indonesia Puns & Jokes about Indonesia
Here are some of my favorite puns about different places in Indonesia.
There's Tanah Lot to do in Indonesia!
Making the mosque of our time in Indonesia!
Pass me the Thousand Islands dressing.
I'm so tired from all this sightseeing. I'm komodo dragon my feet.
It's a Madura of taste.
I love Indonesia – north, east, south, and West Sumatra.
Are we having a fabulous time in Indonesia? Gili-ty as charged!
The views in Indonesia will pool you in.
Indonesia's volcanoes are so rude. They int-erupt a lot!
Indonesian Food Puns
Indonesian food has influences from multiple cultures and has great diversity across the country. Here are some Indonesian food puns to help you express your love for these wonderful dishes.
My favorite band is Durian Durian.
I'd rather you pay for Indonesian food that if we go Dutch.
It sure is rice to be here!
I'll Java what he's having.
Indonesian food is soto delicious!
I Gado-Gado have some more!
It's a brew-tiful day!
Bakmi this is good!
Satay away!
Gulai goody gumdrops!
I've dreamed of seeing Indonesia since Bakwan I was a small child.
I think Ikan, I think Ikan.
Don't worry Indonesia, I have to leave but one day I'll Bebek Goreng.
Bali Puns
Headed to the Last Paradise? Keep these Bali puns in mind!
The place is un-Bali-able!
Batur up!
Forget Ubud it!
I can't wait to Gitgit to Bali!
I can't Sing-sing the praises of Bali enough!
Bali is the Waterbom.
Feeling like a spoiled Bratan here in Bali, and I love it.
Jakarta Puns
Headed to the Big Durian? Make sure to bring these puns with you!
Are you sure you want to go shopping? We'll have to Jakarta-round whatever we buy.
I know you're tired, but you don't have to b**** and Monas about it.
It's Suropati that we have to leave soon!
When I'm in Jakarta, nothing's Wayang me down.
Touch the Skye Bar.
Beach Puns
A few beach-y keen puns for your Indonesia beach days. (That one was a bonus pun).
Feeling fin-tastic!
Girls just wanna have sun.
Tropic like it's hot.
That sun of a beach!
Where there's a will, there's a wave.
I'm not shore I ever want to leave!
Shell, yeah!
Aloe, is it me your looking for? (This one is especially great for any post-beach sunburns you need to take care of).
Keep palm and carry on.
It's a gull-friends weekend!
Monkey Puns
Headed to the Sacred Monkey Forrest? Here are some great monkey puns to use while you're there!
That baby monkey is just a chimp off the old block!
These monkeys fought so hard to steal those bananas it was basically gorilla warfare.
Getting that hot goss from the ape vine.
Monkeys are cute but feisty. Take that as a gibbon.
We got out of there in two shakes of a monkey's tail!
I hope this monkey story has a fairy-tail ending.
Have you come up with any hilarious jokes about Indonesia or Indonesia puns recently? If so, leave them in the comments, and I'll add it to the list!
Want more Travel Puns?
I'm a little obsessed with travel puns. If you are too, check out:
5 Things to Pack for Your Trip to Indonesia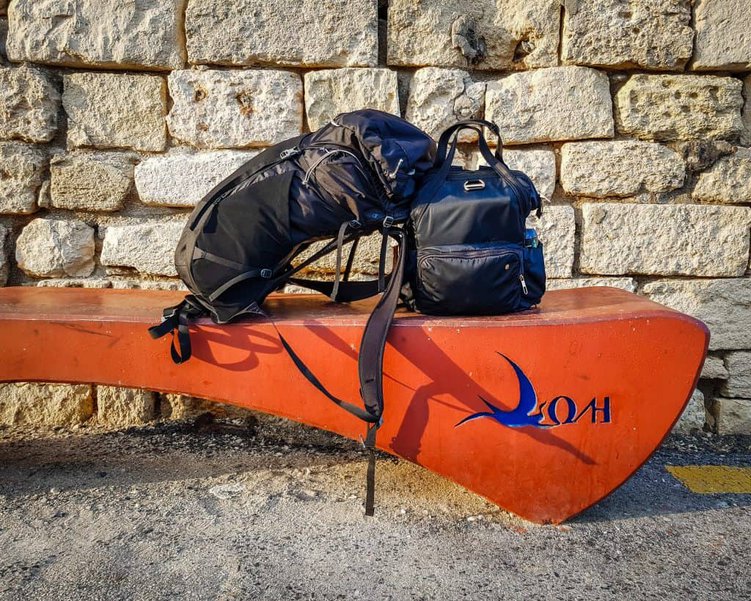 The Lonely Planet Indonesia guidebook for your trip. It can be kind of a pain to find the major guidebooks once you arrive or you'll find them overpriced. I always like to pick mine up ahead of time.
An Unlocked Cell Phone so that you can use an Indonesian sim card and have internet access without relying on local wifi.
Backup Charging Bank for your cell phone since you'll be using it as a camera, GPS system, and general travel genie.
A Camera since Indonesia is super photogenic. I use a mix of my Nikon D810 and my Samsung8 smartphone these days.
A Great Day Bag so you can carry what you need with you (like your camera, snacks, water, sunscreen, cash, etc). My current favorite is the Pacsafe Citysafe, which is especially great for Asian cities because it has many anti-theft features.
Don't Forget Travel Insurance!
Before you leave for France make sure you have a valid Travel Insurance Policy because accidents happen on the road. I pay for World Nomads, and I happily recommend them. It's especially important to get travel insurance if you'll be hanging out in cities (like Paris…ahem) where tourists can be the victims of pickpockets.
I have been a paying customer of World Nomads for travel insurance for three years, and I happily recommend them. If you get sick, injured, or have your stuff stolen, you'll be happy to have the ability to pay for your medical bills or replace what's stolen or broken.
Pin these Indonesia Puns & Jokes for Your Trip!