This post may contain affiliate links. Please see my disclosure page for more details.
Last Updated on: 8th August 2021, 10:58 pm
Looking for hilarious Norway puns to share with friends before a trip to Norway? Or perhaps you want a few clever puns to use as Norway Instagram captions or a Norway status on your trip? Here are my favorite Norway jokes and puns to help make your amazing trip even more enjoyable!
Read Next: 101 Travel Puns & Jokes for Hilarious Travel Instagram Captions
Can't read now? Pin for later!
How to Use these Norway Puns & Jokes
Feel free to use this post to find puns and jokes about X for your photo captions, Norway Instagram captions, Norway Whatsapp status, Viber status, Norway Facebook status, or however you want!. If you do use one, I'd love if you linked or tagged me so I can enjoy your work!
If you use one on a website, please link to this post. Otherwise, you can follow and tag me on social media so I can see you using them in action:
Instagram: @historyfangirl
Facebook: Stephanie Craig – History Fangirl
Twitter: @ahistoryfangirl
The Best Norway Puns for Norway Instagram Captions
Here are my favorite Norway puns for every circumstance.
Norway City Puns
Bergen, it's cold in here.
I want to go fast, but Oslo.
Maxwell's Lillehammer came down upon her head
Grimstad and bear it
You old Tromso and so
Stavanger hunt
She's got a hidden Sandnes
I live for Drammen.
Let's get Hamar-ed.
Hear me Røros
Check out my Bergen bag.
I have Lofoten goals.
Norway Travel Puns
There's Norway I can go back home.
I want to come back soon, but I can't a fjord it.
Oh, whale.
Hear me Aurora
Norway gets my seal of approval.
You're my ferry godmother.
I can bear-ly contain my excitement.
All Dahl-ed up
Home of the stave
The ship hit the fan.
All of the Northern Lights.
A Norse is a Norse of course, of course.
A trip to Norway is very a-moose-ing.
Where there's a vole there's a way.
We came here on ox-ident.
Got any good nach-knock jokes?
In Norway, the best places to visit are pretty different. Sommarland and some are water.
I knew you'd cave in.
The House of the Midnight Sun
Norse Mythology Puns
Back That Asgard Up
Rock 'n Troll
Keeping Thor
Don't be so Bragi.
I'm Loki feeling you.
It's Norn of your business.
This trip dwarfs every other one I've taken.
Ragnarok the Casbah
Oh Hel no
Vali Girl
Norweigen Puns about Food & Drink
Norweigan cuisine is very so-fish-ticated. (Want more fish puns? Check out 101 Funny Fish Puns that Explore Every Angler).
I'm having a bad herring day.
Do you mead anybody?
I just need salmon to love.
Lutefisk-icuffs
I love Norway a waffle lot.
Don't ask me rye.
Cheese sir, can I have some more? (Need cheese puns? Check out 101 Delicious Cheese Puns).
The itsy, bitsy cider.
I like Norweigan food an Offal lot.
Want more Hilarious Travel Puns?
I'm a little obsessed with travel puns. If you are too, check out:
For more great travel quotes, check out my entire library of Travel Quotes, Puns, & Memes.
5 Things to Pack for Your Trip to Norway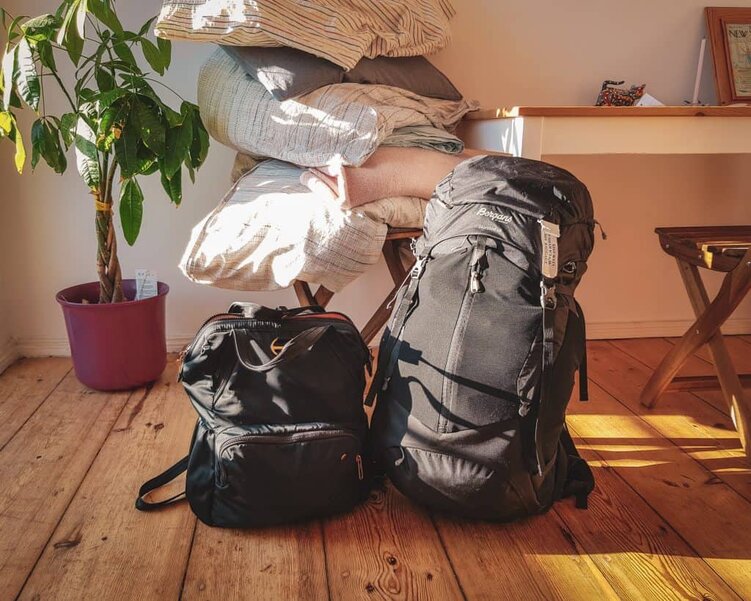 The Lonely Planet Norway guidebook for your trip. It can be hard to find big, international guidebooks once you land (or they'll be way overpriced). Get yours ahead of time, either a hard copy or on a Kindle.
An Unlocked Cell Phone so that you can use a Norweigan sim card while here to help navigate public transportation and when you're on the road.
Backup Charging Bank for your cell phone since you'll be using it as a camera, GPS, and general travel genie.
A Camera since Norway is super photogenic. I use a mix of my Nikon D810 and my Samsung8 smartphone these days.
A Great Day Bag so you can carry what you need with you (like your camera, snacks, water, sunscreen, cash, etc). My current favorite is the Pacsafe Citysafe, which is especially great for Norweigan cities because it has many anti-theft features designed to deter pickpockets. It also transitions to a night bag more easily and won't embarrass you if you go to dinner directly after sightseeing all day.
More Norway Travel Resources
Many people combine a trip to Norway with a stop in Iceland. If you're planning on combining these two countries, check out:
Don't Forget About Travel Insurance!
Before you leave for Norway make sure you have a valid Travel Insurance Policy because accidents happen on the road. I pay for World Nomads, and I happily recommend them. It's especially important to get travel insurance if you'll be hanging out in cities like Oslo where tourists can easily become the targets of pickpockets, or if you'll be doing any outdoor activities like hiking.
I have been a paying customer of World Nomads for travel insurance for three years, and I happily recommend them. If you get sick, injured, or have your stuff stolen, you'll be happy to have the ability to pay for your medical bills or replace what's stolen or broken.
Pin these Norway Puns & Jokes About Norway for Your Trip!