This post may contain affiliate links. Please see my disclosure page for more details.
Last Updated on: 8th August 2021, 11:37 pm
Looking for hilarious Poland puns to share with friends before a trip to Poland? Or perhaps you want a few clever puns to use as Poland Instagram captions or a Poland status on your trip? Here are my favorite Poland jokes and puns to help make your amazing trip even more enjoyable!
Read Next: 101 Travel Puns & Jokes for Hilarious Travel Instagram Captions
Can't read now? Pin for later!
How to Use these Poland Puns & Jokes
Feel free to use this post to find puns and jokes about Poland for your photo captions, Poland Instagram captions, Poland Whatsapp status, Viber status, Poland Facebook status, or however you want!. If you do use one, I'd love if you linked or tagged me so I can enjoy your work!
If you use one on a website, please link to this post. Otherwise, you can follow and tag me on social media so I can see you using them in action:
Instagram: @historyfangirl
Facebook: Stephanie Craig – History Fangirl
Twitter: @ahistoryfangirl
The Best Poland Puns for Poland Instagram Captions
Here are my favorite Poland puns for every circumstance.
Poland City Puns
We came, Warsaw, We Conquered
I'll take a Krakow it.
Gdansk Gdansk Revolution
Let's press Poznań on the talk about leaving
He would Katowice nose to spite his face.
I am simply Lublin the architecture here.
You have to learn to walk before you learn Toruń.
That's the Sopot calling the kettle black.
Life is just Radom chance.
I lost the Płock.
Poland Travel Puns
Time to Polish my sightseeing shoes.
It's easy to be salty in Poland.
Good bison.
Stanisław & Order
Warsaw and Krakow are like Knight and Day
I'm so glad you're mine.
Polished off Poland on my bucket list!
I'd like to buy a Wawel.
I crossed the road to get to the Oder side.
I'm Chopin at the bit to get out and explore.
In Poland, all dancing is Pole dancing.
I hate to castle you. (Need more castle puns for your Polish castle pics? Check out 50 Regal & Hilarious Castle Puns).
This place really stirs my Curie-osity.
The air here makes Poland a great place to con-Wałęsa.
We walked so far today that my feet started dragon.
You and Hussar-my?
I keep Rysy-ts
Stick a Malbork in me, I'm done.
Peace out.
This gin is Teutonic-y.
Polish Food & Drink Puns
Don't kielbasa over.
Nothing beets a trip to Poland!
Mizeria loves company.
I think Pierogi puns can be a bit cheesy. (Love cheese puns? Check out 101 Delicious Cheese Puns).
Polish vodka is spud-tacular.
You're a zupa star.
Budyń on airs.
Chałka you do this to me?
There must always be a Starka in Winterfell.
I won't take anymore flaki.
I Sałatka you.
All that glitters is not Goldwasser.
Kremem and clover.
I'm a little home gzik for Poland.
The itsy bitsy cider.
This is a business trip. I came to Poland faworki.
It's Ryba for her pleasure. (Need more fish puns? Check out 101 Delicious Cheese Puns)
I'm a business kogel mogel.
We got here in the piernik of time.
The ghosts in Poland really get to me. They're so gulasz.
Want more Hilarious Travel Puns?
I'm a little obsessed with travel puns. If you are too, check out:
For more great travel quotes, check out my entire library of Travel Quotes, Puns, & Memes.
5 Things to Pack for Your Trip to Poland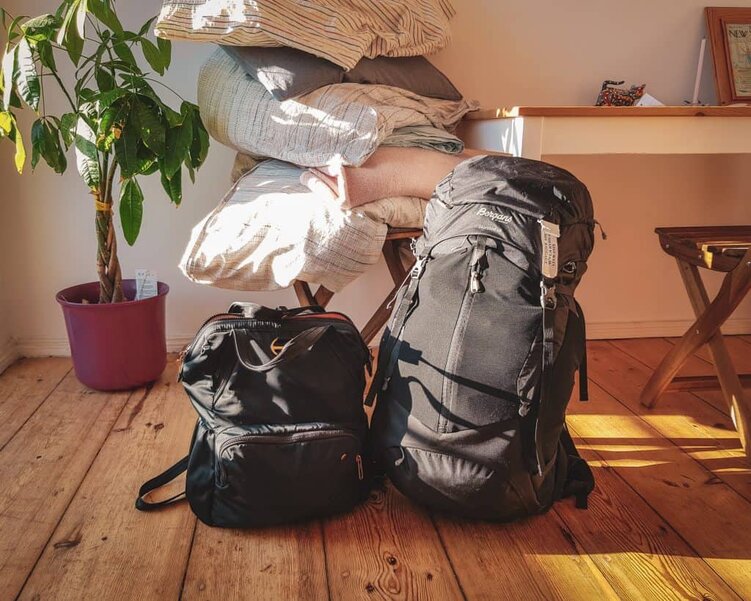 The Lonely Planet Poland guidebook for your trip. It can be hard to find big, international guidebooks once you land (or they'll be way overpriced). Get yours ahead of time, either a hard copy or on a Kindle.
An Unlocked Cell Phone so that you can use a Polish sim card while here to help navigate public transportation and when you're on the road.
Backup Charging Bank for your cell phone since you'll be using it as a camera, GPS, and general travel genie.
A Camera since Poland is super photogenic. I use a mix of my Nikon D810 and my Samsung8 smartphone these days.
A Great Day Bag so you can carry what you need with you (like your camera, snacks, water, sunscreen, cash, etc). My current favorite is the Pacsafe Citysafe, which is especially great for Polish cities because it has many anti-theft features designed to deter pickpockets. It also transitions to a night bag more easily and won't embarrass you if you go to dinner directly after sightseeing all day.
Don't Forget About Travel Insurance!
Before you leave for Poland make sure you have a valid Travel Insurance Policy because accidents happen on the road. I pay for World Nomads, and I happily recommend them. It's especially important to get travel insurance if you'll be hanging out in cities like Krakow where tourists can easily become the targets of pickpockets.
I have been a paying customer of World Nomads for travel insurance for three years, and I happily recommend them. If you get sick, injured, or have your stuff stolen, you'll be happy to have the ability to pay for your medical bills or replace what's stolen or broken.
Pin these Poland Puns & Jokes About Poland for Your Trip!