This post may contain affiliate links. Please see my disclosure page for more details.
Last Updated on: 18th March 2023, 11:07 pm
Looking for hilarious Ukraine puns to share with friends before a trip to Ukraine?
Or perhaps you want a few clever puns to use as Ukraine Instagram captions or a Ukraine status on your trip?
Here are my favorite Ukraine jokes and puns to help make your amazing trip even more enjoyable!
Read Next: 101 Travel Puns & Jokes for Hilarious Travel Instagram Captions
Note: Due to the illegal Russian invasion of Ukraine, travel information about visiting Ukraine is currently out of date. Articles will be updated once the conflict is over and safe tourism has returned to the country. Slava Ukraini.
Can't read now? Pin for later!
How to Use these Ukraine Puns & Jokes
Feel free to use this post to find puns and jokes about Ukraine for your photo captions, Ukraine Instagram captions, Ukraine Whatsapp status, Viber status, Ukraine Facebook status, or however you want!. If you do use one, I'd love if you linked or tagged me so I can enjoy your work!
If you use one on a website, please link to this post. Otherwise, you can follow and tag me on social media so I can see you using them in action:
Instagram: @historyfangirl
Facebook: Stephanie Craig – History Fangirl
Twitter: @ahistoryfangirl
The Best Ukraine Puns for Ukraine Instagram Captions
Here are my favorite Ukraine puns for every circumstance.
Ukraine City Puns
Kiev calm and carry one.
Isn't it Lviv-ly?
I can't find my Kharkiv.
You take photos like a Dnipro.
What a time to Mykolaiv
Eat, drink, and be Mariupol
Lutsk out!
Turn it up to Kleven.
Yalta come back.
Baba black sheep
Ukraine Travel Puns
Having oblast in Ukraine
Grad we made it!
And I ran, Ivan so far away.
I Lavra spending time in Kyiv.
I worked my Azov.
Crimea river.
Arch you glad to see me?
Men live in Ukraine. Sheep live in Ewe-kraine.
Home Sweet Dome.
Maidan is better than your dawn.
I Salyut you.
The Tunnel of love is in your eyes
Once you go Black Sea, you never go back.
Happy Dnister!
Don't Hoverla me.
Tak dirty to me.
You Vlad to be there.
It was all a Rus.
How Stella got her Struve back.
Beeches be crazy.
Ukrainian Food & Drink Puns
In borscht taste.
Paska the bread.
Ukrainian food is spud-tacular.
Don't be chicken.
Kompot the dog.
Why Salo, Dolly
Kysil me, Kate!
What's the cabbage?
I don't have a good Ukrainian vodka-bulary.
Wine not?
Kiss my kvass.
The Krym of the crop.
Kutia me some slack.
Uzvar on your mother's grave that you wouldn't lie.
We had to banush him.
I never sausage a beautiful country.
In Ukraine, I tend to get into a jam before breakfast is even over.
That's the kompot calling the kettle black.
You kontabas for a better drink.
Don't be chai.
Want more Hilarious Travel Puns?
I'm a little obsessed with travel puns. If you are too, check out:
For more great travel quotes, check out my entire library of Travel Quotes, Puns, & Memes.
5 Things to Pack for Your Trip to Ukraine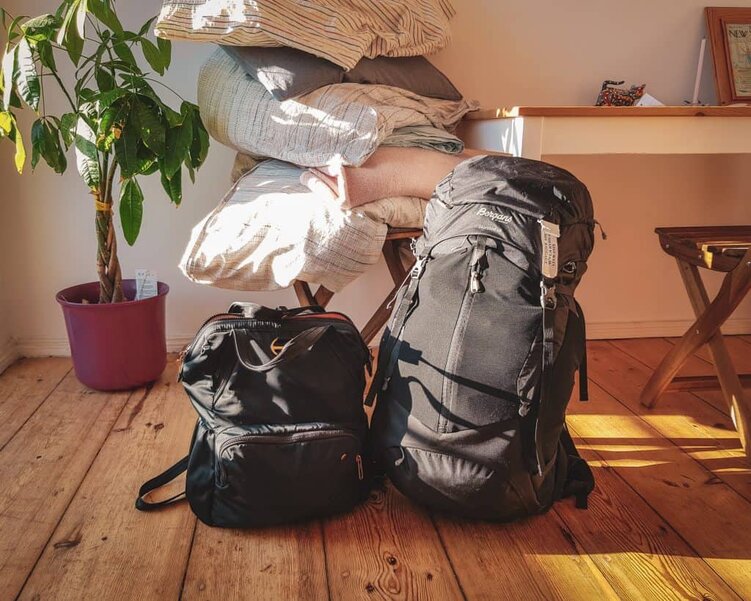 I have an entire all-seasons Ukraine packing list, but make sure not to forget these five items!
The Lonely Planet Ukraine guidebook for your trip. It can be hard to find big, international guidebooks once you land (or they'll be way overpriced). Get yours ahead of time, either a hard copy or on a Kindle.
An Unlocked Cell Phone so that you can use a Ukrainian sim card while here to help navigate public transportation and when you're on the road.
Backup Charging Bank for your cell phone since you'll be using it as a camera, GPS, and general travel genie.
A Camera since Ukraine is super photogenic. I use a mix of my Nikon D810 and my Samsung8 smartphone these days.
A Great Day Bag so you can carry what you need with you (like your camera, snacks, water, sunscreen, cash, etc). My current favorite is the Pacsafe Citysafe, which is especially great for Ukrainian cities because it has many anti-theft features designed to deter pickpockets. It also transitions to a night bag more easily and won't embarrass you if you go to dinner directly after sightseeing all day.
More Ukraine Travel Resources
Before your trip to Ukraine, I have a few resources to help you.
Most people will include Kiev (Kyiv) on their trip to Ukraine. If you'll be spending time in the capital, you can listen to this interview I did on The History of Kiev
If you're interested in visiting Chernobyl or learning its history, check out my guide to planning a Chernobyl tour. You might also be interested in seeing what Chernobyl looks like today, the best books about Chernobyl, and this overview of what happened at Chernobyl.
I did not include any Chernobyl puns in this post because that would be in poor taste, but if you're looking for a thoughtful Chernobyl Instagram caption you can peruse this list of quotes about Chernobyl. Please make sure anything you write about Chernobyl is in good taste and is educational.
Don't Forget About Travel Insurance!
Before you leave for Ukraine make sure you have a valid Travel Insurance Policy because accidents happen on the road. I pay for World Nomads, and I happily recommend them. It's especially important to get travel insurance if you'll be hanging out in cities like Kiev where tourists can easily become the targets of pickpockets.
I have been a paying customer of World Nomads for travel insurance for three years, and I happily recommend them. If you get sick, injured, or have your stuff stolen, you'll be happy to have the ability to pay for your medical bills or replace what's stolen or broken.
Pin these Ukraine Puns & Jokes About Ukraine for Your Trip!