This post may contain affiliate links. Please see my disclosure page for more details.
Last Updated on: 15th September 2021, 11:28 pm
If you like to travel solo, or if you're just starting out, you might be interested in making friends while you travel. It's easy to find dates on the road because you can always use Tinder while traveling, but making friends might be a bit more daunting!
Here are seven ways to meet people while traveling solo, but it's your job to turn them into life-long friends! As someone who currently owns a business with a former travel buddy I met on the road, I can attest it's easier than you might think!
Can't read now? Pin for later!
My Favorite Travel Booking Sites for 2023
These are my favorite companies that I use on my own travels.
Protect Your Trip via Safety Wing
Find the best city tours, day tours, bus tours, & skip-the-line tickets on GetYourGuide and Viator.
Find the best deals on hotels & vacation rentals on Booking.com.
For English-speaking private airport transfers, book through Welcome Pickups.
For road trips and independent travel, rent a car through Discover Cars.
Find information and cruise reviews on Cruise Critic.
For packing and travel essentials order via Amazon.
Book an affordable family or romantic photography session on your trip through Flytographer (Use the code HISTORYFANGIRL for 10% off your first photoshoot).
For travel guidebooks to have with you during your trip, I always pick one or two from Rick Steves and Lonely Planet.
How to Make Friends While Traveling Solo
Traveling alone can feel scary at first, especially if you'd like to meet people to hang out with but don't know how to do it. And it can be even more lonely if you find yourself surrounded solely by couples or people who aren't your jam.
So here are seven places to find people with a high propensity towards awesomeness.
Pick Your Multi-Day Tours Carefully
The best way to give yourself a leg up on finding cool people is to start by doing things that you think are cool.
For example, I love history. A lot. When I went on a tour specifically for people who listened to the History of Rome podcast, I was surrounded by people who shared my interests.
A ten-day bus tour can be exhausting, but you're probably going to make friends if you hang out with people for that many days in a row doing cool things.
It's even more likely though if you narrow down your tour to something that you find incredibly interesting because you'll have something in common with the other tourists.
The reverse of this is a generic tour will be more likely to attract a wide variety of people, but maybe not people you mesh with as much.
And stay far away from tours specifically designed for couples since it can be hard to make couple friends when you're traveling alone.
Pick Your Day Tours Just as Carefully
Yes, you can make life-long friends on a day tour. This is more likely when you book tours through hostels or other small groups, and less likely when you book through a big tour company or on a free walking tour.
Be open and friendly, and you might find yourself clicking with people right away. For this though, you're spending less time together, so make sure to follow-up with contact information and make plans to get together after.
If that's not possible, at least get each other's Facebook contacts so you can follow up after your trip to exchange photos and chat.
Online Groups and Forums
I'm in a dozen travel-related groups on Facebook. In them, people are always posting where they are or where they're going to be. Try to find specialized groups like Travel to Eastern Europe, the Balkans and former USSR where you can chat and plan with like-minded individuals.
If you're headed to Europe, I have a podcast reviewing Rick Steves Europe episodes called Rick Steves Over Brunch. Our Facebook group is a great place to meet cool people who love to travel.
Dating Apps
Most people who use Tinder while traveling do so to meet dates, but they also just meet friends. You put in your profile what you're looking for and what you're not looking for.
If all you want is a brunch buddy and someone to go to the Camden Market and Tate Modern with you, you can find them. Common sense safety applies in all of these scenarios, but especially this one for obvious reasons.
Of course, if you use it to find dates, you might end up turning your dates into a long-term travel buddy! I have made friends on dating apps where we just had fun, but I also met my fiance while traveling and using Tinder to meet people. It's up to you how you want to use them.
Hostels
I don't do a lot of hostels, but I've met tons of cool people at the ones I have stayed at. Even if you're in a single like I typically am, common meals and spaces give you lots of opportunities to get to know the other travelers.
If you're not a partier, go for non-party hostels that still have good communal areas. (Not all have great common spaces to meet people). A good rule is to check out the hostel's Facebook page and see if they promote the community.
Conferences and Events
Occasionally I will go to a conference for travel blogging or another travel writer meet-up. And when I do, I make a bunch of friends who I have a ton in common with.
Yes, travel bloggers love to travel, that's a no-brainer. But if there's a conference or event tied to one of your hobbies or interests, that is a great opportunity to meet other solo travelers who share your interests.
People who follow bands, music festivals, sporting events, etc. all offer a way to travel independently but meet people you can connect with when you get there.
Through Friends of Friends
I don't do this one nearly enough, but it goes like this: Hey friend, I'm going to x place. I remember you said you knew someone who lived there.
Can you get some tips from them? And then your friend says something like: yes friend, I will email them. And then you are connected and you start talking.
Sometimes the fact that you and this stranger have a friend in common is enough to break the ice. Plus it's a good indicator that you and this stranger might also get along.
So Can You Make Friends When You Travel Alone? Yes!
If you don't travel solo because you're afraid you'll be lonely, start with a group tour or hostel. Ease your way into it slowly, but I'll bet you'll be shocked at how quickly you're surrounded by people you grow to care about.
It's rare to meet someone on the road traveling alone who won't want to hang out a bit.
Travelers are people who love the world and want new experiences, and that includes making friends and hanging out with cool people.
How to Make Sure You Stay Close with Your Travel Friends
If you meet people you really click with, you'll want to make sure you keep the good times rolling! Don't leave the friendship behind when you leave the trip!
You can start a Facebook messenger group, connect on Instagram, keep up-to-date on Facebook, tweet at each other, chat on Whatsapp or Viber, etc.
There are endless ways to stay connected online these days! Don't know what to say to get the ball rolling? Why not start out with a great solo travel quote or travel meme?
If possible, a second trip together can be a great way to make sure the friendship endures, and it can be even more fun than the first!
You can meet up in a different part of the world, go back to the same conference or event the next year, or hang out in each other's hometowns.
More Solo Travel Tips
Thinking about traveling solo? Here are some resources to help you. First, here is what you need to know to get started traveling alone.
You'll also want to check out how to how to make money while you travel and how to find dates while you travel.
5 Things to Pack for Your Solo Trip Travels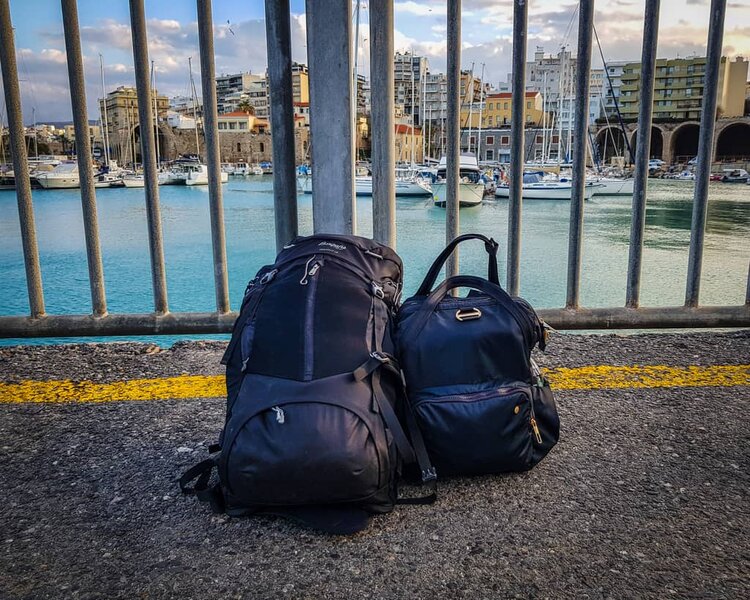 A Lonely Planet guidebook. It can be kind of a pain to find the major guidebooks once you land, or you'll find them overpriced. I always like to pick mine up ahead of time.
Full-Sized Travel Towel This is the best travel towel in the world. It's pretty enough for the beach, large enough that you forget it's a microfibre towel, and quick-drying, which is crucial if you'll be headed to the beach or staying in a hostel.
A Go Pro for underwater and action photography. These are great for solo travelers because you can get for photos and videos of yourself in the shots. Also great because they're so lightweight.
A Camera since you want to remember your trip! I use a mix of my Nikon D810 and my Samsung8 smartphone these days.
Backup Charging Bank for your cell phone since you'll be using it as a camera, GPS, and general travel genie.
Don't Forget About Travel Insurance!
Before you leave for your trip make sure you have a valid Travel Insurance Policy because accidents happen on the road. I pay for World Nomads, and I happily recommend them.
It's especially important to get travel insurance when traveling solo so loved ones back home can assist if you end up needing help. Make sure someone back home has your policy information!
I have been a paying customer of World Nomads for travel insurance for three years, and I happily recommend them. If you get sick, injured, or have your stuff stolen, you'll be happy to have the ability to pay for your medical bills or replace what's stolen or broken.
Get a travel insurance quote here.
Pin this Guide to Making Friends While Traveling for Your Next Trip!