This post may contain affiliate links. Please see my disclosure page for more details.
Last Updated on: 19th June 2023, 06:42 pm
When people think of planning a trip to Thailand, they can get overwhelmed since there's so much to think about before they get on the plane to go!
There are so many amazing places to visit in Thailand, from the vibrant capital of Bangkok to the digital nomad hangout of Chiang Mai to the country's many island paradises.
This means that you need to narrow down exactly what you want to do here when you start planning a trip to Thailand.
Can't read now? Pin for later!
My Favorite Travel Booking Sites for 2023
These are my favorite companies that I use on my own travels.
Protect Your Trip via Safety Wing
Find the best city tours, day tours, bus tours, & skip-the-line tickets on GetYourGuide and Viator.
Find the best deals on hotels & vacation rentals on Booking.com.
For English-speaking private airport transfers, book through Welcome Pickups.
For road trips and independent travel, rent a car through Discover Cars.
Find information and cruise reviews on Cruise Critic.
For packing and travel essentials order via Amazon.
Book an affordable family or romantic photography session on your trip through Flytographer (Use the code HISTORYFANGIRL for 10% off your first photoshoot).
For travel guidebooks to have with you during your trip, I always pick one or two from Rick Steves and Lonely Planet.
Planning a Trip to Thailand Checklist
Follow these thirteen steps, and you'll find that planning a trip to Thailand is easier than it seems!
1. Commit to a Trip Budget
While Thailand is a relatively affordable place to travel compared to some parts of Asia, you still want to commit to a trip budget before you leave so you know what you want to spend while you're here.
How Much Should You Budget for Thailand?
I think you can split it into three categories.
Budget travelers can get by on USD 50 per day plus airfare. This would mean staying in a hostel dorm, doing mostly free activities, and eating a mix of street food and groceries which you prepare at your hostel. One of the biggest costs that will blow a hole in your budget is transportation, so stick to buses or keep movement between cities to a minimum.
Mid-Range travelers can get by on USD 75 per day plus airfare. This would be doing what I typically do and sharing a double room in a mid-range hotel, doing a few guided tours and activities, and eating a mix of street food, nice meals out, and cooking for yourself. 
Luxury travelers can have a baller time for $150 USD per day plus airfare. This would mean lots of guided tours and activities, eating all your meals out, enjoying more than one cocktail at dinner, buying trip souvenirs instead of mostly window shopping, and staying in a nice hotel, seeing multiple cities in one trip, etc.
Accommodations can take up a big part of your budget, so decide what style of travel you want to do in the earliest stages of trip planning. It matters what kinds of resorts or hotels you choose to stay at.
Prices can vary widely between backpacker hostels in Bangkok versus Koh Samui family resorts. Looking up prices ahead of time can help you figure out your budget.
2. Choose Your Travel Dates
Once you know what your budget is and you know how long you want to go, you can settle on your trip dates.
While people do visit Thailand year-round, the most popular time to visit is during the high tourist season between November and March. April is a notoriously bad month to plan your visit to Thailand since the weather reaches the highest temperatures of the year.
May and June, while still hot, are more tolerable. July through October is the rainy season, so while you'll see some good deals for trips and flights during this time, beware that weather may negatively impact your trip.
How long you go depends on how much timeoff you can get and what your budget is, but it's common to travel to one to
two weeks in Thailand
if you're coming from Europe or North America.
3. Check to See if You Need a Visa
Before you start spending any money or booking anything, you want to check to see if you need a visa. The best places to check are your country's foreign affairs or state department and Thailand's Ministry of Foreign Affairs.
If you do need a visa, make sure to follow the steps for getting your visa exactly as they are set out. If you need to provide a photo, follow these Thailand Visa Photo Requirements
4. Book Your Flights
When booking flights, I use a combination of Skyscanner and Google Flights. Skyscanner is great for figuring out where to go, like seeing if any other airports in the country happen to have a special international flight scheduled. This is rare, but it does happen. Google Flights is better for when you know where you want to fly in and out of already. It will show you all the options.
You should feel confident booking flights to Thailand, but things can happen like inclement weather that interrupts your plans. This is a good reminder that you should always travel with a valid travel insurance policy because things like airline bankruptcies and storms can't be foreseen.
5. Create a Detailed Thailand Itinerary
Figure out what you want to do and where you want to be based. You can go on a city break (or longer) to Bangkok, a beach vacation to any of the country's amazing islands, or explore the northern part of the country by motorbike.
Look up what you want to do in each place and about how long each activity will take. This will help you decide how long to be in each location before you're ready to move on.
Remember that transportation in Thailand can take a long time, so make sure to look up transportation times when transferring between cities or islands.
6. Book Your Accommodations
I use Booking to book my hotel rooms because they have a pretty flexible cancelation policy (unless you pick the no-cancellation rooms). They have a large selection from hotels to hostels to private apartment rentals (similar to Airbnb).
You want to book your accommodations early. If you're looking for a good deal, they get snapped up during the high season. This is extra important if you'll be visiting during popular festivals and events.
You should set aside this much for your budget per night (though this can change a lot depending on what part of the country you are in):
Budget: A room in a hostel, usually $5-10 USD per night for a dorm bed.
Mid-range: Around $25-50 USD per night
Luxury: Around $75 per night or more
7. Book Your Activities
I use GetYourGuide to book my activities and tours because they tell you who the actual tour operator is so you can check their reviews independently on websites like TripAdvisor. They also have awesome customer service, which I learned when I needed their help dealing with a bad tour in Dresden.
There are two more reasons to use GetYourGuide specifically while in Thailand. The first is that things sell out, so if you wait to book through your hotel or hostel there might not be any spots left. The second reason is that booking tours through your accommodations typically cost more money than booking online (and you have less recourse if something goes wrong).
8. Research Vaccinations
Wondering if you need vaccines before you go to Thailand? According to the CDC, travelers should have:
Routine Vaccines: Make sure you are up-to-date on routine vaccines before every trip. These vaccines include the measles-mumps-rubella (MMR) vaccine, diphtheria-tetanus-pertussis vaccine, varicella (chickenpox) vaccine, polio vaccine, and your yearly flu shot.
Measels:

Infants (6 through 11 months old): 1 dose of measles-mumps-rubella (MMR) vaccine before travel. This dose does not count as the first dose in the routine childhood vaccination series.
People 12 months old or older, with no evidence of immunity or no written documentation of any doses: 2 doses of MMR vaccine before travel. The 2 doses must be given 28 days apart.
People 12 months old or older who have written documentation of 1 dose and no other evidence of immunity: 1 additional dose before travel, at least 28 days after the previous dose.
Some travelers who will be traveling more off the path (especially if they'll be spending long periods in more rural areas) will also want to research whether they should add a vaccine for Japanese Encephalitis, Rabies, or Malaria. 
Finally, a Yellow Fever vaccine is required for anyone who meets the following criteria:
Required if traveling from a country with risk of YF virus transmission and ≥1 year of age, including transit >12 hours in an airport located in a country with risk of YF virus transmission.
Bottom line is that most travelers just need routine vaccinations, but you should double-check the CDC for any changes.
9. Learn a Few Common Thai Words and Phrases
One thing that a lot of travelers from North America and Europe overlook is that Thailand uses the Thai alphabet, which is not related to any alphabet that the majority of North Americans or Europeans will have ever seen before.
Most tourism professionals and people in the service industry speak amazing English, and you'll generally find its use is common in big cities and hotspots. However, there are many places where tourism isn't a built-up industry. This means that reading maps, street signs, and menus will be more difficult. The more off-the-path you are, the less likely you are to see words and signs with Latin lettering.
One of my favorite tools for picking up phrases is the website Omniglot. Check out their list of common Thai phrases before your trip.
Note that Thai is a tonal language that has five basic tones, so pronunciation and tone change the meaning of the vocabulary. If you are speaking to a local and your tone is wrong, it's common for them not to understand what you are trying to say. Do not take it personally! The language just works very differently from the way English works.
Final thought: Download a good translator app, like Google Translate, before your trip! It helps not just with face-to-face communication, but also with signs and written instructions!
10. Prepare for Your Arrival
Plan what you'll do on your first day. This means figuring out how to get to your accommodations (next step), checking what time you can get to your hotel (many flights get in before you can check in to your hotel), and communicating with your accommodations if you need to.
Other things to think about are if you'll be getting a sim card in Thailand or using your plan from home. Call your cell phone company if you need to have your cell phone unlocked so you can get a sim or if you need to let them know that you need international coverage.
Organize your travel documents, including your passport, visa if required, instructions for getting to your hotel, and emergency information like travel insurance. You'll want to have these all easily accessible and within reach during your travels.
11. Book Ground Transportation
You need to know how you'll get to your accommodations after your flight arrives. If you're flying into Bangkok, keep in mind that there are two different international airports. Research every airport's best connection to the city center and make sure you know your options.
You can use a rideshare app, public taxi, public transit, or private airport transfer. If you're looking to prearrange your transfer (especially good for families and people arriving after dark) check out:
Bangkok's Don Mueang International Airport: Private Hotel Transfers
Bangkok's Suvarnabhumi Airport Bangkok: Private Hotel Transfers
Chiang Mai International Airport: Private Hotel Transfer
12. Purchase Travel Insurance & Send Policy Information to Your Emergency Contact
Before you leave for Thailand make sure you have a valid Travel Insurance Policy because accidents happen on the road. I pay for World Nomads when I travel, and I happily recommend them. It's especially important to get travel insurance if you'll be hanging out in cities like Bangkok and Chiang Mai where tourists can easily become the targets of pickpockets.
I have been a paying customer of World Nomads for travel insurance for three years, and I happily recommend them. If you get sick, injured, or have your stuff stolen, you'll be happy to have the ability to pay for your medical bills or replace what's stolen or broken.
>>Get a travel insurance quote for your trip.<<
Once you have your insurance policy information available, make sure to send it to your emergency contact, that way they can help you access it should the need arise.
13. Pack Your Bags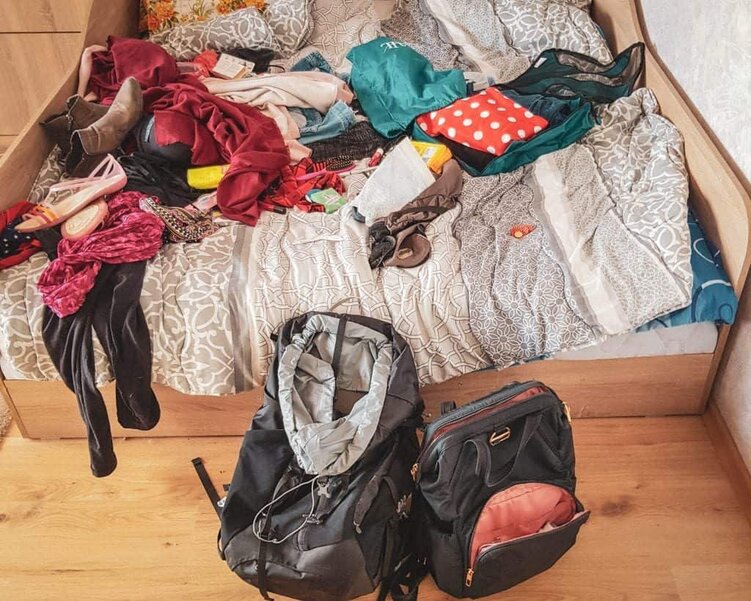 Your trip is near and it's time to pack your bags! Here are five things you want to make sure not to forget:
The Lonely Planet Thailandguidebook for your trip. I used a Kindle version during my time in Thailand. It's hard to find guidebooks once you're actually on the ground.
Backup Charging Bank for your cell phone since you'll be using it as a camera, GPS, and general travel genie.
A Camera since Thailand is super photogenic. I use a mix of my Nikon D810 and my Samsung8 smartphone these days.
A Full-Sized Travel Towel for anyone taking advantage of Thailand's beaches (or…hostels…). This is the best travel towel in the world, and you'll need it if you are staying in hostels or anywhere that requires you to bring your towel.
A Great Day Bag so you can carry what you need with you (like your camera, snacks, water, sunscreen, cash, etc). My current favorite is the Pacsafe Citysafe, which is especially great for Bangkok because it has many anti-theft features designed to deter pickpockets. It also transitions to a night bag more easily and won't embarrass you if you go to dinner directly after sightseeing all day.
Bonus: Travel Insurance Policy information. If you have travel insurance, you need to be able to access the information easily in case of an accident or another incident. I have my travel insurance company recommended above.
More Thailand Travel Resources
Pin This Guide to Planning a Trip to Thailand for Your Travels