This post may contain affiliate links. Please see my disclosure page for more details.
Last Updated on: 19th June 2023, 06:42 pm
Looking for beautiful quotes about Prague?
The City of a Hundred Spires has inspired some truly beautiful travel quotes. So whether you're looking for travel inspiration or Prague Instagram captions or Facebook statuses, here are my favorite Prague quotes!
Read Next: 33 Epic Things to Do in Prague: Activities to Explore this UNESCO City
Can't read now? Pin for later!
My Favorite Travel Booking Sites for 2023
These are my favorite companies that I use on my own travels.
Protect Your Trip via Safety Wing
Find the best city tours, day tours, bus tours, & skip-the-line tickets on GetYourGuide and Viator.
Find the best deals on hotels & vacation rentals on Booking.com.
For English-speaking private airport transfers, book through Welcome Pickups.
For road trips and independent travel, rent a car through Discover Cars.
Find information and cruise reviews on Cruise Critic.
For packing and travel essentials order via Amazon.
Book an affordable family or romantic photography session on your trip through Flytographer (Use the code HISTORYFANGIRL for 10% off your first photoshoot).
For travel guidebooks to have with you during your trip, I always pick one or two from Rick Steves and Lonely Planet.
How to Use these Prague Quotes
Feel free to use this post to find beautiful quotes about Prague for your photo captions, Prague Instagram captions, Prague Whatsapp status, Viber status, Prague Facebook status, or however you want! If you do use one, I'd love it if you linked or tagged me so I can enjoy your work! 
If you use one on a website, please link to this post. Otherwise, you can follow and tag me on social media so I can see you using them in action:
Instagram: @historyfangirl
Facebook: Stephanie Craig – History Fangirl
Twitter: @ahistoryfangirl
The Best Prague Quotes & Prague Instagram Captions
Here are my favorite quotes about Prague, including inspiration from poems, literature, pop culture, and quotes by famous Czech authors! So whether you're traveling alone or exploring Prague with kids, get ready for the perfect photo caption.
Prague Travel Quotes
The streets of Prague were a fantasia scarcely touched by the twenty-first century—or the twentieth or nineteenth, for that matter. It was a city of alchemists and dreamers, its medieval cobbles once trod by golems, mystics, invading armies. –Laini Taylor
It was through this odor that he saw the museums and discovered the mystery and the profusion of baroque genius which filled Prague with its gold magnificence. The altars, which glowed softly in the darkness, seemed borrowed from the coppery sky, the misty sunlight so frequent over the city. –Albert Camus
Old Prague was a story-book city caked in grime: ancient, soot-blackened. History lived in every detail: in the deerstalker rooftops and the blue-sparking trams. –Philip Sington
Prague never lets you go… this dear little mother has sharp claws. -Franz Kafka
The turbulent Vltava, swollen with rainy waves, Bursting, impetuous breaks through its river banks. –Elizabeth Jane Weston
It's easy to fall in love among the winding cobblestone streets and snow-covered castles of Prague, but is it a good idea? –Dana Newman
She says a chipmunk told her she would grow up to be a famous ballerina and that she would die of consumption unloved in a boardinghouse in Prague. –Neil Gaiman
Prague. Praha. The name actually meant "threshold". Pollina had said the city was a portal between the life of the good and … the other. A city of dark magic, Alessandro had called it. –Magnus Flyte
In Rome, the statues, in Paris the paintings, and in Prague the buildings suggest that pleasure can be an education. –Caleb Crain
I remember I fell in love with this girl in Prague. She was beautiful. She looked like Carol Lombard. She grabbed me in the alley behind my church, she pressed me up against the wall, she kissed me. I was so happy I thought I would die. -Stuart Blumberg
In Prague, in 1968, there lived a young doctor named Tomas… -Jean-Claude Carrière
As I sit here on a snowy morning watching the flakes gently fall outside my window, I look at the 300-year-old building across the street and the beautifully carved angels on its facade.
There was a time people would create, just to give something beautiful to the world which we are so blessed to live in and a time when people understood the work of all of the arts. –Kytka Hilmar-Jezek
Prague does not have its name for no reason – in truth, Prague is a threshold between the life on Earth and Heaven, a threshold much thinner and narrower than in any other places. –Gustav Meyrink
Tall houses glowed goldenrod and carmine and eggshell blue, embellished with Rococo plasterwork, and capped in roofs of uniform red.
Baroque cupolas were the soft green of antique copper, and Gothic steeples stood ready to impale fallen angels. The wind carried the memory of magic, revolution, violins, and the cobbled lanes meandered like creeks. –Laini Taylor
I had traveled to a lot of cities in Europe before, but Prague was special. It held a mysterious attraction for me. -Arfi Lamba
Prague is the Paris of the '90s. -Marion Ross
He wandered the streets in disbelief, photographing everything, images from Kafka crowding into his head.
With the turn of every corner it came back to him: the special frisson you get behind enemy lines. –Philip Sington
The glistening scrolls and spirals, the elaborate setting that looked as if it were cut out of gold paper, so touching in its resemblance to the creches made for children at Christmas, the grandiose and grotesque baroque perspectives affected Mersault as a kind of infantile, feverish, and overblown romanticism by which men protect themselves against their own demons. –Albert Camus
Prague lay before him like a mysterious stranger in an old hat. An exotic woman waiting for him in poor light. –Victor Gischler
I personally think Prague is more romantic than Paris. If you have a girlfriend, take her there. -Stephanie Sigman
Prague is a dark place. -Fred Durst
As she walked, clock towers across Prague started arguing midnight, and the long, fraught Monday came at last to a close. -Laini Taylor
My work has no theme. I don't care if my photographs get published, and I have no interest in the news. But the invasion of Prague was not news, it was my life. -Josef Koudelka
The most unspoiled baroque city in Europe. -Christopher Booker
Icon of Prague, the medieval bridge crossed the Vltava between Old Town and the Little Quarter. Gothic bridge towers rose on both sides, and the whole span — pedestrian-only — was lined by monumental statues of saints. -Laini Taylor
In Prague, they hanged the Socialists and the priests. Thus a fraternity of the hanged was born. -Milan Kundera
I guess you're learning something about me, the food in Prague, they're very, very heavy meat eaters, like, a lot of meat, which is great. -Cliff Curtis
Unable to see, they were briefly seized by the characteristic Prague anxiety of never finding the entrance–of arriving at one's goal but remaining blocked from it by a wall or a stone on account of having overlooked an alley or medieval door a few dozen yards back, which has served as the approach so immemorially that no one any longer marked or described it. –Caleb Crain
I dwelt in a city enchanted, And lonely indeed was my lot; Though the latitude's rather uncertain, And the longitude also is vague, The persons I pity who know not the City. The beautiful City of Prague. -W.J. Prowse
The miracle of my life is to awaken every morning in the 21st century – in Prague. -Alan Levy
As the old hermit of Prague, that never saw pen and ink, very wittily said to a niece of King Gorboduc, That, that is, is. -William Shakespeare
Thugs wore Motzart wigs and pushed chamber music on street corners, and marionettes hung in windows, making the whole city seem like a theater with unseen puppeteers crouched behind velvet. –Laini Taylor
I liked Prague. No other city has so much soul. -Jean-Pierre Melville
The god worshipped here was the god man fears and honors, not the god who laughs with man before the warm frolic sea and sun. –Albert Camus
The ancient splendor and beauty of Prague, a city beyond compare, left an impression on my imagination that will never fade. -Richard Wagner
People often laughed at my name. But ours was a famous family. Great Grandfather Lukas was a drummer and fought on the Charles Bridge in Prague.
The students threw cobblestones at the soldiers and hit Grand Grandfather so hard that he was pensioned off on one gulden a day.
He didn't do anything after that except buying a bottle of rum and a pack of tobacco every day. –Closely Watched Trains
She pictures his jovial figure, dressed up in his T-short, shouting that Kafka was born in Prague, and she feels a desire rising through her body, the irrepressible desire to take a lover.
Not to patch up her life as it is. But to turn it completely upside down. Finally, take possession of her own fate. -Milan Kundera
Funny Quotes about Prague
I'm also waging a war against cliché, and I promised myself I would be the first journalist to go to Communist Prague and not mention Kafka.
So there we were in the Hotel doing an interview and the Secret Police broke in, turned the lights off, and said: "You're all under arrest!" "What's the charge?" "We're not telling you!" and I thought "S***, I'm going to have to mention Kafka now!" They make you! -Christopher Hitchens
Prague is like a vertical Venice: steps everywhere. -Penelope Gilliatt
I've been to New York. It's like Prague sans the whimsy. –Family Guy
Flipping Prague! –Life is Sweet
People who prefer e-books…think that books merely take up space. This is true, but so do your children and Prague and the Sistine Chapel. -Joe Queenan
There'll be Czechs bouncing in the streets of Prague tonight. -Bernd Liebner
Prague was ideal, Prague was absolutely ideal because thanks to communist inefficiency the 18th century was untouched. -Milos Forman
Prague… you'll come back a bug. –Kicking and Screaming
Soon a whole guild of low-priced shrine keepers around Europe named their own pope – Boldface the Relatively Shameless, Discount Pope of Prague.
The price war was on […] The Retail Pope would offer cheesy bacon toppings on the Host with communion and the Discount Pope would counter with topless nun night for midnight mass. -Christopher Moore
It happened in Prague, I'm afraid. –Night Train to Munich
The same thing happened in Prague, where I'd been yearning for some of the bohemianism of The Unbearable Lightness of Being.
But no, there were no fabulous artists, no guys who looked remotely like a young Daniel Day-Lewis. I saw this one mysterious-looking guy reading Sartre in a cafe, but then his cell phone rang and he started talking in aloud Texan twang. -Gayle Forman
I don't have a girl in Prague. I don't have a girl in Prague. -Milos Forman
Look, any hope you had of saving this guy is out the window. Like the guys in Prague. –The Magicians
Love Travel Quotes?
I'm a little obsessed with travel quotes. If you are too, check out this massive guide to 250 Inspirational Travel Quotes & Travel Instagram Captions, plus:
50 Quotes about Paris Celebrating Its Triumphant Beauty
50 Eternally Beautiful Rome Quotes from Literature, History, & Travel
50 Beautiful Germany Quotes & Germany Instagram Caption Inspiration
35 Beautiful Quotes about Budapest for Perfect Budapest Captions & Statuses
5 Things to Pack for Your Trip to Prague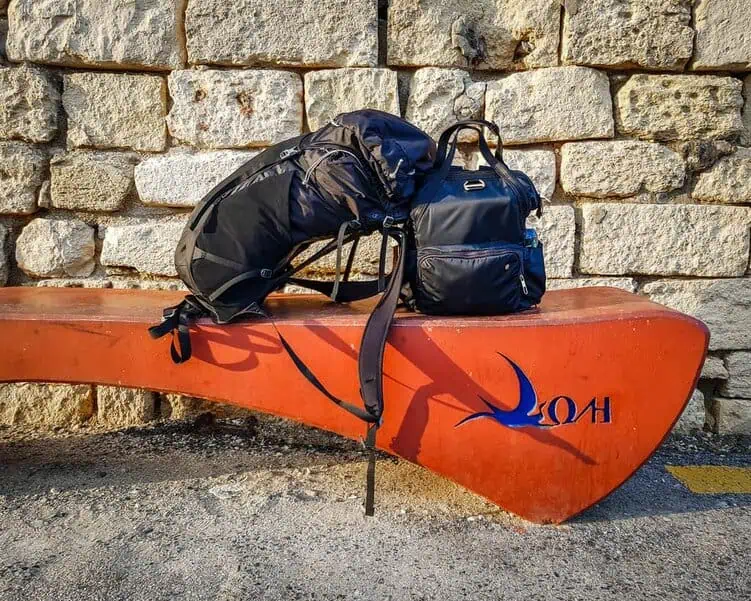 The Lonely Planet Prague & the Czech Republic guidebook for your trip. It can be hard to find big, international guidebooks once you land (or they'll be way overpriced). Get yours ahead of time, either a hard copy or on a Kindle.
An Unlocked Cell Phone so that you can use a Czech sim card while here to help navigate public transportation and when you're on the road.
Backup Charging Bank for your cell phone since you'll be using it as a camera, GPS, and general travel genie.
A Camera since the Czech Republic is super photogenic. I use a mix of my Nikon D810 and my  Samsung8 smartphone these days.
A Great Day Bag so you can carry what you need with you (like your camera, snacks, water, sunscreen, cash, etc). My current favorite is the Pacsafe Citysafe, which is especially great for Czech cities because it has many anti-theft features designed to deter pickpockets.
It also transitions to a night bag more easily and won't embarrass you if you go to dinner directly after sightseeing all day. 
More Czech Travel Resources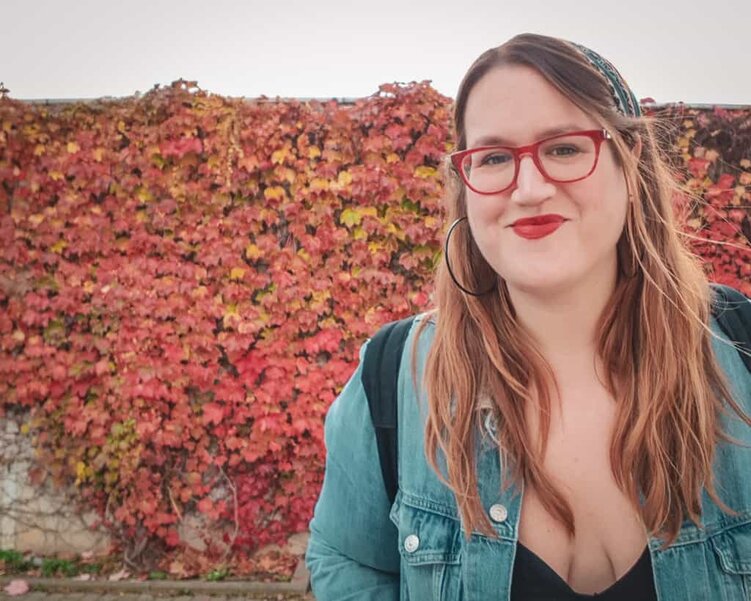 If you'll be spending time in Prague, make sure you check out this list of the best things to do in Prague and my favorite Prague Puns
Many people combine a trip to the Czech Republic with a stop in Germany, Austria, or Switzerland. If you're planning on combining countries, check out:
What to Pack for Germany: the Ultimate Germany Packing List for Women & Men
17 of the Most Instagrammable Places in Dresden, Germany
13 Quirky & Enchanting Things to Do in Dresden Neustadt
What to Pack for Austria: the Ultimate Austria Packing List for All Seasons
How to Spend One Day in Bern: Itinerary for the Perfect 1 or 2 Days
6 Authentic Switzerland Chocolate Factory Tours You Should Experience
Don't Forget About Travel Insurance!
Before you leave for Prague make sure you have a valid Travel Insurance Policy because accidents happen on the road. I pay for World Nomads, and I happily recommend them. It's especially important to get travel insurance if you'll be hanging out in cities like Prague where tourists can easily become the targets of pickpockets.
I have been a paying customer of World Nomads for travel insurance for three years, and I happily recommend them.  If you get sick, injured, or have your stuff stolen, you'll be happy to have the ability to pay for your medical bills or replace what's stolen or broken.
Pin these Prague Quotes & Prague Instagram Captions for Your Trip!