This post may contain affiliate links. Please see my disclosure page for more details.
Last Updated on: 19th June 2023, 06:42 pm
Looking for beautiful quotes about Vietnam?
The Land of the Blue Dragon has inspired some truly beautiful travel quotes. So whether you're looking for travel inspiration or Vietnam Instagram captions or Facebook statuses, here are my favorite Vietnam quotes!
Read next: 21 Dazzling Vietnam Souvenirs to Remember Your Wonderful Trip
Can't read now? Pin for later!
My Favorite Travel Booking Sites for 2023
These are my favorite companies that I use on my own travels.
Protect Your Trip via Safety Wing
Find the best city tours, day tours, bus tours, & skip-the-line tickets on GetYourGuide and Viator.
Find the best deals on hotels & vacation rentals on Booking.com.
For English-speaking private airport transfers, book through Welcome Pickups.
For road trips and independent travel, rent a car through Discover Cars.
Find information and cruise reviews on Cruise Critic.
For packing and travel essentials order via Amazon.
Book an affordable family or romantic photography session on your trip through Flytographer (Use the code HISTORYFANGIRL for 10% off your first photoshoot).
For travel guidebooks to have with you during your trip, I always pick one or two from Rick Steves and Lonely Planet.
How to Use these Vietnam Quotes
Feel free to use this post to find beautiful quotes about Vietnam for your photo captions, Vietnam Instagram captions, Vietnam Whatsapp status, Viber status, Vietnam Facebook status, or however you want!
If you do use one, I'd love if you linked or tagged me so I can enjoy your work! 
If you use one on a website, please link to this post. Otherwise, you can follow and tag me on social media so I can see you using them in action:
Instagram: @historyfangirl
Facebook: Stephanie Craig – History Fangirl
Twitter: @ahistoryfangirl
The Best Vietnam Quotes & Vietnam Instagram Captions
Here are my favorite quotes about Vietnam, including inspiration from poems, literature, pop culture, and quotes by famous Vietnamese authors!
If in our daily life we can smile, if we can be peaceful and happy, not only we, but everyone will profit from it. This is the most basic kind of peace work. –Thich Nhat Hanh
Maybe the Americans should have brought baseballs instead of bombs. –Ann E. Burg
Nothing is ever so expensive as what is offered for free. –Viet Thanh Nguyen
I can't say what made me fall in love with Vietnam – that a woman's voice can drug you; that everything is so intense. The colors, the taste, even the rain. -Graham Greene
Your problem isn't that you think too much; your problem is letting everyone know what you're thinking. –Viet Thanh Nguyen
Vietnam was a country where America was trying to make people stop being communists by dropping things on them from airplanes. -Kurt Vonnegut Jr
Walk as if you are kissing the Earth with your feet. –Thich Nhat Hanh
That'll put us about a hundred miles due east of Ho Chi Minh City in another five hours." The name always caught Max off guard. Vietnam's largest city would always be Saigon to him. –Clive Cussler
A country that has been through as much as Vietnam has to have some crazy music somewhere. -Henry Rollins
Vietnamese food has probably been saved from the mass market because most people never master the sauces and condiments that must be added to the food, at the table, for its glories to become apparent. It's too much trouble, and a lot of people don't like asking for help, especially if the interaction involves some linguistic awkwardness. -Tyler Cowen
In Hue, Vietnam, we had savory rice pancakes with crumbled shrimp and pork rinds. I've still never had a version as good. -Ali Wong
They say whatever you're looking for, you will find here. They say you come to Vietnam and you understand a lot in a few minutes, but the rest has got to be lived. The smell: that's the first thing that hits you, promising everything in exchange for your soul. And the heat. Your shirt is straightaway a rag. You can hardly remember your name, or what you came to escape from. -Graham Greene
The Vietnamese see their history as an unending series of struggles of resistance to aggression. -Noam Chomsky
I didn't expect to find much visible trace of the American war in Vietnam. The Vietnamese are too hard-bitten to dwell on it, and they've sanded away all but the outcroppings of history – the museums, the memorials. -Evan Osnos
Drink your tea slowly and reverently, as if it is the axis on which the world earth revolves – slowly, evenly, without rushing toward the future. –Thich Nhat Hanh
Love Travel Quotes?
I'm a little obsessed with travel quotes. If you are too, check out this massive guide to 250 Inspirational Travel Quotes & Travel Instagram Captions, plus:
More Vietnam Travel Resources
Headed to Vietnam? Check out these great Vietnamese souvenirs to bring back from your trip, plus these funny Vietnam puns.
5 Things to Bring to Vietnam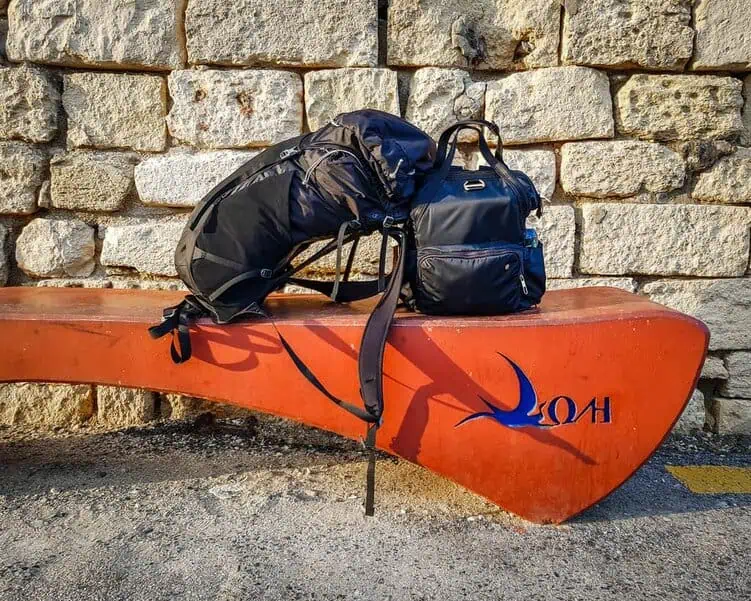 The Lonely Planet Vietnam guidebook for your trip. I used a Kindle version during my time in Vietnam. It's hard to find guidebooks once you're actually on the ground.
Backup Charging Bank for your cell phone since you'll be using it as a camera, GPS, and general travel genie.
A Camera since Vietnam is super photogenic. I use a mix of my Nikon D810 and my Samsung8 smartphone these days.
A Full-Sized Travel Towel for anyone taking advantage of Vietnam's beaches (or…hostels…). This is the best travel towel in the world, and you'll need it if you are staying in hostels or anywhere that requires you to bring your towel.
A Great Day Bag so you can carry what you need with you (like your camera, snacks, water, sunscreen, cash, etc). My current favorite is the Pacsafe Citysafe, which is especially great for Vietnam because it has many anti-theft features designed to deter pickpockets. It also transitions to a night bag more easily and won't embarrass you if you go to dinner directly after sightseeing all day.
Don't Forget About Travel Insurance!
Before you leave for Vietnam make sure you have a valid Travel Insurance Policy because accidents happen on the road. I pay for World Nomads, and I happily recommend them. It's especially important to get travel insurance if you'll be hanging out in cities like Hanoi where tourists can easily become the targets of pickpockets.
I have been a paying customer of World Nomads for travel insurance for three years, and I happily recommend them. If you get sick, injured, or have your stuff stolen, you'll be happy to have the ability to pay for your medical bills or replace what's stolen or broken.
Pin these Vietnam Quotes & Vietnam Instagram Captions for Your Trip!