History Fangirl is turning seven years old in 2022! To make sure all travel guides are up to date, some posts are getting overhauled, which means you may come across posts that are under construction. Note: This post may contain affiliate links. Please see my disclosure page for more details.
Looking for beautiful quotes about Sweden?
The Elongated Country has inspired some truly beautiful travel quotes. So whether you're looking for travel inspiration or Sweden Instagram captions or Facebook statuses, here are my favorite Sweden quotes!
Read next: 250 Inspirational Travel Quotes & Travel Instagram Captions
Can't read now? Pin for later!
My Favorite Travel Booking Sites for 2022
These are my favorite companies that I use on my own travels.
Find cheap flights with CheapOair.
Find the best deals on hotels & vacation rentals on Booking.com.
For road trips and ground transportation, rent a car through Discover Cars.
Find the best city tours, day tours, bus tours, & skip-the-line tickets on GetYourGuide and Viator.
Find information and cruise reviews on Cruise Critic.
For packing and travel essentials order via Amazon.
For travel guidebooks to have with you during your trip, I always pick one or two from Rick Steves and Lonely Planet.
Get reliable travel insurance through World Nomads.
Store your luggage safely with Radical Storage.
Book an affordable family or romantic photography session on your trip through Flytographer (Use the code HISTORYFANGIRL for 10% off your first photoshoot).
How to Use these Sweden Quotes
Feel free to use this post to find beautiful quotes about Sweden for your photo captions, Sweden Instagram captions, Sweden Whatsapp status, Viber status, Sweden Facebook status, or however you want!
If you do use one, I'd love if you linked or tagged me so I can enjoy your work! 
If you use one on a website, please link to this post. Otherwise, you can follow and tag me on social media so I can see you using them in action:
Instagram: @historyfangirl
Facebook: Stephanie Craig – History Fangirl
Twitter: @ahistoryfangirl
The Best Sweden Quotes & Sweden Instagram Captions
Here are my favorite quotes about Sweden, including inspiration from poems, literature, pop culture, and quotes by famous Swedish authors!
It's just as hard to go back to a place you once left, as it is to leave it again. –Charlotte Eriksson
When I went to Sweden, I sort of found out who I was. -Christen Press
I am connected with the people who go abroad, to Sweden, there where people have an attitude. –Petra Hermans
Swedes don't like to ask favors of each other: they keep their problems to themselves and suffer in silence. Being duktig is one facet of this: if you are duktig then you don't need any help, and as duktighet is the ultimate ideal for Swedes; to ask for help – or even to give it – is a kind of low-level social taboo. –Michael Booth
I think, a lot of my career and my life before I went to Sweden, I felt like I was trying to be someone else. -Christen Press
In Sweden, stardom is looked upon as phony. You walk to the theater every day like everybody else. -Lena Olin
Swedes love queuing…..they even flirt in queues! –Abhinay Sarkate
No disrespect to Sweden: I didn't think of them as the comedy universe. -Billy Crystal
I'm the minority in my house sometimes. My wife is Swedish, and we go to Sweden and everyone is rattling off in Swedish. It's like, 'OK, I can just read a book.' -Will Ferrell
I do have a ski lift named after me in Sweden… It's an honour. I got to smash a bottle against the first pillar and say, 'I name this chairlift James Blunt. God bless her and all who rides me.' -James Blunt
Your grandmother always used to say lingonberry jam is like Swedish summer in a jar. The Swedes love their lingonberries. It's not so sweet, sort of like cranberry sauce. –Sandra Lee
Love Travel Quotes?
I'm a little obsessed with travel quotes. If you are too, check out this massive guide to 250 Inspirational Travel Quotes & Travel Instagram Captions, plus:
5 Things to Pack for Your Trip to Sweden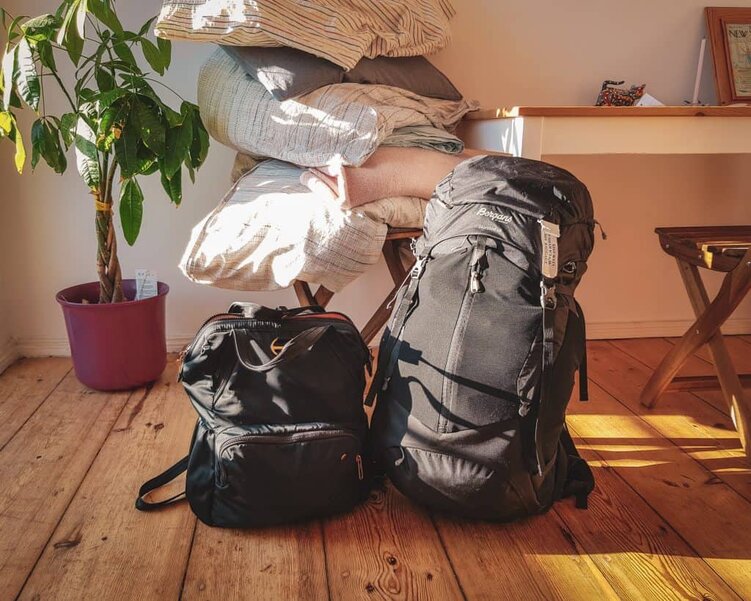 The Lonely Planet Sweden guidebook for your trip. It can be hard to find big, international guidebooks once you land (or they'll be way overpriced). Get yours ahead of time, either a hard copy or on a Kindle.
An Unlocked Cell Phone so that you can use a Swedish sim card while here to help navigate public transportation and when you're on the road.
Backup Charging Bank for your cell phone since you'll be using it as a camera, GPS, and general travel genie.
A Camera since Sweden is super photogenic. I use a mix of my Nikon D810 and my  Samsung8 smartphone these days.
A Great Day Bag so you can carry what you need with you (like your camera, snacks, water, sunscreen, cash, etc).
My current favorite is the Pacsafe Citysafe, which is especially great for Swedish cities because it has many anti-theft features designed to deter pickpockets.
It also transitions to a night bag more easily and won't embarrass you if you go to dinner directly after sightseeing all day. 
More Swedish Travel Resources
Many people combine a trip to Sweden with a stop in Iceland. If you're planning on combining these two countries, check out:
13 Steps to Flawlessly Planning a Trip to Iceland
Definitive Iceland Packing List: What to Pack for Iceland for Women & Men
10 Perfect Icelandic Souvenirs Plus Iceland Shopping Tips
Don't Forget about Travel Insurance!
Whenever I go on a trip, I always make sure to get travel insurance!
The company World Nomads is the travel insurance company I always look to first, and I happily recommend them!
I always make sure to get travel insurance whenever I'm going to be over one hundred miles from home, in large cities where tourists can be the target of pickpockets, and anytime I'll be doing outdoor adventure or beach activities.
It makes my life easier knowing if something should happen, I'll be able to take care of it!
Pin these Sweden Quotes & Sweden Instagram Captions for Your Trip!