This post may contain affiliate links. Please see my disclosure page for more details.
Last Updated on: 19th June 2023, 06:42 pm
This is a guest post by Marco from Travel-Boo on the best things to do in Belem so you can fully explore the UNESCO World Heritage Site the "Belém Tower and Jeronimos Monastery" in Portugal, including everything you need to know to plan your visit. See below the post for a few of my Portugal travel tips!
Can't read now? Pin for later!
My Favorite Travel Booking Sites for 2023
These are my favorite companies that I use on my own travels.
Protect Your Trip via Safety Wing
Find the best city tours, day tours, bus tours, & skip-the-line tickets on GetYourGuide and Viator.
Find the best deals on hotels & vacation rentals on Booking.com.
For English-speaking private airport transfers, book through Welcome Pickups.
For road trips and independent travel, rent a car through Discover Cars.
Find information and cruise reviews on Cruise Critic.
For packing and travel essentials order via Amazon.
Book an affordable family or romantic photography session on your trip through Flytographer (Use the code HISTORYFANGIRL for 10% off your first photoshoot).
For travel guidebooks to have with you during your trip, I always pick one or two from Rick Steves and Lonely Planet.
An Introduction to Lisbon's UNESCO World Heritage Site Belém Tower and Jeronimos Monastery
Located only a short 7-minute train ride from downtown Lisbon, you'll get to the popular riverside neighborhood of Belém.
And it's here that you will find Lisbon noteworthy UNESCO World Heritage Site, the Torre de Belém (or Belém Tower) as well as the Jeronimos Monastery, both of which are well worth visiting when planning a trip to sunny Lisboa.
In this guide, I'll outline exactly what you need to know to make the absolute best of your visit to these two Lisbon sights along with what else there is to do in Belem.
Things to Do in Belem, Lisbon
Even though Belém is located slightly further out from central Lisbon, the area as a whole is still worth a visit. In fact, there are tons of other great sights and attractions in and around Belém beyond Belem Tower, which means you can easily spend half a day exploring this area of Lisbon.
Start with the two sites in the UNESCO and then go beyond to see what this great Lisbon neighborhood has to offer. Some of the top spots to visit and include in your Lisbon itinerary include:
Torre de Belém | Belém Tower
Undoubtedly one of the most iconic photos you'll see of Lisbon is that of the Belém Tower set at the entrance of the Lisbon harbor and next to the river Tagus.
This Manueline-style fort with its gorgeous architectural details was constructed between 1514 – 1520, and originally built to act as a protective fort on the Tagus river, especially given Portugal's prestigious role in international trade and sea routes at the time.
Today, the fort itself is more of a tourist attraction than a defense mechanism and it's not uncommon to see queues of tourists waiting to gain entry into the fort itself for a peek inside.
If I'm completely honest, I wouldn't bother waiting in line to go inside. The Tower is absolutely gorgeous from the outside but the rooms inside don't really offer much. In my view, it's not worth the €6.00 entrance fee.
You could also look to purchase a combo ticket to see both the Tower and the Monastery, but it's still not worth it in my view.
Jeronimos Monastery | Hieronymites Monastery
A short 15-minute stroll from the Belem Tower you'll find the imposing and absolutely stunning Mosteiro dos Jerónimos, or Jeronimos Monastery in English.
This is one of my all-time favorite buildings in Lisbon and one that we always recommend visitors to go and see.
Yet another example of the Manueline architectural style, which was very prominent and popular during the reign of King Manuel, this is an architectural delight and was opened in 1495.
From the intricate exteriors to the beautifully ornate interiors, this building is absolutely breath-taking and will keep you intrigued throughout your visit.
Attached to the monastery you will also find the equally beautiful Santa Maria church which you can visit free of charge and is well worth a visit too. This church with its high domed ceilings and columns is unlike any other church I've yet visited.
If you don't have enough time to explore the Jeronimos Monastery and cloisters then I'd definitely recommend that you at least pay a visit to the church itself.
How Much Does it Cost to visit the Belém Tower and Jeronimos Monastery?
The individual ticket prices for the Torre de Belém and the Jeronmios Monastery are €6.00 and €10.00 respectively.
If you do want to visit both you can purchase a combo ticket at only €12.00. Children up to the age of 12 (inclusive) may enter free of charge.
Various other discounts are also on offer, which includes Family Tickets, Youth Cards, Student Cards as well as Seniors discounts.
Private guided tours are also on offer, but these have to be pre-booked ahead of time and come at a far more expensive cost, currently around €20 per person per hour.
Pasteis de Belém
Interesting fact, Portugal's most well-known and loved pastry, the Pastel de Nata egg-yolk custard tarts, were actually first made by the monks of the Jeronimos Monastery.
When the monastery eventually closed down, the monks sold the original recipe to the now-famous Pasteis de Belém, that still to this day produces these delectable tarts.
So, why not pay a visit to Pasteis de Belém and sample this delicious Portuguese pastry!
MAAT
A newer and more modern addition to the riverfront is the ultra-sleek Museum of Art, Architecture and Technology. Hugging the banks of the River Tagus, this museum opened its doors in 2016 and since then have played host to many top local and international exhibitions.
MAAT's aim is to start a debate and dialogue and to promote critical thinking through the various artists and exhibitions that it hosts.
The current entrance fee is set at €5.00 and is open from 11:00 am to 19:00 pm daily, except on Tuesdays when it's closed for the day.
Discoveries Monument | Padrão dos Descobrimentos
Across the road from the Jeronimos Monastery complex, you will find yet another of Lisbon's iconic monuments. This one being the Padrão dos Descobrimentos or Discoveries Monument in English.
The monument pays homage to Portugal's strong nautical past during the Age of Discoveries and features a ship-like monument with prominent historical figures such as Vasco de Gama and Prince Henry the Navigator to name a few.
National Coach Museum | Museu Nacional dos Coches
Situated right next door to the Belém train station, you will find the National Coach Museum which houses an impressive collection of royal coaches once used by the Portuguese royalty when Portugal was still an established monarchy.
The museum is home to a stunning collection of coaches dating back to the 17th century is definitely worth a visit. You can visit the museum between the hours of 10:00 am to 18:00 from Tuesdays to Sundays at a cost of €8.00 per adult.
Take a sunset river cruise
If you're looking to experience Lisbon from a completely different perspective then I can highly recommend you take a sunset river cruise from the Belém riverfront.
This is still one of my all-time favorite experiences I got to enjoy in Lisbon. As you sail along the river Tagus, you get to enjoy an entirely different view of Lisbon, looking back out over the city as you pass along.
The cruise I took was a 2-hour sunset cruise operated by Tagus Cruises and cost €45.00 per adult.
We sailed all along the river starting at the yacht club in Belém and travelled all the way down to Praca do Comercio and parallel with Alfama in downtown Lisbon, before turning back and cruising along the opposite riverbank back to Belém.
Create the Perfect Belem Itinerary: Combine a visit to Belém with a visit to Cascais
Since you'll already be traveling on the Lisbon to Cascais train line, you may consider combining a half-day in Belém with a half-day in Cascais, regarded as one of the top day trip options from Lisbon.
Cascais is a stunning seaside town with amazing beaches, a quaint and charming historic center and the place to go to savor some delicious fresh seafood. It's no wonder that this stretch of coastline is often nicknamed the Portuguese riviera.
The journey by train from Belém to Cascais lasts only 32 minutes and costs €2.25 for a one-way journey. There are also regular departures at roughly 20-minute intervals from early morning till late at night with the last train from Cascais to Lisbon departing at around 01:30 am from Cascais.
Where to stay in Belém
Wondering where to stay in Lisbon, or Belém for that matter?
I often get asked this question, where should I stay in Belém, or should one even consider staying in Belém. My personal view is, as nice an area as Belém is, it is a bit further out of the city and other main attractions of Lisbon.
So, if you're visiting Lisbon for only a short amount of time then I would much rather suggest you stay in other more central neighborhoods of Lisbon and rather plan a half or full-day trip to Belém to enjoy all the incredible sights found here.
If you're still keen on staying in Belém itself then you'll be happy to know that the area offers some fantastic hotel options to choose from.
In particular, the Five-Star Palacio do Governador, as well as the Five-Star Altis Belem Hotel & Spa, stand out as top choices in the area. Of course, there is an entire selection of other good quality and budget-friendly accommodation options in and around Belém too.
Is Belem Worth Visiting?
When planning a trip to Lisbon, I would highly recommend you include a visit to Belém as well as the UNESCO World Heritage sights into your itinerary.
I have no doubt you will absolutely fall in love with the gorgeous architecture, detail, and history of the Torre de Belém and the exquisite Jeronimos Monastery. Not to mention all the other brilliant sights, museums and activities to see and do in and around Belém.
How to get to Belém
Lisbon's public transport network is fantastic and getting from downtown Lisbon to Belém is fairly simple and inexpensive, with several different transport options to choose from.
By Train from Cais do Sodré
The most popular choice is to take the train from the Cais do Sodré train station on the Lisbon to Cascais train line. The journey takes only 7 minutes with 2 stops in between before reaching Belém train station. Currently, a one-way adult fare will set you back only €1.35.
This train offers frequent, daily departures and runs almost every 20 minutes.
Pro Tip: In Lisbon, you're able to purchase a rechargeable transport card for €0.50. You can then top this card up with different values, for example, €3, €5, €10, etc.
This is called Zapping and allows you to pay as you go, when using the transport network in Lisbon, including the Lisbon to Cascais train line.
Be aware that the queues to purchase train tickets at Cais do Sodré is often quite long, especially during peak summer periods. So, be sure to pre-purchase and top this card up ahead of time from any other metro station, so as to avoid having to queue and delay your trip to Belém.
By Bus or Tram from Cais do Sodré
The alternative option to travel by train is to catch a bus or tram from Cais do Sodré.
The tram 15E takes roughly 15 minutes with 11 stops to get to Belem, compared to the 728 bus that will get you to Belem in around 13 mins, with 7 stops on route.
By Taxi
Lastly, you may also opt to make use of one of the many cab-hailing services that currently operate in Lisbon. These include Uber, Bolt, and Kapten to name a few.
Of course, this option will be slightly more expensive but is a great hassle-free way to get from downtown Lisbon to Belém in a comfortable and quick manner.
Born and raised in South Africa, Marco Santos from Travel-Boo, together with his partner moved to sunny Lisbon over 2 years ago.
With an absolute love for Europe, he is on a mission to rediscover his own Portuguese heritage along the way. Marco has set out to blog and share his passion for traveling through and exploring Portugal, Spain, and the rest of Europe, through his blog Travel-Boo.
You can also follow Marco on his Facebook and Twitter.
5 Things to Pack for Your Trip to Portugal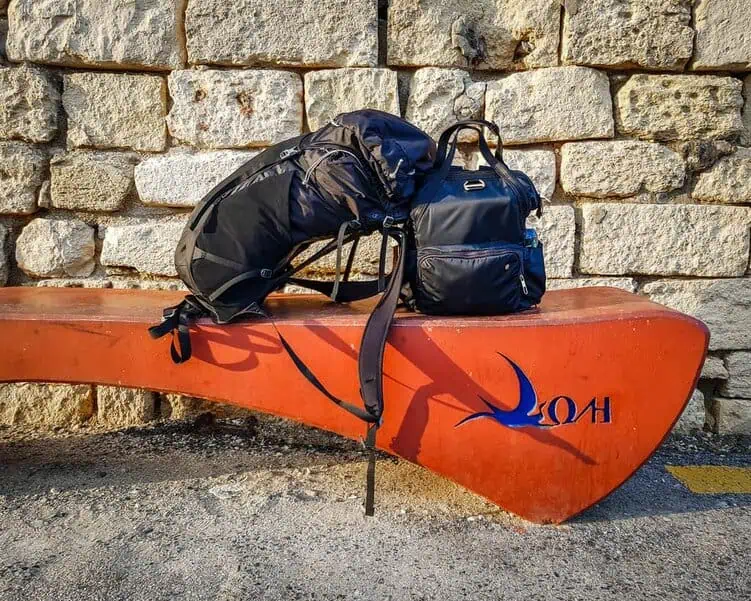 The Lonely Planet Portugal guidebook for your trip. It can be hard to find big, international guidebooks once you land (or they'll be way overpriced). Get yours ahead of time, either a hard copy or on a Kindle.
An Unlocked Cell Phone so that you can use a Portuguese sim card while here to help navigate public transportation and when you're on the road.
Backup Charging Bank for your cell phone since you'll be using it as a camera, GPS, and general travel genie.
A Camera since Portugal is super photogenic. I use a mix of my Nikon D810 and my Samsung8 smartphone these days.
A Great Day Bag so you can carry what you need with you (like your camera, snacks, water, sunscreen, cash, etc). My current favorite is the Pacsafe Citysafe, which is especially great for Portuguese cities because it has many anti-theft features designed to deter pickpockets.
It also transitions to a night bag more easily and won't embarrass you if you go to dinner directly after sightseeing all day.
More Portugal Travel Resources
Coming soon!
Don't Forget About Travel Insurance!
Before you leave for Portugal make sure you have a valid Travel Insurance Policy because accidents happen on the road. I pay for World Nomads, and I happily recommend them. It's especially important to get travel insurance if you'll be hanging out in cities like Lisbon where tourists can easily become the targets of pickpockets.
I have been a paying customer of World Nomads for travel insurance for three years, and I happily recommend them. If you get sick, injured, or have your stuff stolen, you'll be happy to have the ability to pay for your medical bills or replace what's stolen or broken.
Pin this Guide to the Best Things to Do in Belem to Explore Lisbon's UNESCO World Heritage Site for Your Trip!