This post may contain affiliate links. Please see my disclosure page for more details.
Last Updated on: 19th June 2023, 06:42 pm
Do you love medieval monasteries, places that look like they could be straight out of Game of Thrones, and UNESCO World Heritage Sites? Then make sure to put a visit to the Convent of Christ Tomar on your Portugal itinerary.
This twelfth-century stronghold was run by the Knights Templar and is a must-see. Here's everything you need to know to visit this site, from what to wear to what to bring and how to get here. These are my best Convent of Christ in Tomar tips!
Can't read now? Pin for later!
My Favorite Travel Booking Sites for 2023
These are my favorite companies that I use on my own travels.
Protect Your Trip via Safety Wing
Find the best city tours, day tours, bus tours, & skip-the-line tickets on GetYourGuide and Viator.
Find the best deals on hotels & vacation rentals on Booking.com.
For English-speaking private airport transfers, book through Welcome Pickups.
For road trips and independent travel, rent a car through Discover Cars.
Find information and cruise reviews on Cruise Critic.
For packing and travel essentials order via Amazon.
Book an affordable family or romantic photography session on your trip through Flytographer (Use the code HISTORYFANGIRL for 10% off your first photoshoot).
For travel guidebooks to have with you during your trip, I always pick one or two from Rick Steves and Lonely Planet.
Everything You Need to Know to Visit the Convent of Christ Tomar
Here are my best Tomar tips in no particular order.
Tomar History to Know Before You Go
Known as the Convento de Cristo or the Mosteiro de Cristo in Portuguese, the convent was founded by the Knights Templar in the early twelfth century, and it became the seat of the order in the thirteenth century. After the dissolution of the Templars, it housed the Knights of the Order of Christ.
UNESCO's Inscription
The UNESCO World Heritage Site of the Convent of Christ in Tomar was inscribed in 1983. According to UNESCO's inscription:
The Convent of the Knights Templar of Tomar (transferred in 1344 to the Knights of the Order of Christ) came to symbolize just the opposite during the Manueline period – the opening up of Portugal to other civilizations.
…Built over the span of five centuries, the Convent of Christ is a testimony to an architecture combining Romanesque, Gothic, Manueline, Renaissance, Mannerist and Baroque elements. The Convent's centerpiece is its 12th-century rotunda, Oratory of the Templars, influenced by Jerusalem's Holy Sepulchre Rotunda. It was built by the first great master of the Templars, Gualdim Pais.
The convent is one of seventeen Portugal UNESCO World Heritage Sites and one of ten I saw during my ten-day Portugal road trip.
How to Get to Tomar from Lisbon
I rented a car for my entire road trip, picking it up in Porto and dropping it off at the end in Lisbon. However, you can also easily visit Tomar as a day trip from Lisbon. If you have a car, the distance between the two is only ninety minutes, and you can also see a few other UNESCO sites nearby, including the monasteries of Alcobaça and Batalha or even Coimbra.
You can also get from Lisbon to Tomar via train or bus. The train leaves multiple times per day and takes two hours each way, while the bus takes just a little less.
Should You Visit Tomar on Your Own or with a Tour?
I love going on organized day tours of UNESCO sites when I can. This is because it's a great way to make friends if I'm traveling solo, as well as ensure I get a great overview of the history and most important aspects of the site.
If you are traveling solo or you are a small group that would like to go with other people, this is a great group day trip to Tomar that focuses on Portugal's Knights Templar sites and tells the story of one of the world's most famous holy orders.
Alternatively, you can hire a private guide for a private tour where you can make sure all your questions are answered and avoid being in a larger group.
>>Click here for information, pricing, and schedules for Tomar tours.<<
How Much Does it Cost to Visit the Convent of Christ
If you go on your own and not as part of a tour, the tickets are six euros. Alternatively, you can buy a ticket to see the three UNESCO sites in the area, including Mosteiro de Alcobaça and the Mosteiro de Santa Maria da Vitória (Batalha), for fifteen euros. If you drive, expect to also pay for parking.
What to Wear to the Convent of Christ
Remember this is a holy site in the Roman Catholic Church and dress appropriately. You will want to make sure your shoulders and knees are covered. Men should avoid shorts if possible. Think smart casual, not sloppy tourist.
What to Bring with You
Along with what you would normally keep with you, make sure to bring a good day bag, sunscreen, money, your camera, a charging bank, and whatever snacks and drinks you need.
What to See at the Convent of Christ Tomar
There are several important things to see the Convent of Christ Tomar. You'll want to explore the castle, the Keep, the Romanesque Church, the Manueline Nave, the Chapterhouse window, and the cloisters. This isn't an exhaustive list of the site's highlights, so expect to see even more!
Shopping at the Gift Shop
If you're looking for a Knights Templar souvenir, this is your shop! You can find books, figurines, Templar clothing, and more!
Things to Do in Tomar
You could spend a whole day in Tomar, but if you only have a little while make sure you see the aqueduct, which you can easily visit before or after. Near the aqueduct, you will also find gorgeous panoramic views of the castle to appreciate.
5 Things to Pack for Your Trip to Portugal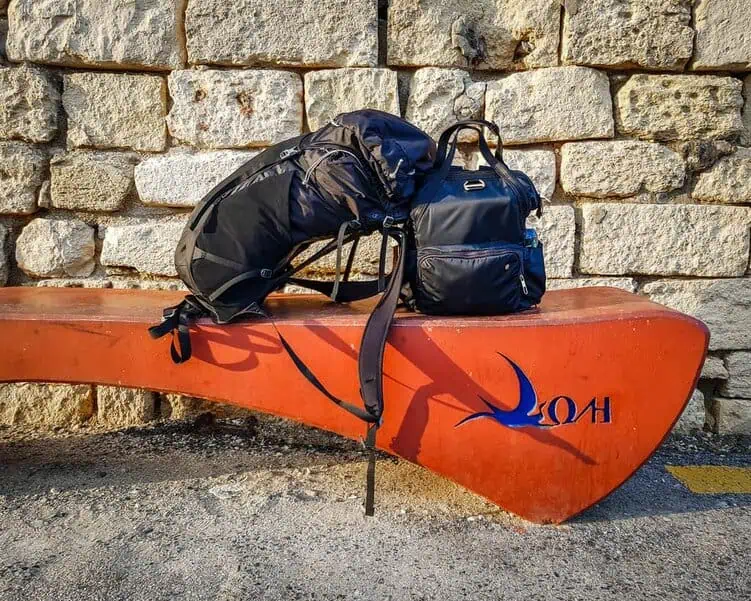 The Lonely Planet Portugal guidebook for your trip. It can be hard to find big, international guidebooks once you land (or they'll be way overpriced). Get yours ahead of time, either a hard copy or on a Kindle.
An Unlocked Cell Phone so that you can use a Portuguese sim card while here to help navigate public transportation and when you're on the road.
Backup Charging Bank for your cell phone since you'll be using it as a camera, GPS, and general travel genie.
A Camera since Portugal is super photogenic. I use a mix of my Nikon D810 and my Samsung8 smartphone these days.
A Great Day Bag so you can carry what you need with you (like your camera, snacks, water, sunscreen, cash, etc). My current favorite is the Pacsafe Citysafe, which is especially great for Portuguese cities because it has many anti-theft features designed to deter pickpockets.
It also transitions to a night bag more easily and won't embarrass you if you go to dinner directly after sightseeing all day.
More Portugal Travel Resources
Headed to Portugal? Check out what to do in Belem and how to visit Lisbon on a budget.
Here are great quotes about Portugal and Portugal Instagram captions for your gorgeous Portugal photos. You can also check out my podcast Rick Steves Over Brunch which has multiple Portugal episodes!
Don't Forget About Travel Insurance!
Before you leave for Portugal make sure you have a valid Travel Insurance Policy because accidents happen on the road. I pay for World Nomads, and I happily recommend them. It's especially important to get travel insurance if you'll be hanging out in cities like Lisbon and Porto where tourists can easily become the targets of pickpockets.
I have been a paying customer of World Nomads for travel insurance for three years, and I happily recommend them. If you get sick, injured, or have your stuff stolen, you'll be happy to have the ability to pay for your medical bills or replace what's stolen or broken.
Pin this Guide to Visiting Convent of Christ Tomar for Your Trip!