This post may contain affiliate links. Please see my disclosure page for more details.
Last Updated on: 22nd August 2021, 01:12 am
UNESCO currently has more than one thousand World Heritage Sites on their list from around the world. These sites are chosen because of their significance, either culturally or naturally. What this means is that these sites are essential, and their safety and preservation ensure continuity for future generations.
There's a reason why Aotearoa (the Maori name for New Zealand) has international recognition as a source of inspiration, life, and discovery. Three areas in New Zealand have been inscribed as World Heritage Sites by UNESCO's World Heritage Committee. Even though there are three known World Heritage Sites in New Zealand, a further eight tentative sites are waiting for approval from the Heritage Committee.
Nevertheless, out of the three World Heritage Sites in New Zealand, the public can only access two. There are scheduled tourist visits a few times each year to access the last one, and you must get a permit to visit. Keep on reading this article to find out more about the World Heritage Sites in New Zealand.
Can't read now? Pin for later!
Unesco World Heritage Sites in New Zealand
These three sites are full World Heritage Sites.
Tongariro National Park
Tongariro National Park bears a lot of cultural significance to the Maori people of New Zealand. Parts of it were gifted to the Kiwis by Maori Chief Te Heuheu Tukino to ensure that the land got the protection and preservation it needed. The site, found in the North Island, was the first to get listed in 1993 as a cultural landscape on the World Heritage Site list.
Tongariro is the fourth National Park in the world to be established as a WHS. Some of the features of the park, such as the mountains, bear religious and cultural importance to the Maori. They have also, for years, signified the links present between the community and the environment spiritually.
This area still has some volcanic activity, and Mount Ruapehu, found in the park, erupted last in 1996. Sulfurous smells and the crazy-color lakes leave no doubt as to the nature of the land.
Te Wahipounamu
This site was incorporated as a World Heritage Site in 1990, and it includes areas such as Westland, Mount Aspiring, Mount Cook National Park, and Fiordland. The park contains specimens from forests of Beech and Podocarp that date back 800 years. Te Wahipounamu features towering cliffs, waterfalls, and lakes, coastlines, glaciers, and fjords.
An area of almost 1.9 million hectares, Te Whipounamu is home to the Takahe, a rare and endangered flightless bird as well as the kea, the only alpine parrot in the entire world. The New Zealand Department of Conservation manages overnight hiking trails and short walks on the hiking tracks surrounded by nature. If you're looking for a bit of adventure here, spend the night in communal huts or enjoy gourmet meals during guided tours!
Subantarctic Islands
The Subantarctic Islands of New Zealand include Campbell, Bounty, Auckland, Snares, and Antipodes islands and are known for their anonymity and mystery. These islands give refuge to many different varieties of wildlife and birds, as well as plants and invertebrates unique to the areas.
These islands are home to 126 species of birds, 40 of them being sea birds, and five of these species do not breed anywhere else on NZ other than on these islands. All five of these islands were acknowledgment as World Heritage Sites in 1998. If you want to visit, you need to start organizing early since they are only accessible if you have a permit and via guided expeditions.
Visitor numbers to these islands receive careful monitoring, and you can only get there by vessels explicitly built for such expeditions. Ecosystems on these islands get the utmost protection, and visitors have to be responsible for them.
Tentative New Zealand UNESCO World Heritage Sites
New Zealand Department of Conservation forwarded some sites for approval as World Heritage Sites. While some travelers overlook tentative sites, I've found they are some of my most rewarding travel experiences!
Waters and Seabed of Fiordland (Te Moana O Atawhenua)
The Fiordland is unlike anywhere in the rest of New Zealand. Home to stunning natural beauty as well as animals like fur seals, penguins, and shearwaters, this region is truly spectacular. While Milford Sound is on almost everyone's New Zealand bucket list, spend more time here exploring its hidden gems.
It can be difficult to distinguish visiting the main UNESCO site Te Wahipounamu, which includes the Fiorlands,
and seeing this tentative site that focuses on marine life and the seabed.
Waitangi Treaty Grounds Historic Precinct
Whatever your feelings about visiting Colonial sites, New Zealand as we know it would not exist without the events that took place at the Waitangi Treaty complex. It was here that the Treaty of Waitangi was signed between Maori and the British in 1840, and has been the site of subsequent annual commemorations of the signing. As New Zealand reassesses this legacy, the site's emotional significance might change.
Kermadec Islands and Marine Reserve
The Kermadec Islands is an archipelago of fifteen islands, including Raoul, Macauley, Curtis, Cheeseman, and the Meyer Islands. The northernmost land in New Zealand, these islands are remote, even by New Zealand standards. They can only be reached by private boat or charter vessel and require a special permit.
The marine reserves here have been carefully monitored and maintained for almost two decades, erasing almost all effects of human activity, leaving this area as one of the most pristine in the world.
Auckland Volcanic Fields
Scheduled to be voted on for the full list in 2022, the Auckland Volcanic Fields encompasses a few areas around the city of Auckland, making it one of the easiest New Zealand World Heritage Sites to visit.
The proposed site will be considered as a Mixed Cultural and Natural Heritage Site, with important cultural sites in the area listed as Maungawhau/Mount Eden, Maungakiekie/One Tree Hill, Maungarei/Mount Wellington, Te Pane o Mataaho/Mangere Mountain, and the Otuataua Stonefield Gardens.
Whakaura Moutere
A group of nine different islands, each distinct and interesting in their own right. While visiting all might be impossible, you can work with local tour companies to see if one or two can be added to your itinerary. The islands are the Three Kings Islands/Manawatawhi, Te Paki and North Cape Reserves, Poor Knights Islands, Hen and Chickens Islands, Mokohinau Islands, Hauturu/Little Barrier Island, Cuvier Island, Red Mercury and lesser Mercury Islands, and Aldermen Islands.
The Three Kings Islands are a popular albeit very remote diving site which you can reach by liveaboard boat.
Kerikeri Basin Historic Precinct
An important site to both Maori and European history, the Kerikeri Basin was a Maori settlement and also served as the first point of contact when Europeans first arrived. The oldest European buildings in New Zealand are located here, but it's also a beautiful river basin worth visiting in its own right. Even if you want to skip the colonial history, come for the beautiful Kerikeri Falls.
Napier Art Deco Historic Precinct
While the town was founded in the 1850s, much of the Napier was destroyed in an earthquake in 1931. The city rebuilt over two years, creating a distinct version of Art Deco that incorporated Maori designs within typical Art Deco motifs and built short buildings designed to be as safe during an earthquake as possible.
Kahurangi National Park, Farewell Spit, and Canaan Karst System
Located in the Tasman District of the South Island, Kahurangi National Park and Farewell Spit contain some of the most geodiversity in New Zealand. This includes a wide variety of rock types, soils, topography, and different climates which have lead to a multitude of different ecosystems within a relatively small space.
Get Out and Explore New Zealand!
With most parts of New Zealand bearing substantial natural and cultural significance, it's a wonder that most of the country doesn't have acknowledgment as World Heritage Sites by the UNESCO. With the importance that such sites carry, they must receive protection not just from the governing authorities but also from visitors and locals alike to ensure that they aren't at threat from damage by the developing world.
More New Zealand Travel Resources
If you want to learn more about the UNESCO World Heritage List, check out this interview about the list and traveling to UNESCO sites.
If you will be combining a trip to New Zealand with Australia, check out these Australia quotes and puns for Australia Instagram captions.
5 Things to Pack for Your Trip to New Zealand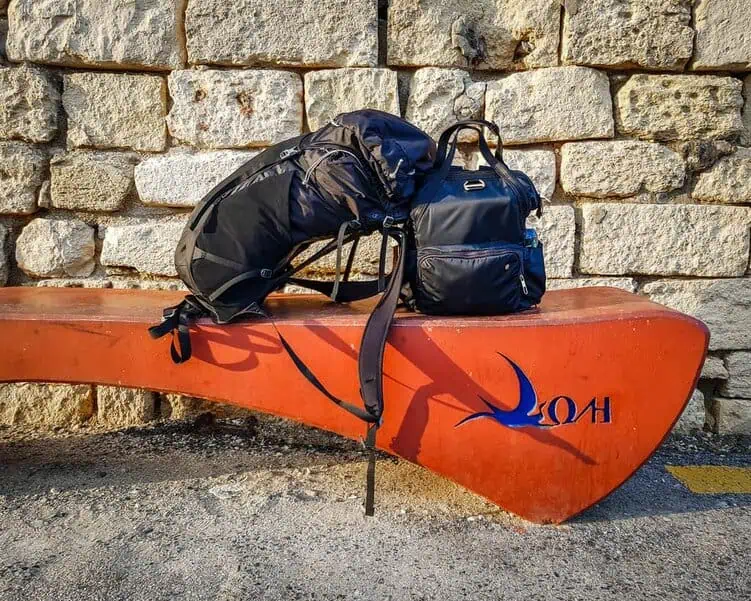 The Lonely Planet New Zealand guidebook for your trip. It can be kind of a pain to find the major guidebooks once you land, or you'll find them overpriced. I always like to pick mine up ahead of time.
An Unlocked Cell Phone so that you can use a local sim card while here to help public transportation.
Backup Charging Bank for your cell phone since you'll be using it as a camera, GPS, and general travel genie.
A Camera since New Zealand is super photogenic. I use a mix of my Nikon D810 and my Samsung8 smartphone these days.
A Great Day Bag so you can carry what you need with you (like your camera, snacks, water, sunscreen, cash, etc). My current favorite is the Pacsafe Citysafe, which is especially great for cities in New Zealand because it has many anti-theft features designed to deter pickpockets. It also transitions to a night bag more easily and won't embarrass you if you go to dinner directly after sightseeing all day.
Don't Forget About Travel Insurance!
Before you leave for New Zealand make sure you have a valid Travel Insurance Policy because accidents happen on the road. I pay for World Nomads, and I happily recommend them. It's especially important to get travel insurance if you'll be hanging out in the great outdoors where injuries can happen.
I have been a paying customer of World Nomads for travel insurance for three years, and I happily recommend them. If you get sick, injured, or have your stuff stolen, you'll be happy to have the ability to pay for your medical bills or replace what's stolen or broken.
Pin this Guide to New Zealand's World Heritage Sites for Your Trip!