This post may contain affiliate links. Please see my disclosure page for more details.
Last Updated on: 19th June 2023, 07:14 pm
Colombia is a great country to visit. With its rich cultural history and stunning destinations to explore, from sunny Medellin to beautiful Cartagena.
To remind you of the joys you experienced on the trip, you might want to take a few souvenirs home with you! Here are the best Colombian souvenirs and gifts to pick up while in Colombia, the Gateway to South America!
Can't read now? Pin for later!
My Favorite Travel Booking Sites for 2023
These are my favorite companies that I use on my own travels.
Protect Your Trip via Safety Wing
Find the best city tours, day tours, bus tours, & skip-the-line tickets on GetYourGuide and Viator.
Find the best deals on hotels & vacation rentals on Booking.com.
For English-speaking private airport transfers, book through Welcome Pickups.
For road trips and independent travel, rent a car through Discover Cars.
Find information and cruise reviews on Cruise Critic.
For packing and travel essentials order via Amazon.
Book an affordable family or romantic photography session on your trip through Flytographer (Use the code HISTORYFANGIRL for 10% off your first photoshoot).
For travel guidebooks to have with you during your trip, I always pick one or two from Rick Steves and Lonely Planet.
The Best Colombian Souvenirs & Gifts
Colombia is known for its stunning beaches and vibrant culture. There are plenty of souvenirs that you'll be able to take home with you, so you remember your trip.
You can get everything from coffee to emeralds. So, when you go to Colombia, use these tips to find some amazing souvenirs and gifts.
In no particular order…
Mochila
When thinking about Colombia, one of the most common things to consider is the dazzling colors. Nothing demonstrates this better than the Mochila, the gorgeous shoulder bags created by local artisans. While online exports of these bags can get expensive, they are a great bargain when purchased in Colombia directly from the producers.
Replica Chiva Bus
One of the most iconic forms of travel through Colombia is the Chiva bus. These are often very colorful, coming covered in stickers and intricately painted designs. There are plenty of places to find replicas of these buses. They can be found in the airport or at market stalls and great make gifts from Colombia for children or family.
Hammock
A hammock is one of the best ways to relax! Colombia makes some amazing hammocks, especially if you're searching at the local market stalls. Many of these hammocks have been made by hand. Because of this, they will be strong enough to comfortably hold you. They also feature a lot of beautiful designs so you can find one that matches your vibe back home.
An Aguadeño
When thinking about iconic headwear, many people picture the Aguadeño, also known as the Panama hat. This is the straw wide-brimmed hats that Colombia is famous for.
When searching for the right headgear, there will be lots of options for you to choose from. Traditionally, you'll want to go with a white hat with a black band. However, there are plenty of colors and designs for you to pick from, making it easy to find the right one for you.
Emeralds
One of the biggest exports from Colombia is emeralds. You can find emeralds in their uncut form, cut but loose, as well as set into beautiful jewelry.
When buying from a store, you can expect to pay a lot. However, when you go to a market, you'll be able to get some amazing emeralds without needing to spend a fortune. In some cases, these jewels can start from just $10.
Coffee
One of the biggest products that Colombia is known for is its excellent coffee. The beans produced in Colombia are renowned for their rich flavors. To get the same enjoyment at home, you might want to take some coffee beans back with you, especially if you find a producer or blend you fall in love with.
Once you get back home, you'll need to get a high-quality coffee maker. This will allow you to get the most flavors from the beans. If you want some advice on choosing the right machine, check out this Super-Automatic Espresso Machine compilation.
Aguardiente
One of the national drinks of Colombia is Aguardiente. The locals love to sip it while laying on the beach. Once you try it, you'll be left craving more. To make sure that you're getting the authentic flavors, you'll need to purchase the bottle while you're in Colombia.
The good news is that this beverage is readily available. It can be found in a lot of supermarkets and other places. It can also make a very inexpensive present, great for those who want to keep the home bar stocked with souvenirs from your travels.
Vueltiao Hat
Another iconic fashion item is the Vueltiao hat. This is very different from the Aguadeño. In this case, it has a wider brim and comes in a wider range of colors. In most cases, the hats will feature geometric designs which tend to be very closely related to the traditions of the local culture.
Because of this, the best place to purchase one of these hats will be the local markets. When you buy at the markets, you'll be able to support the local economy while getting a more authentic product.
Ruana Poncho
If you're looking for something that will keep you warm while looking cool, you might want to get a Ruana Poncho for your memento from Colombia. These are a cross between a poncho and a blanket, wrapping your body in comfortable wool.
Because they are handmade, they can often be a little more expensive than some of the other Colombia souvenirs on this list. But, the comfort and quality of the items are well worth it. Plus it will last you for many years!
Pressed Or Dried Orchids
One of the national flowers that Colombia is most proud of is the orchid. Growers have been trying to perfect this flower for many years. Because of this, the orchids grown in the country have some dazzling colors.
You will often be able to walk through a field of these orchids, smelling the beautiful odors. For souvenir orchids, look for some that have been pressed or dried. This will ensure that they will be able to last for a long time.
Colombian Chocolate
Colombia is known internationally as an exceptional chocolate producer. Because of this, you might want to pick up a bar, which you can easily find all over Colombia. You might also be able to find some bars that have been made by hand.
Obelas
Another delicious food is the Obelas. These are hugely popular in Colombia. They are wafer sticks. On the inside though, they have a delicious cream. They are available in a wide range of flavors, making it easy to find the one that you like the most. These can be found in most supermarkets and are a great cheap Colombian souvenir for gifts for coworkers and friends.
Cocoa Tea
If you're looking for a unique souvenir from Colombia, you might want to try and get some cocoa tea. This has been around for many years, and it's believed that this tea will be able to help you drop a few lbs. It might also be able to help you overcome altitude sickness.
Swimwear
Colombia is known for its stunning white sandy beaches. This is one of the most popular holiday destinations for tourists, allowing you to relax. When you're on the beach, you'll notice the locals have a lot of cool swimwear.
Pop into some of the local stores and pick some up for yourself! This is a great way to remind yourself of the fun that you had while you were on your holiday when you're home at your local pool or beach.
Music
When you're walking through Colombia, you'll notice a lot of music. For those on vacation, there will be a lot of new songs for them to hear. One of the best ways to keep these holiday vibes going is by taking some of this music home with you. You should be able to find stores selling CDs or even vinyl records.
Another great option (and something I love doing on many trips) is to buy a local musical instrument to display back home.
Coffee Table Book
There are many ways to celebrate the unique sights of Colombia, from the glorious beaches to the stunning architecture. One of the best ways is by buying your own gorgeous coffee table book.
These can be found in bookstores across the country. But, if you're in the area, you might want to check out the ones offered by Villegas. This publishing house has won international acclaim because of their beautiful books.
Jewelry
When visiting the markets in Colombia, you'll find a lot of sellers provide handmade jewelry that showcases the maker's unique designs and talents. It might also feature some local jewels, like an emerald (above), or focus on recreating ancient local designs. You can find jewelry in various budgets, and it makes the perfect romantic Colombian souvenir for her or for him.
Chamba Pottery
If you're looking for some items for your home, you should look for local Chamba pottery. This comes from a small town in Colombia, where you'll be able to find some stunning bowls that are both beautiful and useful.
These often tend to be rustic and simple. These items are very well made and will be able to last for a long time. They are also made from clay, often by hand. It's best to purchase these from an official source, so you know that they will be high-quality.
Colombian Leather Products
Though Colombia might be best known for its stunning beaches and relaxed atmosphere, it also has rugged terrain and a large farming population. In these parts of the country, they require goods that are built-to-last. Because of this, you'll be able to find a wide array of high-quality leather goods. For example, you'll be able to find jackets, wallets, and boots.
Look for these beautiful Carriels from the Antioquia region for something truly special.
Headband
The headband is a traditional fashion item, typically worn by women. These items to be very brightly colored and can be a great way of making your holiday shots stand out. You'll be able to find these at market stalls across the country.
Local Art
Finally, if you want a permeant way of reminding yourself of your trip to Colombia you might want to get some local art. There will be plenty for you to choose from. For example, you will be able to find some beautiful photographs. You will also be able to find contemporary paintings and self-portraits. Walking around the markets, you're sure to find some art that will appeal to you.
More Colombia Travel Resources
Headed to beautiful Colombia? Make sure to check out this Cartagena itinerary for your trip!
5 Things to Bring to Colombia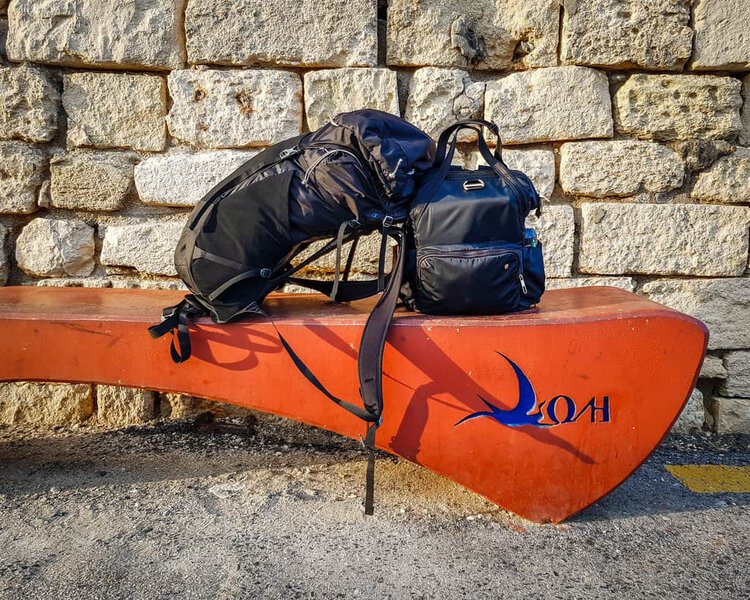 A Lonely Planet Colombia guidebook for your trip. It's hard to find them once you land, so buy yours ahead of time.
Backup Charging Bank for your cell phone since you'll be using it as a camera, GPS, and general travel genie.
A Camera since Colombia is super photogenic. I use a mix of my Sony ZV-1 and my Samsung8 smartphone these days, though most of these pictures were taken on my old NikonD40.
A Full-Sized Travel Towel for anyone taking advantage of Colombia's beaches (or…hostels…). This is the best travel towel in the world, and you'll need it if you are staying in hostels or anywhere that requires you to bring your towel.
A Great Day Bag so you can carry what you need with you (like your camera, snacks, water, sunscreen, cash, etc). My current favorite is the Pacsafe Citysafe, which is especially great for South America because it has many anti-theft features designed to deter pickpockets. It also transitions to a night bag more easily and won't embarrass you if you go to dinner directly after sightseeing all day. 
A hat to keep out of the sun. You can bring any kind you like, including dad hats, visors, cute boho hats, and even custom hats.
Pin This Guide to What to Buy in Colombia for Your Trip!