This post may contain affiliate links. Please see my disclosure page for more details.
Last Updated on: 22nd August 2021, 12:59 am
French culture is famous for gourmet food, the world's best wine, its champaign, romantic love, and beautiful art. If you fall in love with Paris (or even while in Paris), you might find leaving to be too much to bear. So what can you do to make your farewell more tolerable once you need to part from dreamy France? You can always take a part of the beauty with you in the form of a French souvenir!
Whether intended for your souvenir collection of treasures from all your travels or if you are bringing back a French gift for your friend as a souvenir from France, here are the best French souvenir ideas that will bring the true French spirit back home with you.
The French gift and souvenir ideas range from items that are quintessentially French, items that are essential for understanding and appreciating French culture, and items that will satisfy all your different senses. Here is a list of the best France souvenir ideas that you wouldn't want to leave France without!
Can't read now? Pin for later!
What to Buy in France: the Best French Souvenirs
In no particular order…
A Frеnch Book
Known as the language of love, French is globally accepted as the most beautiful spoken language with the most romantic language expressions. Many people around the world are mesmerized by the interesting French pronunciations, and they decide to take it up as their second language.
If you are one of the many that have fallen in love with France for its language, you can also take online classes at Live Lingua before your trip and even take your tutor virtually with you on your trip. If you happen to travel to France to be surrounded by the French language and to practice your language skills, there is a high chance that a book in French is the perfect souvenir for you!
You can choose an original edition from famous French authors such as Molier or Victor Hugo, or the essential books of French poetry written by Charles Baudelaire or Marcel Proust. Moreover, one of the most charming and popular books in the world, The Petit Prince or The Little Prince, is the ultimate French souvenir!
French literature is essential for understanding French culture and language. Make sure to seek old book shops on the street corners in Paris or any other town in France. You can also dig up some old gold in antiquity shops. There is no better souvenir than a classic French book to take from France for yourself or a loved one of yours.
A French Parfum
The world has sensed some of the best fragrances thanks to France's long-lasting tradition of perfume making. For centuries France has been the main manufacturer of the most famous perfumes throughout history. From Chanel to Christian Dior and Estee Lauder, French perfume formulas have conquered the world.
While these very famous perfumes can be found all around the world, some hidden places in France hold the secrets to the best perfume experiences and fragrances to take home with you – fragrances that you truly can't get anywhere else.
In France, you can still find small perfume shops that customize perfumes in the same manner as they did back in the 18th century. These hidden treasures will allow you to make a personalized perfume. Moreover, you can customize a perfume to take it as a souvenir from France for yourself or a loved one. Every time you smell the fragrance you will be transported back to your time in France.
If learning more about French perfume thrills you, then you need to make your way to the town of Grasse. Located northwest of Nice, Grasse enjoys a Mediterranean climate perfect for jasmine, lavender, roses, and mimosas to thrive and provide the most beautiful natural aromas used in perfume making.
Once here, you can buy some of the most authentic French perfumes, as well as learn a little bit about the history of the French perfume industry.
If you can't make it to Grasse but will be in Paris, then do not miss visiting the Musée du Parfum Fragonard to learn more about this fascinating history (and of course do some shopping).
A Bottle of Champagne
In the 18th century, French monks invented a special method of fermentation that is today known and used to produce champagne. The only true champagne in the world is the bottle of sparkling wine that comes from the French region Champagne. Everything else you've ever had? Second-rate at best!
A Bottle of Wine
Wine tourism in France is very popular in recent years, with many vineyards adapted to welcome visitors interested in wine tasting with an enjoyable view. Bordeaux, Burgundy, Montpellier are only some of the French areas that host the best wine manufacturers in France.
If you are not into wine tourism you can find exclusive bottles of quality and aged wine in the city's shops. Although these bottles can be expensive they are way cheaper to buy in France than anywhere else in Europe and the world, and of course, one of the luxuries France offers that deserve to be savored.
If you know you want to bring back wine, you can buy special suitcases designed to keep bottles safe on your trip back home.
A French Beret
The most lovable French cliché that is instantly recognizable, the beret, is something you should take home from your trip to France. Mostly associated with Parisian artists, today beret can be seen worn on the streets of France, and it still is a French fashion statement.
While you can technically buy a beret anywhere in the world, there is something special about knowing yours is a souvenir from France. Hand knitted wool berets are stylish and classy. From cheap versions at the souvenir shops to high fashion boutiques designed by famous French designers, you can choose from a wide variety.
These make equally great French gifts for her or him, so you should consider picking one up for your friends and loved ones back home.
As there are many cheap ones manufactured outside of the country, make sure to seek one manufactured in France. Some iconic fashion brands have made berets since the 19th century, so make it exciting!
Iconic Macarons
During your vacation, you need to put savoring true French macarons is on your to-do list, especially when in Paris. You will enjoy these colorful bites of heaven so much that you won't want to go home without a box or two of macarons. You can even take some home for the whole family!
The place where these sugary mini sandwiches were first made is the Ladurée bakery in Paris. Their stores and the decorative boxes in which the macarons are packed are worth taking the time to seek out. And while the macarons you pick up here won't last long, you can always keep the box as a souvenir from France if you just happen to eat your cookies up before you leave the country.
It might not be the souvenir that a friend or loved one will keep for a long time, but the pleasure that comes in the brief seconds while the macaron melts in their mouth will be remembered forever. And your friends probably expect you to bring back macarons, so do not disappoint them!
Keep these on your list for French gifts to bring back for coworkers and officemates as well!
French Cheese
There are more than four hundred different types of cheese in France, so indulge in a wide variety if you want to find your favorite. The possibility is you will find more than one that you would like to take home. Strong flavors are most common in the quality French cheeses and if you want to savor some of the best, ask for help from the "fromager."
French cheese is available around the world, but you will find that the quality and potency of the cheese that is available in France is better than any you've tried before. If you have the time, do not miss the opportunity to go on a wine and cheese tasting to learn more about French cheese and decide on the best one to bring home.
An Eiffel Tower Replica
The Eiffel tower is one of the most popular architectural wonders of the world. You can find it transformed into keychains, jewelry, ornamental wallpapers, and more. You might find these a bit kitschy, but you'll be happy whenever you see it back home.
It's probably the most practical souvenir to bring back home for family and friends expecting you to bring them a gift from France. You will find so many gift ideas featuring the Eiffel Tower from notebooks, small replicas, keychains, pendants, pocket watches, cups, lamps, etc. While they are not unique, they certainly are fun!
Lavender Products
France is famous for its sumptuous lavender fields, and you can take some of this home with you in the form of lavender products! My personal favorites are lavender satchels that keep your luggage or drawers smelling fresh.
I'm also partial to bring back lavender essential oil which I add to my laundry for an extra pick-me-up.
French Jewelry
Whether you prefer antique and vintage jewelry or modern pieces, you can find great necklaces, earrings, and bracelets in France's boutique shops. I like to mix jewelry that looks older with super modern pieces, but you will be able to find whatever you prefer!
A Chic French Scarf
You will notice that French women are masters at wearing chic scarfs. If this inspires you to want one of your own, then pick one up while you are here! You can go high end and buy a scarf from Hermes, a la Le Divorce, or you can find a less expensive version. Pay attention to how the women here wear them and see if you can pull off the same styles!
A Flea Market Find
Sometimes it's not about what you buy, but rather the experience you have shopping. If you want to peruse the treasures that have been carefully protected inside quiet French houses, head to one of the country's fabulous flea markets. Remember that one man's trash is another man's treasure, and your perfect French souvenir might just be waiting for you to bring it back to life.
Versailles Souvenirs
You can expect one of the grandest palaces in the world to have an equally grand souvenir shop, and Versailles's gift shop does not disappoint! From figurines of the royal family to Louis IV inspired shoes, there's a little something here for lovers of the (former) French royalty.
French Skincare Products
While the idea that French women don't age is a trope that doesn't quite add up, it is true that France is home to some of the most innovative skincare lines in the world. Look for shops stocked with Vichy, Yves-Rocher, and Caudalie.
A French Cookbook
I love buying cookbooks when I travel. I may not be able to bring back a year's supply of French pastries, but I can bring back the instructions on how to make them. Whether I get around to cooking from them or not, having cookbooks from my travels brings me joy whenever I look at them.
Fleur dis Lis Souvenirs
The Fleur-de-Lis is a symbol of France. You can find it on jewelry, home furnishings, even clothing. A small charm or scarf with a fleur-de-lis pattern is the perfect France memento.
Vintage Furniture
While it's not the easiest souvenir to bring back home, picking out a piece or two of French furniture back to decorate your home. You can find great antique pieces with classic French silhouettes. While you might be able to get imitations back home, there's nothing like getting the real thing.
Madeleines
The delightful French butter cakes originated in Lorraine, and if you can manage not to gobble them up instantly, you can bring back a few to enjoy in the days you get back. What a great way to pretend you're still in France for a few extra mornings!
Disneyland Paris Souvenirs
If you plan on visiting Disneyland Paris, set aside some coin for a French Disney souvenir. From Mickey ears to princess dresses, there's something for all Disney fans here. And remember that the most authentic French Disney souvenirs are from Beauty and the Beast since the story takes place in France!
France World Cup Football Souvenirs
If you love soccer, errrr football, you will want to pick up a French football souvenir. You can get a replica jersey from their World Cup-winning team, a replica ball, or a poster. If there's a particular player or French team you prefer instead, find a souvenir to commemorate your appreciation.
Of course, the coolest French soccer souvenir is a ticket stub from a game you got to see in person during your trip!
Camino de Santiago Souvenirs
If you are setting out to do the Camino de Santiago from France, make sure to pick up a seashell or other pilgrimage souvenir at the start. You can find the traditional seashell that marks pilgrims in the shops of Saint-Jean-Pied-de-Port before setting out on your Camino.
Poppy Souvenirs
This poppy coin purse is my very own French souvenir that I take with me everywhere. It hasn't left my purse (or backpack) for three years. You can see it's worn in, but I love it as much as the day I bought it.
Poppies are a symbol of World War I, and you can find items with the poppy design at important World War I sites and museums in the country.
I bought this one at the Juno Beach Centre during my trip to see the beaches of Normandy. When I use it, I think about the war and its devastating legacy on the modern world.
D-Day Souvenirs
While many people come to explore World War I sites, others come to learn about D-Day and pay their respects to those who sacrificed their lives in the liberation of France from the Nazis during World War II.
In Normandy, the museums are full of great World War II educational souvenirs, and there are lots of shops with replica military uniforms from the troops who were present at D-Day. If you come during the D-Day anniversary in early June you will find even more options and lots of visitors dressed up in period attire.
Calisson Candies
This classic French candy from Provence is made from fruit and almonds with a layer of delicious royal icing on top. These will last a little longer than the other desserts on this list, so if you have a sweet tooth these are a great idea.
Catholic Souvenirs
If you come to France to see one of the country's pilgrimage sites, like the famous Lourdes, then you should spend a bit of time in the shops around the sites. You can find beautiful rosaries, candles, books, and other precious religious French souvenirs.
If you are not a Catholic, be careful about what you buy and how you display it. Remember that rosaries are not necklaces and should not be worn as such, especially by non-Catholics.
Haute Couture
If you love fashion, you will love shopping in France! With famous fashion houses headquartered in Paris, this is the place to come if you want to experience shopping as a cultural experience. Prepare to spend a pretty penny, as real pieces from Chanel, Givenchy, and Balmain are not cheap!
Handmade Soap
I adore buying handmade soaps on my trips. They feel luxurious, brighten up your early showers before work, yet they are inexpensive and take up almost no room in your suitcase. You can buy soaps made from local French-grown botanicals like lavender, lilac, and rosemary.
Antique Dishes and Servingware
If you love delicate serving ware and dishes, spend some time perusing France's antique shops. You can find great silver pieces (and replicas) that are perfect for using back home (even if they will just be decorative).
A Christmas Ornament from a French Christmas Market
If you plan on visiting French Christmas markets, make sure to bring cash with you to pick up some locally made Christmas ornaments! You'll love putting them up on your tree back home year after year, always serving as a reminder of your magical French Christmas vacation.
A French Flag Souvenir
Flags make great souvenirs because they take up almost no room, they instantly bring you back when you see them, and they can be truly beautiful objects. Bring back a French flag souvenir to use as home or office decor or even just to pull out on Bastille day!
Ceramic Figures
If you love to decorate your home with figurines purchased on your travels, you will love the wide variety available in France. From Alsatian houses to ceramic French chateaus, there's something for everyone!
Vintage Postcards
If you are looking for cheap French souvenirs, a vintage postcard is perfect! Whether you get one that's already filled out or one that is blank, these can be displayed like artwork once you are back home.
A Tradional Kitschy French Souvenir
If you have a typical souvenir that you like to collect, like magnets, spoons, bells, T-shirts, etc., you'll be happy to know that you can find these all over France! From airports to train stations, there are traditional French souvenirs for every souvenir collection you can think of.
5 Things to Pack for Your Trip to France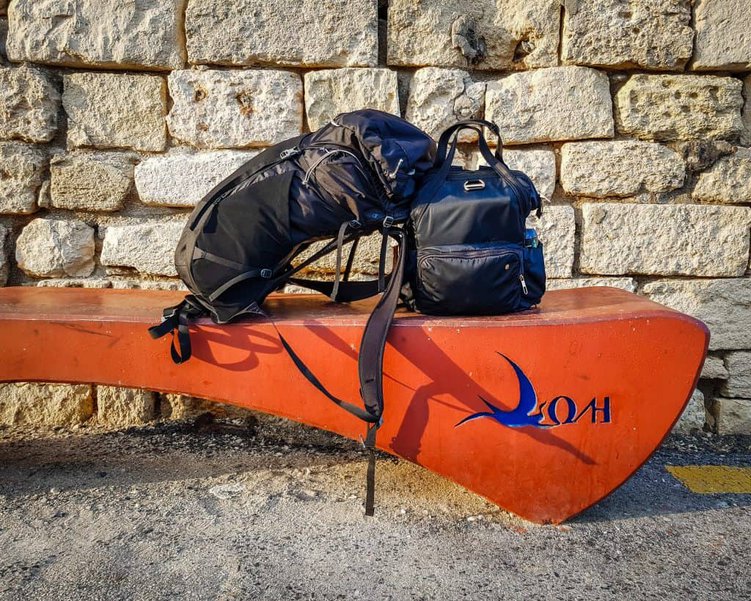 The Lonely Planet France guidebook or the Rick Steves Paris guidebook for your trip. It can be kind of a pain to find the major guidebooks once you arrive in France, or you'll find them overpriced. I always like to pick mine up ahead of time.
An Unlocked Cell Phone so that you can use a French sim card while here to help navigate the trains.
Backup Charging Bank for your cell phone since you'll be using it as a camera, GPS, and general travel genie.
A Camera since France is super photogenic. I use a mix of my Nikon D810 and my Samsung8 smartphone these days.
A Great Day Bag so you can carry what you need with you (like your camera, snacks, water, sunscreen, cash, etc). My current favorite is the Pacsafe Citysafe, which is especially great for Paris and Bordeaux because it has many anti-theft features.
More France Travel Resources
Headed to Paris? Check out the 10 Historic Churches in Paris you should see and the best quotes about Paris, plus this podcast episode Rick Steves Over Brunch: Highlights of Paris and my favorite Paris puns.
If you're interested in exploring northern France, check out my photo essay from Normandy and my podcast episode on The Beaches of Normandy.
If you're looking for more France Instagram captions, you can also check out 101 Quotes about France, the best France puns, and 250+ Real & Inspirational Travel Quotes (with Images!).
Don't Forget Travel Insurance!
Before you leave for France make sure you have a valid Travel Insurance Policy because accidents happen on the road. I pay for World Nomads, and I happily recommend them. It's especially important to get travel insurance if you'll be hanging out in cities (like Paris…ahem) where tourists can be the victims of pickpockets.
I have been a paying customer of World Nomads for travel insurance for three years, and I happily recommend them. If you get sick, injured, or have your stuff stolen, you'll be happy to have the ability to pay for your medical bills or replace what's stolen or broken.
Pin this Guide to the Best France Souvenirs for Your Trip!