This post may contain affiliate links. Please see my disclosure page for more details.
Last Updated on: 19th June 2023, 06:42 pm
If you are heading to India soon, you might wonder how you will possibly manage to fit all your lovely souvenirs from India with you when you go back.
Besides the gorgeous photos and beautiful poetry you'll bring back with you, I'm sure you're planning on picking up one or two (or ten) souvenirs but you might be wondering what to buy in India. From gorgeous textiles to delicious drinks, here are the best Indian souvenirs and gifts to bring back home!
Can't read now? Pin for later!
My Favorite Travel Booking Sites for 2023
These are my favorite companies that I use on my own travels.
Protect Your Trip via Safety Wing
Find the best city tours, day tours, bus tours, & skip-the-line tickets on GetYourGuide and Viator.
Find the best deals on hotels & vacation rentals on Booking.com.
For English-speaking private airport transfers, book through Welcome Pickups.
For road trips and independent travel, rent a car through Discover Cars.
Find information and cruise reviews on Cruise Critic.
For packing and travel essentials order via Amazon.
Book an affordable family or romantic photography session on your trip through Flytographer (Use the code HISTORYFANGIRL for 10% off your first photoshoot).
For travel guidebooks to have with you during your trip, I always pick one or two from Rick Steves and Lonely Planet.
Finding India on Your Own
If you are someone who loves to travel and discover new cultures, you know that feeling you get when you are in a new country and you are about to see something really special. Every new destination you visit is like a warm hug welcoming you back to a secret past. Every new place has a story to tell you and hide the secrets you will never know.
India is a country that is known for its beautiful locations and its mind-blowing destinations that have just that kind of story to tell. It has so many beautiful destinations to visit that you will be awestruck, to say the least.
Known as one of the most beautiful, intense, and chaotic countries to have visited, everyone needs to visit India at least once in their life. Once here, the colors of India will surprise you! The products that are found in India are produced in India and have their own charm and beauty as well.
The Best Souvenirs from India
In no particular order…
Indian Spices
India is extremely famous and well known for its flavor-rich food and how good it the cuisine smells. The key ingredient to this exquisite food is the spices of India that are grown and cultivated in India itself.
There are so many different spices that are available in different parts of the beautiful country, and the dishes that you have to try while visiting the country will help you understand why you have to buy at least a few spices from India.
There are a few factors that come into play when you purchase spices, so keep in mind that the region that you are traveling in will have a different variety of spices. This means you should try to buy as you go!
Indian Pickles
Whenever pickles are discussed, many people tend to think of the westernized form of pickles which are popular on hamburgers or as a salty snack.
But Indian pickles are tangy and sweet. They can sometimes even be spicy! If you're lucky, you'll find pickles that are all three at once.
Be it vegetable pickles or chicken pickles, there are a huge variety and options for the different types of Indian pickles to choose from. Pickles makes one of the best Indian souvenirs that can be used as gifts from India, mainly because of the fact that it is so unique in taste.
But one thing to be kept in mind is that while you do purchase pickles, make sure that they come with proper packaging because Indian pickles tend to have a lot of oil in order to preserve the content and it may leak. If you buy them in a glass jar, make sure they are insulated as well as properly cushioned.
Loose Leaf Tea
Indian tea is famous worldwide for its excellent flavor. After visiting the country for a few weeks, you will get used to having a cup or two each day. Bring the tradition how with you by bringing some Indian tea back for yourself. It also makes the perfect Indian gift for friends or coworkers.
Sweets and Candies
Now, sweets from India are made mostly in melted butter and are known to be delicacies because of their sumptuous and unique flavors. They are full of tasty sweetness, some of them even tend to be so soft that they literally melt in your mouth. Every part of India has its own local traditions for desserts and candies, so feel free to bring home a few kinds!
This also makes a great gift from India for her or for him, so if there's a special someone waiting back home pick up an extra box or two!
Traditional Indian Jewelry
A lot of people in India adore gold and silver jewelry, and one thing that you will notice in India is that the women and men of India invest in a lot of gold jewelry.
The designs are unique and extremely beautiful, and it will be an investment if you purchase gold or silver jewelry. But you will have to make sure that you are purchasing the jewelry from an authentic store that is well known for its quality to avoid potential tourist scams.
If you can't afford the real thing, Indian costume jewelry is also lovely and well made. You can bring back pieces that will last for a long time and continue to remind you of your trip for years to come!
Of course, jewelry might be the first thing to come to mind if you're looking for a gift from India to bring back to your partner, fiance, or spouse.
Ayurvedic Gifts
Ayurveda is a traditional Indian system of medicine. It aims to preserve health and wellness by keeping the mind, body, and spirit in balance and preventing disease rather than treating it.
Ayurvedic products are products that are used in this tradition and are extremely good for health, often made from all-natural ingredients. From herbs to scent the room to herbs that would help you in improving your overall well-being, Himalaya Ayurvedic products are some of the most famous and requested worldwide.
Pashminas
You might have seen them for sale at department stores at home, but did you know that pashmina shawls are the trademark product of Jammu and Kashmir? These shawls are extremely soft and warm which makes it a pricey purchase. It is a traditional souvenir and can be found in Kashmir where you will find the real Pashmina shawls.
Blue Pottery
Blue pottery traditionally comes from the city of Jodhpur in Rajasthan. The city itself is called the Blue City due to the fact that most of the houses found in Jodhpur are bright blue in color. From pots to plates to cups to tiles to lamps to houses, everywhere you look in Jodhpur you can find something blue and lovely.
Bring back some of their traditional pottery as your souvenir and you will have a piece of this beauty all for yourself!
Kutch Embroidery
Kutch embroidery is a form of beautiful needlework that is one of the most typical Indian souvenirs because this type of embroidery is synonymous with India. It originates in the Kutch district found in the state of Gujarat.
Walnuts
These are found in India and are quite well-known souvenirs. They last for a very long time, so they make the perfect gift from India for the health nut in your life!
Bangles
Traditional bangles that are made in India come in different forms. They can be made of glass, clay, and other materials. They come in so many different forms and types, so pick out the one that perks your interest. Typically you will find them to be both colorful and melodic.
Paithani Silk Sarees
There are a huge number of hand-woven sarees brands across India that make beautiful gifts, but what makes Paithani silk sarees different is that they are from the town called Yeola, Aurangabad, and are only made there. The Paithani silk sarees are extremely vibrant in color and have beautiful almost kaleidoscopic colored designs that will definitely take your breath away.
Traditional Indian Paintings
India is one of the most beautiful and colorful countries in the world with a rich history of art dating back to prehistoric times. From Madhubani paintings to Warli paintings to Tanjore Painting, there are so many traditional Indian paintings that you should take back home as souvenirs. I absolutely love bringing home art from my travels so that I can fill my home with memories from my trips.
Kondapalli Toys
The Kondapalli toys are toys that are made of ceramics and wood and are known for their vibrant color palette and scheme. Moreover, they are found in a village called Kondapalli and are often known in India for their beauty. This village is found in the Krishna district of the state of Andhra Pradesh.
These make perfect Indian souvenirs for children if you need a gift from India for a child, though make sure to pick out one they will be interested in as well as finding one that is age-appropriate and safe.
Curry Powder
As you probably know by now, India is the home to amazing, rich dishes that make your mouth water just thinking about them. Bringing home an authentic Indian curry powder makes sure that you get the same great tasting dishes in the comfort of your own house as well – or as close as you can do on your own!
Kolhapuri Chappals
These Kolhapuri chappals are well known for their traditional Indian ensemble and how beautiful they look. They originate from the district called Kolhapur which is in the state of Maharashtra and are a form of hand-made slippers.
Sandalwood Carvings
Kerala has earned a reputation as one of the best places to travel in India, but did you know that it's one of the best places to shop as well?
These sandalwood carvings are usually found in the state of Kerala, and make the perfect model souvenir from India because it is made from one of the most beautiful and fragrant trees in the world and the carvings have the most intricate designs on them as well.
You'll see these for sale all over, from the best shops to the best hotels in Kerala.
Kashmiri Carpets
Kashmiri carpets have beautiful and elaborate designs with a very specific color palette that you do not find elsewhere apart from India.
Homemade Candles
Homemade candles from Nainital are known across the country for their beauty and fragrance. These are also great if you're looking for inexpensive or even cheap souvenirs from India that also travel well.
Copper and Brass Handicrafts
India is the home of so many talented artisans. The metal crafts are well known and common throughout the country and they make one of the best gifts to bring back home because of how beautiful and inexpensive they are.
Handcrafted Puppets
Handcrafted puppets are a vibrant and well-known part of Indian culture. They make great décor pieces and are quite popular, especially in Delhi, in India.
India Travel Resources
Are you interested in what to buy in India because you're preparing for a trip? If so, check out the best India quotes and India puns for Instagram captions, plus the best Mumbai puns, Taj Mahal quotes, and Taj Mahal puns for Instagram.
You can also watch these fabulous Bollywood travel movies to help you prepare!
5 Things to Pack for Your Trip to India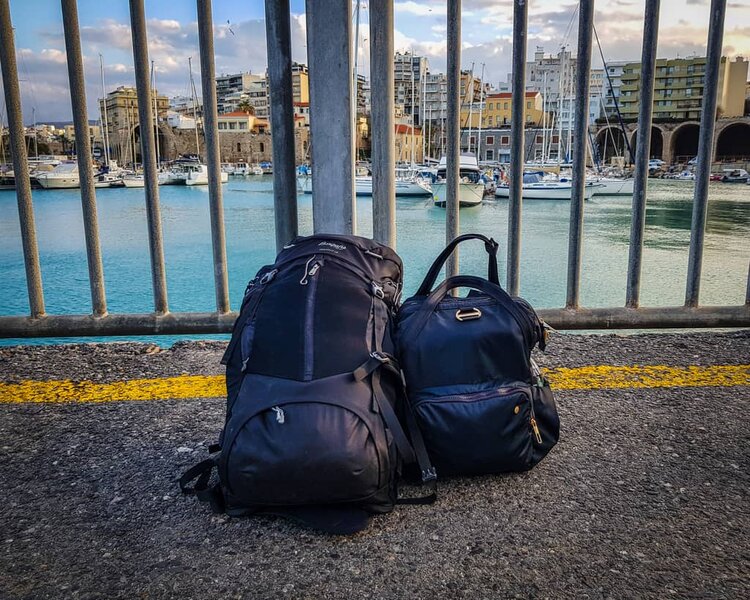 The Lonely Planet India guidebook. It can be kind of a pain to find the major guidebooks once you land, or you'll find them overpriced. I always like to pick mine up ahead of time.
An Unlocked Cell Phone so that you can use a local sim card while here to help navigate public transportation and when you're on the road.
Backup Charging Bank for your cell phone since you'll be using it as a camera, GPS system, and general travel genie.
A Camera since India is super photogenic. I use a mix of my Nikon D810 and my Samsung8 smartphone these days.
A Great Day Bag so you can carry what you need with you (like your camera, snacks, water, sunscreen, cash, etc). My current favorite is the Pacsafe Citysafe, which is especially great for India because it has many anti-theft features designed to deter pickpockets.
Don't Forget About Travel Insurance!
Before you leave for India make sure you have a valid Travel Insurance Policy because accidents happen on the road. I pay for World Nomads, and I happily recommend them. It's especially important to get travel insurance if you'll be hanging out in cities like New Dehli and Mumbai where tourists can easily become the targets of pickpockets.
I have been a paying customer of World Nomads for travel insurance for three years, and I happily recommend them. If you get sick, injured, or have your stuff stolen, you'll be happy to have the ability to pay for your medical bills or replace what's stolen or broken.
Pin this Guide to What to Buy in India for Your Travels!