Note: This post may contain affiliate links. Please see my disclosure page for more details.
Lisbon is such a fascinating city that no fridge magnet or snow globe can represent its essence (though they are fun, too!). Yes, anything that reminds you of the destination can be a souvenir. However, you can rest assured that these authentic mementos from Lisbon will have a more personal touch. So for those wondering what to buy in Lisbon, here are my recommendations for the best Lisbon souvenirs and Lisbon gifts!
The best part? Many of these are not expensive, which is great if you're trying to travel to Lisbon on a budget!
Can't read now? Pin for later!
The Best Souvenirs from Lisbon
In no particular order…
Lisbon Tea
The tea tradition in Portugal is very old. Portugal was one of the first European countries to adopt the Chinese tradition of making and drinking tea. In fact, it was a Portuguese woman that made tea drinking fashionable in England, Queen Catherine of Braganza, the wife of King Charles II.
If you want to buy tea that perfectly sums up Lisbon's charm, then you should look for these two custom-made blends: Lisbon Afternoon and Lisbon Breakfast. It's best to buy them at their place of origin, Companhia Portugueza do Chá, where they will pack it and seal it for you on the spot!
If you want to taste Lisbon Breakfast before you buy it as your Lisbon souvenir, they brew it at a place called Dear Breakfast. It's right around the corner, and they get their tea straight from the source.
Coffee
Although tea drinking is an old tradition in Portugal, coffee is undoubtedly the favorite beverage of modern Lisboetas. The average Portuguese adult consumes about 4.4 kilos of coffee each year. You will find a cafe around every corner of the city.
Many establishments sell local coffee as a souvenir. No matter where you decide to buy your coffee in Lisbon, don't hesitate to ask the seller to recommend a blend that is best suited for your taste. Local espresso, known as bica, is particularly popular.
Canned Sardines
Many consider Lisbon to be the home of the best-canned fish in the world, and it is hard to disagree. Leaving the city without some conservas in your bag would be a shame, no matter how unusual it sounds.
Apart from the taste, the colorful vintage packs are what make canned sardines such a unique and cool souvenir. If you are not a fan of sardines, delicious codfish, octopus, and mackerel are also available in cool and lovely cans.
The best place to buy sardines in the city is Conserveira de Lisboa. An old and famous landmark of Lisbon, the shop sells 130 varieties of canned fish.
If Lisbon is the starting point of your Camino Portugues or your backpacking adventure across Portugal, do know that Lisboaner sardines make for delicious, healthy, and budget-friendly snacks for when you are on the go!
Be sure to pack a few cans in your bag. They go great with delicious Portuguese olives and good bread, and you can find these everywhere in the country.
Art and Design Pieces
If you want to support local artists and businesses, as well as bring home unique, cool, or romantic souvenirs, consider buying art and design pieces in Lisbon. Avoid the typical souvenir shops in crowded areas if you want to get unique home décor pieces.
To find authentic pieces made in Portugal, browse museum shops or look for design stores. You can buy great art at the following places:
Portugal Gifts: Started by a group of local artisans and designers, this store offers traditional handcrafts with a contemporary twist.
A Vida Portuguesa: This well-known chain of stores sells great, genuine Portuguese products. There are three A Vida Portuguesa shops in the city—in Intendente, in Chiado, and at the Time Out Market.
Apaixonarte: This famous art gallery also doubles as a design store. It only sells pieces made in Portugal, no exceptions.
Loja dos Museus: If you don't have the time to browse each museum shop separately, you'll be happy to know that this place sells replicas of the famous pieces you can find in the city's museums.
Portuguese Tiles
Azulejo (Portuguese tile) is the one souvenir every Lisboeta will tell you to buy. Portuguese tiles are quite literally a piece of the city's culture. From subway stations to Baroque churches, you can find these tiles everywhere in Lisbon.
Many locals will tell you to browse the flea market if you want to buy old tiles at very low prices. But there's a caveat to this. These tiles were either stolen from protected buildings of great cultural and historical significance, or they are not as old as the seller claims they are.
Luckily, you can get lovely Portuguese tiles responsibly and sustainably at the following places:
Fábrica de Sant'Anna: Established in the 18th century, Sant'Anna is one of the last working artisanal ceramic factories in Europe. Here, you can see how Portuguese tiles are made as well as buy them.
Cortiço e Netos: This shop specializes in discontinued product lines. It is a great place to discover industrial azulejo from the previous century. The store is a true treasure trove of mismatched tiles.
Museu Nacional do Azulejo – There is no better place to buy lovely Portuguese tiles and learn everything about this precious art form than the National Tile Museum in Lisbon.
Cork Accessories
While most of the world uses cork for sealing wine bottles, Portugal has found a much more creative use for it. Local artisans use this resource to make interesting shoes, hats, wallets, handbags, and shoulder bags.
Aside from looking cute, cork products are also waterproof! There are numerous stores in downtown Baixa that sell quality cork accessories. One of the best stores that specialize in all things cork is Pelcor Lisboa.
In Lisbon, a larger cork bag costs around $100. Prices for cork wallets start around $25.
Ginjinha
There is great wine all over Portugal, but it is not the only alcoholic beverage that is worth taking home from Lisbon. Walking around Alfama, the city's oldest and most historic area, you will surely catch a whiff of a pleasant cherry aroma. You may also see old ladies, perched on their windows, serving shots to tourists.
This is a famous cherry liquor sold all over the city, locally known as Ginjinha. Lisboetas from all walks of life love to drink it in bars, on the streets, or at home. A bottle of good Ginjinha costs around $12.
5 Things to Pack for Your Trip to Portugal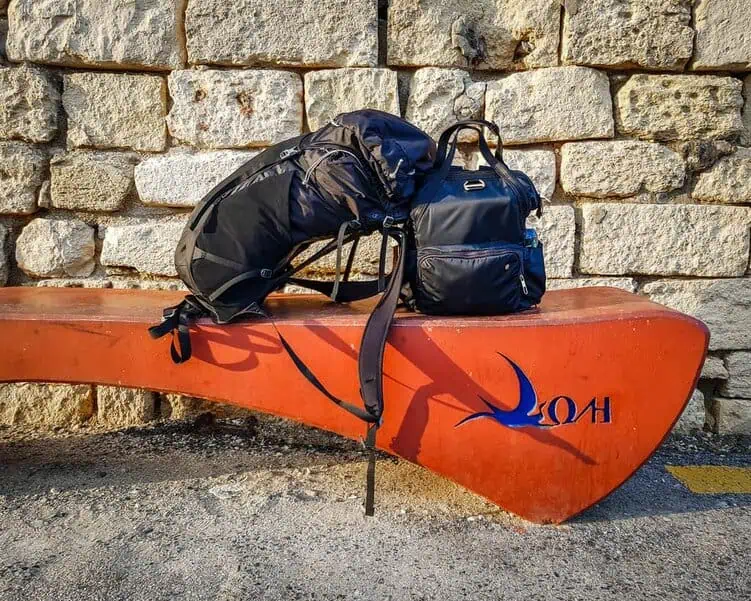 The Lonely Planet Portugal guidebook for your trip. It can be hard to find big, international guidebooks once you land (or they'll be way overpriced). Get yours ahead of time, either a hard copy or on a Kindle.
An Unlocked Cell Phone so that you can use a Portuguese sim card while here to help navigate public transportation and when you're on the road.
Backup Charging Bank for your cell phone since you'll be using it as a camera, GPS, and general travel genie.
A Camera since Portugal is super photogenic. I use a mix of my Nikon D810 and my Samsung8 smartphone these days.
A Great Day Bag so you can carry what you need with you (like your camera, snacks, water, sunscreen, cash, etc). My current favorite is the Pacsafe Citysafe, which is especially great for Portuguese cities because it has many anti-theft features designed to deter pickpockets.
It also transitions to a night bag more easily and won't embarrass you if you go to dinner directly after sightseeing all day.
More Portugal Travel Resources
Headed to Portugal? Check out what to do in Belem and how to visit Lisbon on a budget. I also have a guide to visiting the Convent of Christ Tomar, one of Portugal's UNESCO World Heritage Sites!
Here are great quotes about Portugal and Portugal Instagram captions for your gorgeous Portugal photos. You can also check out my podcast Rick Steves Over Brunch which has multiple Portugal episodes!
Don't Forget About Travel Insurance!
Before you leave for Portugal make sure you have a valid Travel Insurance Policy because accidents happen on the road. I pay for World Nomads, and I happily recommend them. It's especially important to get travel insurance if you'll be hanging out in cities like Lisbon and Porto where tourists can easily become the targets of pickpockets.
I have been a paying customer of World Nomads for travel insurance for three years, and I happily recommend them. If you get sick, injured, or have your stuff stolen, you'll be happy to have the ability to pay for your medical bills or replace what's stolen or broken.
Pin this Guide to What to Buy in Lisbon, Portugal for Your Portuguese Adventure!