This post may contain affiliate links. Please see my disclosure page for more details.
Last Updated on: 22nd August 2021, 01:13 am
New Zealand is a land of excitement and adventure. Once you've caught a taste of New Zealand, you'll want to bring back home some memories. There's no better way to do this than to bring back a fabulous New Zealand souvenir for you, plus you'll want to pick up a few New Zealand gifts for friends and family back home!
Can't read now? Pin for later!
The Best Souvenirs from New Zealand
There are plenty of New Zealand souvenirs to buy for yourself or to bring back as gifts from New Zealand for your loved ones. Even if you live in Kiwi Land, here are some ideas for New Zealand gifts you can send to friends and family living far away.
It's essential that your souvenir is unique and something that you or a loved one will cherish for a long time. Whether you are in New Zealand for a honeymoon, family vacation, or New Zealand's popular working holiday jobs, the souvenirs we've listed below will be a great reminder of the remarkable time you had in the Land of the Cloud.
A Jade Necklace
Also known as pounamu or greenstone, you'll find these beautiful necklaces in every place you visit in New Zealand. Pounamu is traditionally a New Zealand gift for someone who is special to you rather than getting it as a souvenir for your self.
Merino Wool
New Zealand is one of the world's biggest exporters of sheep. With these beautiful animals comes a crazy amount of wool and wool products. There's nothing that'll say 'I love you,' to grandpa like a warm, soft, wool sweater, blanket, or scarf. They also make great souvenirs for yourself. Look for fun pieces that you can work into your decor so you'll always remember your trip!
All Blacks Rugby Jersey & Team Presents
If you're a Rugby enthusiast (or even if you're not) an All Blacks jersey or other All Blacks souvenir is a uniquely New Zealand souvenir. If you time your trip right, you can even try to go to a game!
Manuka Honey
You haven't tasted honey made for the gods if you've never had some Manuka honey. You can find this honey in supermarkets all over New Zealand. Bring it back home for your sweet-toothed friend. If there's one souvenir that'll be easy for you to pick up, it's Manuka honey.
Lord of the Rings Souvenirs… AKA One Ring to Rule them All!
Okay, so this one is for The Hobbit or The Lord of the Rings film lovers. Once you reach Middle Earth, you have to get yourself or your nerdy friend a ring made by Jens Hansen Ring makers. They are the makers of the official One Rings. If this doesn't earn you friendship points, nothing else will!
Soft Toy Kiwi
If you are looking for a New Zeland gift for kids, then you need to pick up a plush Kiwi! These fun toys are the perfect symbol of the nation to bring back to the littles in your life.
Maori Art
One of my favorite souvenirs to bring back from my travel is local artwork. I love to find pieces made in the region to support local artists, and they're always fun to see whenever I look at my walls at home. Make sure that Maori people benefit from your purchase!
Authentic New Zealand Wine
The wine is fine in New Zealand, and you'll find something here for every kind of wine lover to enjoy. For the best experience, take a trip to one of the many wineries and choose between a Pinot Noir or Sauvignon Blanc.
Pukeko Poo
Okay, wait, this is not actual bird poo, it's chocolate that looks like the swamp hen poo. So maybe it is poo after all! Make this an excellent gift for a friend who sees the humor in everything or a souvenir for kids who will giggle for days!
Kiwi Land Snacks
You're not going to find these snacks anywhere else, so you'd better take home dome ginger nuts, pineapple lumps, or even some jaffa chocolates. These are great New Zealand souvenirs for coworkers and officemates!
Geothermal Mud Products
These are a great souvenir to have on standby whenever your skin decides to misbehave. The healing properties of geothermal mud will have you feeling great in no time. These also make a great New Zealand gift for her if you're looking for something sweet to bring back to a special lady in your life!
Just be careful and pack them in your checked luggage. I had some Dead Sea Mud confiscated when I packed it in my carryon.
Penguin Souvenirs
Who doesn't love penguins? Whether you're looking for a New Zealand gift for kids or kid-like, a toy penguin is sure to delight!
Paua Jewelry
If you are looking for a small souvenir from New Zealand, get yourself a bracelet, necklace, or earrings inlaid with the famous Paua Shell. The Paua is a kind of Abalone mollusk only found in New Zealand. Its meat is a delicacy enjoyed by both locals and visitors, and its shell is bright and fabulous.
Holiday Decorations
I love getting Christmas and Holiday decorations when I travel. If you live in the Northern Hemisphere, get some fun holiday decorations from New Zealand's summer Christmas.
Money from New Zeland
New Zealand's money is known for being beautiful. Why not bring back a few spare bills to remember your trip by?
New Zealand Books
I love buying books on my travels. While people think you can get any book back home, it's actually not the case! There are tons of small independent publishers around the world whose books aren't available online. I especially love getting books at museum gift shops and used book stores.
New Zealand Flag Souvenirs
If you do a lot of international travel, you might start a flag souvenir collection. Small flags take up almost no room in your suitcase but make for beautiful and colorful souvenirs from New Zealand that you can pull out whenever you feel nostalgic.
Wooden Souvenirs & Figurines
New Zeland is famous for its beautiful wood products. You can find beautiful plates, serving dishes, and even figurines of famous New Zealand animals. Look for pieces made from indigenous New Zealand wood like Kauri and Rimu.
Toy Sheep
After seeing all the sweet New Zealand sheep, you can bring back an adorable stuffed toy for the perfect New Zealand gift for children waiting for you to come home.
Fern Souvenirs
The silver fern is the national plant of New Zealand. All over the country, you can find beautiful jewelry and other gifts adorned with this symbol.
Traditional New Zealand Kitsch
If there's a typical kitschy souvenir that you like collecting on your trips, whether you like to buy snowglobes, t-shirts, spoons, bells, refrigerator magnets, etc., you'll be happy to know that you can easily find these gifts all over New Zealand!
More New Zealand Travel Resources
If you're headed to New Zealand, check out these seven places that belong on your New Zealand bucket list plus these stunning UNESCO World Heritage Sites in New Zealand.
If you will be combining a trip to New Zealand with Australia, check out these Australia quotes and puns for Australia Instagram captions.
5 Things to Pack for Your Trip to New Zealand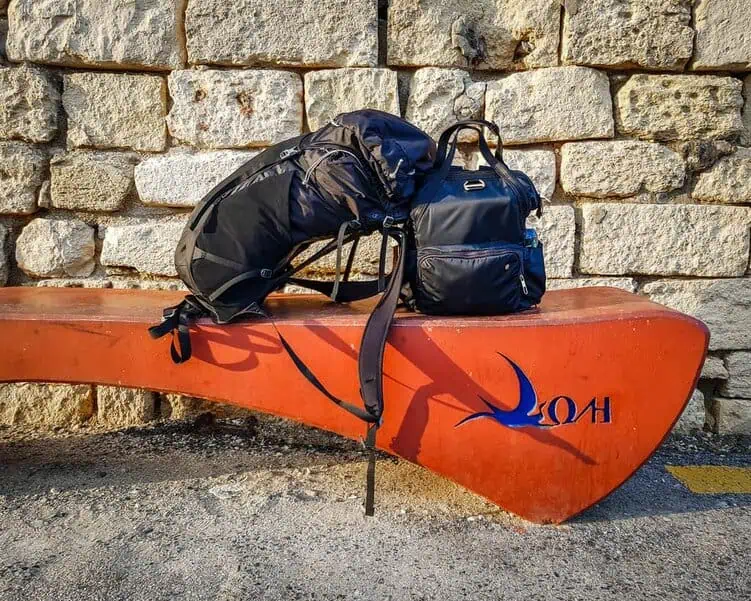 The Lonely Planet New Zealand guidebook for your trip. It can be kind of a pain to find the major guidebooks once you land, or you'll find them overpriced. I always like to pick mine up ahead of time.
An Unlocked Cell Phone so that you can use a local sim card while here to help public transportation.
Backup Charging Bank for your cell phone since you'll be using it as a camera, GPS, and general travel genie.
A Camera since New Zealand is super photogenic. I use a mix of my Nikon D810 and my Samsung8 smartphone these days.
A Great Day Bag so you can carry what you need with you (like your camera, snacks, water, sunscreen, cash, etc). My current favorite is the Pacsafe Citysafe, which is especially great for cities in New Zealand because it has many anti-theft features designed to deter pickpockets. It also transitions to a night bag more easily and won't embarrass you if you go to dinner directly after sightseeing all day.
Don't Forget About Travel Insurance!
Before you leave for New Zealand make sure you have a valid Travel Insurance Policy because accidents happen on the road. I pay for World Nomads, and I happily recommend them. It's especially important to get travel insurance if you'll be hanging out in the great outdoors where injuries can happen.
I have been a paying customer of World Nomads for travel insurance for three years, and I happily recommend them. If you get sick, injured, or have your stuff stolen, you'll be happy to have the ability to pay for your medical bills or replace what's stolen or broken.
Pin this Guide to What to Buy in New Zealand for Your Trip!