This post may contain affiliate links. Please see my disclosure page for more details.
Last Updated on: 19th June 2023, 06:40 pm
Wondering what to buy in the Philippines?
Here are the best Filipino souvenirs and ideas for things to bring back to friends and family as gifts from the Philippines, including ideas for loved ones, romantic partners, and kids!
Read next: 27 Stunning Beaches in the Philippines You Need to See!
Can't read now? Pin for later!
My Favorite Travel Booking Sites for 2023
These are my favorite companies that I use on my own travels.
Protect Your Trip via Safety Wing
Find the best city tours, day tours, bus tours, & skip-the-line tickets on GetYourGuide and Viator.
Find the best deals on hotels & vacation rentals on Booking.com.
For English-speaking private airport transfers, book through Welcome Pickups.
For road trips and independent travel, rent a car through Discover Cars.
Find information and cruise reviews on Cruise Critic.
For packing and travel essentials order via Amazon.
Book an affordable family or romantic photography session on your trip through Flytographer (Use the code HISTORYFANGIRL for 10% off your first photoshoot).
For travel guidebooks to have with you during your trip, I always pick one or two from Rick Steves and Lonely Planet.
The Best Philippines Souvenirs
In no particular order…
Model Jeepney
During your time in the Philippines, you're sure to see a fun and colorful Jeepney out and about. Bring back a toy or model version to remember your trip.
This also makes a great Filipino souvenir for kids.
Batak Souvenirs
If you choose to put Palawan on your Philippines itinerary, you can shop for beautiful items made by the Batak tribe.
You will need to go on an organized tour for access, but don't worry as the tours know to leave enough time for you to shop from local artisans before your group departs. 
If you prefer to book a private tour instead, you can check out YGD Travel which is the only agency I found who offers this service.
Manila Hemp Bags
Made from the fibers of the Abaca banana plant, Manilla hemp is a sturdy material for making bags and accessories.
Look for pieces that incorporate colors and a bit of flair. 
Hand-Woven Textiles
The Philippines produces beautiful textiles that are woven by hand. Make sure whatever you pick out goes to support the textile workers as much as possible.
Bags and scarves are better than full garments unless you know how you'll wear your clothing without using it as a costume. 
Sungka
This Filipino version of mancala comes in beautifully carved wooden boards that are both decorative and entertaining.
This is a great idea for a souvenir from the Philippines for families since you can play together at home and enjoy thinking about your trip while you do.
A MassKara Festival Mask
Whether you're able to attend the MassKara Festival or not, if you see these beautiful and colorful masks for sale, don't hesitate to bring one back home with you!
You can use them to adorn your walls or give them as gifts for children. 
A Capiz Shell Lamps
You will see capiz shells used on all kinds of decorative items throughout the Philippines. A great way to bring a piece of this beauty back home with you is to pick up a capiz shell lamp.
You can find them in their traditional opal white or dyed in brightly colored hues. 
A Guitar
Guitar music is a tradition brought to the Philippines by the Spanish. You can find locally produced guitars, from professional instruments to small souvenir guitars.
These make great items to bring back as Filipino gifts for kids. 
Filipino Pearls
The waters around the Philippines produce beautiful pearls. South Sea pearls are the national gem of the Philippines.
You can find them in traditional white and a beautiful shade of gold.
Locally Crafted Jewelry
Buying locally crafted jewelry is a great way to remember your trip. It's also the perfect romantic souvenir to bring back to a partner waiting for you at home!
If you're not into pearls, there are lots of other great options for jewelry from the Philippines. Try to support a local artisan or small business. 
Books about the Philippines
I love buying books on my travels. While people think you can get any book back home, it's actually not the case!
There are tons of small independent publishers around the world whose books aren't available online. I especially love getting books at museum gift shops and used book stores. 
Tanduay Rum
If you're looking for a great Filipino gift for him, bring back a bottle of Tanduay Rum.
Considered the unofficial drink of the Philippines, it has been produced here since the mid-nineteenth century.
While they proudly proclaim themselves the best rum in the world, it's more likely that this is just the best rum in Asia. But that is reason enough to bring a bottle home with you!
An Abaniko Fan
An abaniko is a traditional hand-held fan used by Filipina ladies. The position of the fan can communicate information about the woman holding it.
They are made from leaves and stems and colored in traditional colors and patterns of the local area. 
Renegade Folk Shoes
Shoes are a common travel souvenir for shopping enthusiasts since you can typically start wearing them while you're still on your trip.
You can get inexpensive flip flops and sandals everywhere, but if you want an authentic Filipino brand that is ultra-stylish pick up a pair of Renegade Folk sandals. 
Wooden Gifts
Wood carving has been an important tradition in the Philippines for over two thousand years.
Today you can find stunning handmade carvings (as well as less expensive mass-produced items) for sale all over the country.
These are great souvenirs for anyone looking for something natural and beautiful to display at home.
Musical Instruments
Another souvenir I like to buy on my travels is local instruments. Drums make especially great souvenirs since you can display them at home.
Beautiful local Filipino drums make a fabulous souvenir if you want something beyond a traditional guitar.
Local Artwork
I love bringing back artwork from local artists on my trips. Look for galleries that support and feature local artists rather than big galleries that target tourists with generic stuff.
Filipino Coffee
Coffee has been grown in the Philippines for almost three hundred years, and Filipinos are proud of how delicious authentic locally grown coffee is.
You can bring back a bag of beans to grind at home so your morning cup of joe before work is just as delicious as what you enjoyed on vacation. 
Dried Mangos
While in the Philippines, you'll be enjoying mango all over the country.
Why not take some dried mango home with you for a healthy snack that's also a great reminder of your fabulous vacation?
A Tattoo by Apo Whang-Od
If you're interested in getting a travel tattoo, getting a tattoo by Apo Whang-Od is a unique experience, and one you are blessed to get to experience.
This Filipino tattoo artist is one of the most famous in the world, and at 103 years old she's also one of the most experienced.
She is considered the last and oldest mambabatok, which is a traditional Kalinga tattooist.
Happy Skin Cosmetics
If you're planning on having a shopping day in Manilla, look out for Happy Skin Cosmetics.
This homegrown cosmetics brand has partnered with Disney and is a great inexpensive way to remember your trip every morning! 
San Miguel Beer
Founded in 1890, San Miguel beer is the most popular beer in the Philippines. You will no doubt run into the logo during your time here.
You can bring back some San Miguel swag to remember how refreshing your time in Filipinas. 
Filipino Money
Coins and bills are a great Filipino memento from your trip known for being beautiful.
Why not bring back a bit of your spare change on your way home?
A Banig Mat
While they might look like yoga mats to the uninitiated, these Filipino mats are designed for sleeping and are made from Buri, pandanus, or seagrass leaves.
Bring one back to incorporate into your home decor. 
An Aranaz Bag
If you want to bring home a bit of Filipino fashion, then make sure to set aside some time to visit Aranaz.
This luxury brand of bags handmade in the Philipines is a great place to shop for yourself or find Filipino gifts for her. Check out their locations in Manila.
Filipino Flag Souvenirs
If you do a lot of international travel, you might start a flag souvenir collection.
Small flags take up almost no room in your suitcase but make for beautiful and colorful souvenirs from the Philippines that you can pull out whenever you feel nostalgic. 
Traditional Kitschy Souvenirs
If you love collecting spoons, T-shirts, or other kitschy souvenirs on your travels, rest assured you will be able to find these kinds of fun and tacky Filipino souvenirs all over the islands!
I personally love picking up a refrigerator magnet from my travels.
If you're looking for a good cheap Filipino souvenir, pick up a beautiful postcard!
5 Things to Pack for Your Trip to the Philippines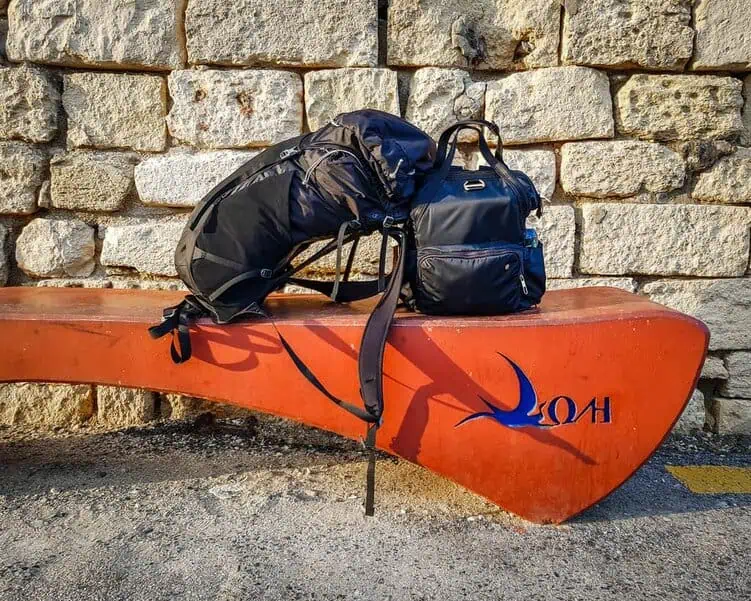 The Lonely Planet Philippines guidebook for your trip. It can be kind of a pain to find the major guidebooks once you land, or you'll find them overpriced. I always like to pick mine up ahead of time.
An Unlocked Cell Phone so that you can use a local sim card while here to help public transportation.
Backup Charging Bank for your cell phone since you'll be using it as a camera, GPS, and general travel genie.
A Camera since the Philippines is super photogenic. I use a mix of my Nikon D810 and my Samsung8 smartphone these days.
A Great Day Bag so you can carry what you need with you (like your camera, snacks, water, sunscreen, cash, etc).
My current favorite is the Pacsafe Citysafe, which is especially great for cities in the Philippines because it has many anti-theft features designed to deter pickpockets.
It also transitions to a night bag more easily and won't embarrass you if you go to dinner directly after sightseeing all day. 
Don't Forget About Travel Insurance!
Before you leave for the Philippines make sure you have a valid Travel Insurance Policy because accidents happen on the road.
I pay for World Nomads, and I happily recommend them.
It's especially important to get travel insurance if you'll be hanging out in the great outdoors where injuries can happen.
I have been a paying customer of World Nomads for travel insurance for three years, and I happily recommend them.  
If you get sick, injured, or have your stuff stolen, you'll be happy to have the ability to pay for your medical bills or replace what's stolen or broken.
Get a Travel Insurance quote for your trip.
Pin this Guide to What to Buy in the Philippines for Your Trip!