This post may contain affiliate links. Please see my disclosure page for more details.
Last Updated on: 19th June 2023, 06:40 pm
Indonesia, the most prosperous economy in Southeast Asia, is home to more than 13,000 islands.
These islands, together with the mainland, is the collective home to more than 250 million people from diverse ethnic groups and speaking different languages.
It's no surprise that in the capital city of Jakarta food is as diverse as its geography. Here is what to eat in Jakarta as well as what to drink!
Can't read now? Pin for later!
My Favorite Travel Booking Sites for 2023
These are my favorite companies that I use on my own travels.
Protect Your Trip via Safety Wing
Find the best city tours, day tours, bus tours, & skip-the-line tickets on GetYourGuide and Viator.
Find the best deals on hotels & vacation rentals on Booking.com.
For English-speaking private airport transfers, book through Welcome Pickups.
For road trips and independent travel, rent a car through Discover Cars.
Find information and cruise reviews on Cruise Critic.
For packing and travel essentials order via Amazon.
Book an affordable family or romantic photography session on your trip through Flytographer (Use the code HISTORYFANGIRL for 10% off your first photoshoot).
For travel guidebooks to have with you during your trip, I always pick one or two from Rick Steves and Lonely Planet.
The Influences on Jarkarta's Food
The abundance of rice, spices, and soybeans in Indonesia is a reflection of the country's fertile landscape. The seas surrounding the islands provide seafood in abundance for the Indonesian people.
Many cultures profoundly influence Indonesia's culinary traditions. Indonesia's Javanese civilizations shaped the country's cooking and dining.
It was later influenced by the Indian and Chinese traders who flocked the country to trade. Indonesia's culinary traditions were then influenced by the Europeans when they flocked the country in search of expensive native spices such as cloves and nutmeg.
Where to Eat in Jakarta, Indonesia
There's no other better place to experience Indonesia's culinary traditions than in 5-star hotels in Jakarta Indonesia by Ayana.
Inside these 5-star hotels, you will get the chance to try a mouthwatering array of fiery curries, broth-soaked noodles, banana-wrapped fish, sweet peanut dressing, vegetable salads, among other foods from Indonesia.
Besides 5-star hotels, you can also sample Indonesia's food in Warung (small family-owned eateries).
In Warung, you will find all the specialties of Indonesia. Food in these eateries is usually prepared ahead of time and served at room temperature.
These eateries are not highly regulated, and therefore you should avoid them if you are worried about your health.
Instead, it would help if you considered having your meals in 5-star hotels in Jakarta, where they employ high-quality standards in food preparation.
In Indonesia, there are Padang restaurants that serve buffet. These restaurants serve food the hidang style, where the waiter brings several saucers with different foods your table.
They will charge you for the dishes you eat. The hidang technique of serving food was invented in West Sumatra, where it spread to other parts of Indonesia, including Jakarta.
Just like many other cities across the world, the love for cheap and good food also spills over to Indonesia.
In Jakarta, you will find street food carts almost at every corner. Again, if you are worried about your health, you should keep off street food in Jakarta Indonesia because many of these eateries have no regard for food safety.
What to Eat in Jakarta, Indonesia
These are the best Jakarta food and drinks that you need to try!
Satay
Indonesian satay is meat skewers that are cooked over coals so hot that you would need a fan to waft the smoke away.
Whether it is mutton, goat, or rabbit meat, these skewers are usually marinated in turmeric, grilled, and then soaked in a thick peanut sauce.
Satay is usually served with rice cakes. It's believed that stay originated from the Indonesian streets and found its way to other parts of the world.
Rendang
Rendang originated from West Sumatra and spread to other parts of Indonesia, including Jakarta.
Redang refers to dry curry that is beef, goat, liver, chicken, or other meats. It's prepared by cooking with spices until dry. T
he end product is an intense concoction of taste and texture. It's considered the best food not only in Indonesia but also all over the world.
Fried Rice
Indonesia is among the largest rice producers in the world. It's no surprise that they have the best-fried rice whose reputation has taken the world by storm.
You can have the fried rice served with chicken, veggies, seafood, beef, or anything else you can think of. Indonesian fried rice is different because they use a sweet, thick soy sauce known as keycap.
They also garnish the rice with pickled cucumber, acar, and carrots.
Nasi Uduk
Nasi uduk refers to rice cooked in coconut milk. It includes a pinwheel of a variety of vegetable and meat accompaniments.
It mostly includes boiled eggs, fried chicken, and soybean cake. Nasi uduk came into the limelight about five decades ago, and it's now a favorite among Indonesians and individuals coming to visit Indonesia.
Bir Pletok
Bir pletok is a traditional drink from the Betawi people in Jakarta.
Pletok beer is a refreshing drink made through the mixing of multiple spices, including lemongrass, ginger, and pandan leaves.
Its name might be confusing, but there's no alcohol here! It's a purely non-alcoholic drink!
More Indonesia Travel Resources
Headed to Indonesia? Check out these beautiful Indonesia quotes and puns for your Indonesia Instagram captions! You can also use my quotes for Bali and Bali puns if you head from Jakarta to Bali during your trip.
5 Things to Pack for Your Trip to Indonesia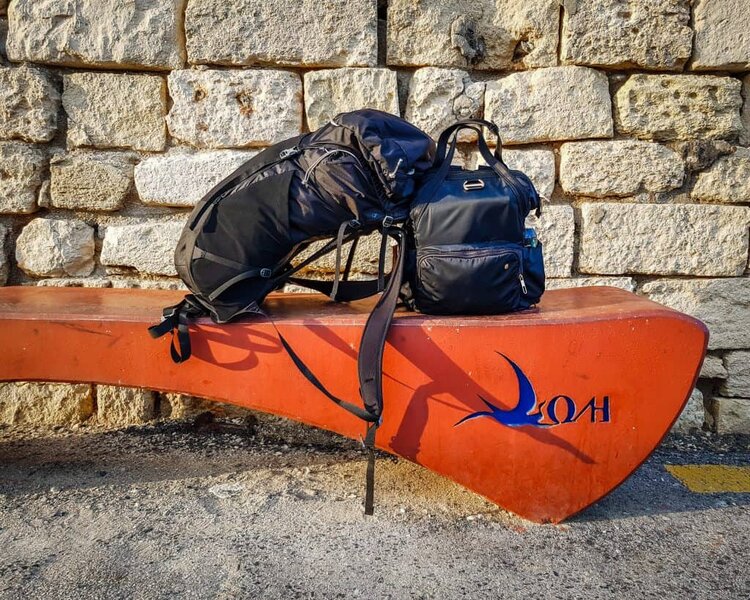 The Lonely Planet Indonesia guidebook for your trip. It can be kind of a pain to find the major guidebooks once you arrive or you'll find them overpriced. I always like to pick mine up ahead of time.
An Unlocked Cell Phone so that you can use an Indonesian sim card and have internet access without relying on local wifi.
Backup Charging Bank for your cell phone since you'll be using it as a camera, GPS, and general travel genie.
A Camera since Indonesia is super photogenic. I use a mix of my Nikon D810 and my Samsung8 smartphone these days.
A Great Day Bag so you can carry what you need with you (like your camera, snacks, water, sunscreen, cash, etc). My current favorite is the Pacsafe Citysafe, which is especially great for Asian cities because it has many anti-theft features.
Don't Forget Travel Insurance!
Before you leave for Indonesia make sure you have a valid Travel Insurance Policy because accidents happen on the road. I pay for World Nomads, and I happily recommend them. It's especially important to get travel insurance if you'll be hanging out in cities (like Jakarta…ahem) where tourists can be the victims of pickpockets. 
I have been a paying customer of World Nomads for travel insurance for three years, and I happily recommend them.  If you get sick, injured, or have your stuff stolen, you'll be happy to have the ability to pay for your medical bills or replace what's stolen or broken.
Pin This Guide to the Best Jakarta Food and Drinks for Your Trip!