This post may contain affiliate links. Please see my disclosure page for more details.
Last Updated on: 18th March 2023, 11:07 pm
Looking for beautiful quotes about Malta?
The island nation has inspired some truly beautiful travel quotes.
So whether you're looking for travel inspiration or Malta Instagram captions or Facebook statuses, here are my favorite Malta quotes!
Read Next: 250 Inspirational Travel Quotes & Travel Instagram Captions
Can't read now? Pin for later!
My Favorite Travel Booking Sites for 2023
These are my favorite companies that I use on my own travels.
Protect Your Trip via Safety Wing
Find the best city tours, day tours, bus tours, & skip-the-line tickets on GetYourGuide and Viator.
Find the best deals on hotels & vacation rentals on Booking.com.
For English-speaking private airport transfers, book through Welcome Pickups.
For road trips and independent travel, rent a car through Discover Cars.
Find information and cruise reviews on Cruise Critic.
For packing and travel essentials order via Amazon.
Book an affordable family or romantic photography session on your trip through Flytographer (Use the code HISTORYFANGIRL for 10% off your first photoshoot).
For travel guidebooks to have with you during your trip, I always pick one or two from Rick Steves and Lonely Planet.
How to Use these Malta Quotes
Feel free to use this post to find beautiful quotes about Malta for your photo captions, Malta Instagram captions, Malta Whatsapp status, Viber status, Malta Facebook status, or however you want!
If you do use one, I'd love if you linked or tagged me so I can enjoy your work! 
If you use one on a website, please link to this post. Otherwise, you can follow and tag me on social media so I can see you using them in action:
Instagram: @historyfangirl
Facebook: Stephanie Craig – History Fangirl
Twitter: @ahistoryfangirl
The Best Malta Quotes & Malta Instagram Captions
Here are my favorite quotes about Malta, including inspiration from poems, literature, pop culture, and quotes by famous Maltese authors!
In Malta, the Wars of Religion reached their climax. If both sides believed that they saw Paradise in the bright sky above them, they had a close and very intimate knowledge of Hell. –Ernle Bradford
Malta is my home and Malta is my love,

And I've got the birds at the coast to great you all;
But like the muse of your love,
You will always meet me at the coast as your tourist guide.
-Edward Kofi Louis
Adieu, ye joys of La Valette! -Lord Byron
In 1539, these crusading knights persuaded Emperor Charles V to give them the island of Malta. He made them but one condition:
They were to pay him, each year, the tribute of one falcon, in acknowledgment that Malta was still under Spain.
Do you have any conception of the extreme, the immeasurable wealth of the Order at that time? –The Maltese Falcon
Malta is a sod of a place. -David Niven
But Malta comes to my heart when I do think of you,
And I am by the wayside waiting for you. -Edward Kofi Louis
On Malta's rock -John Greenleaf Whitter
He speaks with a very strong accent though his English seems quite good to me
The man from the fishing Village in Malta by the Mediterranean sea
He likes to go rod and line fishing and cast his line from rocks on the shore
In the low tide in the early evening, he fishes for two hours or more.
-Francis Duggan
i spell it secretly
and i don't spill it like your
beans in Malta
-Ric S. Bastasa
No. It's malt. Not malta. Malt is a dessert, Malta is an island. –VeggieTales
Very few of my books are about who stole the Maltese Falcon. -Robert B. Parker
Bulletin: My wife's back from Malta. One of the first to know. She made it a point to call me personally and tell me that in Malta she shared her bed with a bald-headed middle-aged gentleman with a beard. -An American Dream
Gozo remained an utterly private place, an island in petto – within the breast – and lucky the man who could find the key, turn the lock, and vanish inside. –Nicholas Monserrat
Love Travel Quotes?
I'm a little obsessed with travel quotes. If you are too, check out this massive guide to 250 Inspirational Travel Quotes & Travel Instagram Captions, plus:
101 Italy Quotes & Dreamy Italy Instagram Captions
101 Quotes about France to Inspire Your Travels & Your France Instagram Captions
101 Sweet Switzerland Quotes for Gorgeous Switzerland Captions & Statuses
30 Perfect Portugal Quotes for Captions & Statuses
Malta Travel Resources
Headed to Malta? Here are some resources to help you plan your trip!
First, check out my guide to the best Malta photography spots. If you're interested in Malta's beaches, check out my guide to spending a day at the Blue Lagoon.
Looking for more Instagram caption ideas? Check out these funny Malta puns.
You can read about the history of the country's beautiful Maltese balconies here. Finally, if you're headed to Gozo, here is my list of the best things to do on the island.
5 Things to Pack for Malta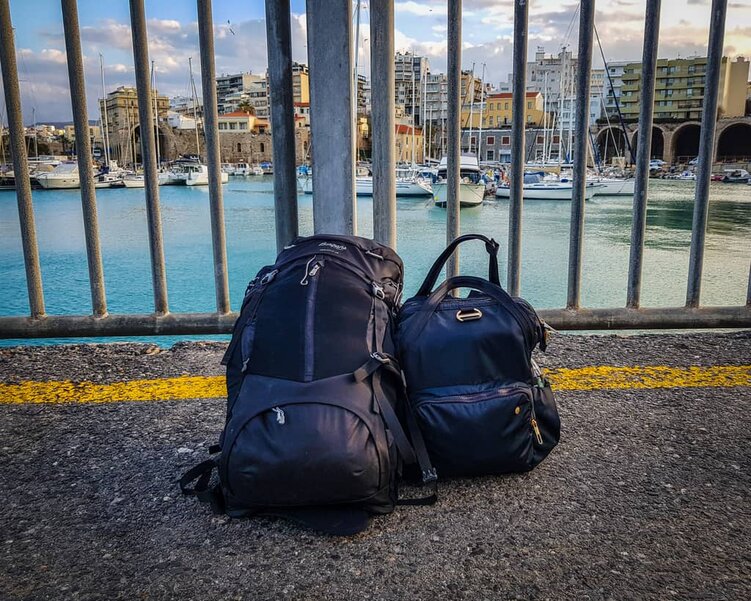 The Lonely Planet Malta guidebook for your trip. It can be hard to find big, international guidebooks once you land (or they'll be way overpriced). Get yours ahead of time, either a hard copy or on a Kindle.
Beach Bag: You can throw everything in a canvas tote bag or a multi-purpose day bag like this large Longchamp that I use as a purse on the road and a beach bag when needed.
Go Pro: If you have one, bring it here. You're going to want to get underwater photography at most of the beaches.
Full Sized Travel Towel: This towel is the perfect travel towel to have for both using at your hotel/hostel but also taking to the beach since it's so big and beautiful.
Rolls up small and comes with its own pouch so it takes up almost no room in your beach bag. Seriously, I'm obsessed with my travel towel.
Water shoes or sandals that can handle rocks, since many of the beaches here have underwater rocks. I use these Travel Jellies.
Don't Forget About Travel Insurance!
Before you leave for Malta make sure you have a valid Travel Insurance Policy because accidents happen on the road. I pay for World Nomads, and I happily recommend them. It's especially important to get travel insurance if you'll be enjoying the great outdoors or Malta's famous nightlife.
I have been a paying customer of World Nomads for travel insurance for three years, and I happily recommend them.  If you get sick, injured, or have your stuff stolen, you'll be happy to have the ability to pay for your medical bills or replace what's stolen or broken.
Pin these Malta Quotes & Malta Instagram Captions for Your Trip!