This post may contain affiliate links. Please see my disclosure page for more details.
Last Updated on: 22nd August 2021, 01:20 am
Looking for beautiful quotes about Portugal? Lusitania has inspired some truly beautiful travel quotes. So whether you're looking for travel inspiration or Portugal Instagram captions or Facebook statuses, here are my favorite Portugal quotes!
Read Next: 250 Inspirational Travel Quotes & Travel Instagram Captions
Can't read now? Pin for later!
How to Use these Portugal Quotes
Feel free to use this post to find beautiful quotes about Portugal for your photo captions, Portugal Instagram captions, Portugal Whatsapp status, Viber status, Portugal Facebook status, or however you want! If you do use one, I'd love if you linked or tagged me so I can enjoy your work! 
If you use one on a website, please link to this post. Otherwise, you can follow and tag me on social media so I can see you using them in action:
Instagram: @historyfangirl
Facebook: Stephanie Craig – History Fangirl
Twitter: @ahistoryfangirl
The Best Portugal Quotes & Portugal Instagram Captions
Here are my favorite quotes about Portugal, including inspiration from poems, literature, pop culture, and quotes by famous Portuguese authors!
Portugal Travel Quotes
By day Lisbon has a naive theatrical quality that enchants and captivates, but by night it is a fairy-tale city, descending over lighted terraces to the sea, like a woman in festive garments going down to meet her dark lover. -Erich Maria Remarque
Oh, salty sea, how much of your salt Is tears from Portugal? -Fernando Pessoa
Portuguese is cheerful and sweet, like a language of birds. –Paulo Rónai
My affection hath an unknown bottom, like the Bay of Portugal. -William Shakespeare
The first poem in The Beauty holds a woman in Portugal in a wheelchair singing, with great power, a fado. I have never seen this or heard of it, the image simply arrived. But surely such a thing has happened. And it matters to me that it has, or could. -Jane Hirshfield
The only thing that matters is to feel the fado. The fado is not meant to be sung; it simply happens. You feel it, you don't understand it and you don't explain it. –Amália Rodrigues
But Portugal has a peaceful feel about it. I sit on the terrace overlooking the vineyard there and I feel cut off from the world. You need that sort of thing. -Cliff Richard
Portugal is a high hill with a white watch tower on it flying signal flags. It is apparently inhabited by one man who lives in a long row of yellow houses with red roofs, and populated by sheep who do grand acts of balancing on the side of the hill. -Richard Harding Davis
In the Middle Ages, Spain and Portugal were so powerful that they signed a set of treaties literally dividing up the globe between them. -Max Fisher
I came home from Portugal convinced that nothing is so important as making known what the Mother of God asked in those apparitions of 1917 . . . The future of our civilization, our liberties, our very existence may depend upon the acceptance of her commands. -William Thomas Walsh
Heroic ages are not and never were sentimental and those daring conquistadores who conquered entire worlds for their Spain or Portugal received lamentably little thanks from their kings. -Stefan Zweig
Lisbon, to me, is the Lisbon of Pessoa. –Kamand Kojouri
Funny Quotes about Portugal
Portugal has a national team called Cristiano Ronaldo and a group of players who run after him. -Carlos Queiroz
I bought some land in Portugal, on the highest hill in Guimaraes, because I pictured that I wanted to build my house there. I said, 'What a perfect place this would be,' but I forgot to ask the council if I could build a house there. When I did, they said, 'No!' -Nuno Espirito Santo
Portugal? Well, gonna live it up in ol' South America, aren't we, Michael? -Arrested Development
I like to dream about Portugal, and it's less easy when you are there. -Maria de Medeiros
I had this aunt who had a career and traveled. She'd say things like, "When you go to college, I think we should go scuba diving in the summer. The scuba diving in Portugal is fabulous." And I'd be like, "Portugal! Holy cats!" -Geena Davis
So, I've been looking over these contracts, and I gotta say, I think this might be a little out of my league. For one thing, it seems like if these contracts are not executed precisely, we will be at war with Portugal. -How I Met Your Mother
It was a terrible mistake to have been born in Portugal. -Marta Leite de Castro
And Matthew, of course, is from Neptune. I, myself, am descended from the Pilgrims who came over on the Mayflower from… Portugal, or somewhere. –News Radio
Apparently, both the Portuguese and Spanish found a way out of their crisis. It's called cheating on tourists! –Daniel Marques
As we say in Portugal, they brought the bus and they left the bus in front of the goal. -Jose Mourinho
Michael, I'm on to you! The Spanish lessons! If you're headed for Portugal, it's due south! -Arrested Development
Oh, yeah, as a matter of fact it is. I just became a Knight in Portugal, the Presidente gave a special ball. –The Life Aquatic with Steve Zissou
Portugal Food & Wine Quotes
Portugal has amazing seafood with all the eyeballs staring back at you. -Annie Wersching
There are two kinds of persons which cannot be trusted in this world: the ones who do not greet you with a firm handshake and the ones who do not eat prawn heads. –Nelson Carvalheiro
PORTUGUESE, n.pl. A species of geese indigenous to Portugal. They are mostly without feathers and imperfectly edible, even when stuffed with garlic. -Ambrose Bierce
Ultimately, I went to Portugal and stayed in this old monastery for weeks and ate fish and potatoes. -Jared Leto
Suddenly and without warning, one of the men stepped around and, with the beast's nether regions regrettably all too apparent, plunged his bare hand up to the elbow in the pig's rectum, then removed it, holding a fistful of steaming pig s*** – which he flung, unceremoniously, to the ground with a loud splat before repeating the process. –Anthony Bourdain
I love white Portugal wine better than claret, champagne, or burgundy. I have a sad vulgar appetite. -Jonathan Swift
Love Travel Quotes?
I'm a little obsessed with travel quotes. If you are too, check out this massive guide to 250 Inspirational Travel Quotes & Travel Instagram Captions, plus:
5 Things to Pack for Your Trip to Portugal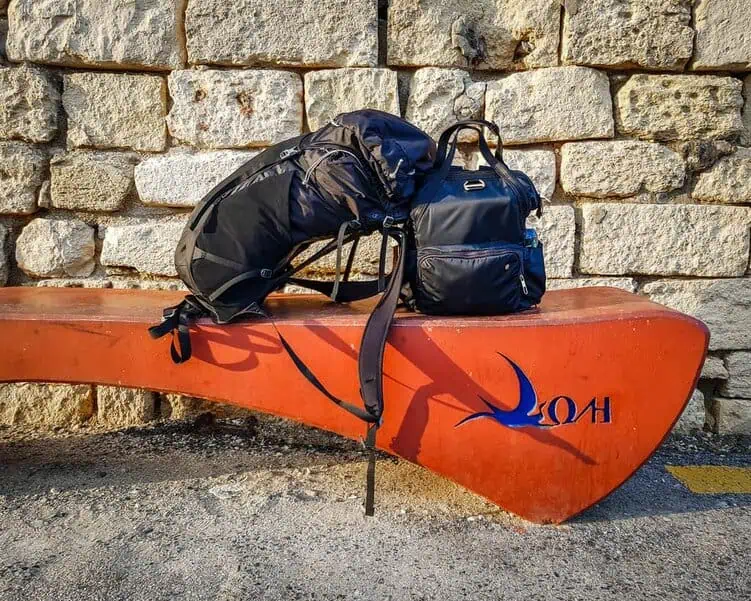 The Lonely Planet Portugal guidebook for your trip. It can be hard to find big, international guidebooks once you land (or they'll be way overpriced). Get yours ahead of time, either a hard copy or on a Kindle.
An Unlocked Cell Phone so that you can use a Portuguese sim card while here to help navigate public transportation and when you're on the road.
Backup Charging Bank for your cell phone since you'll be using it as a camera, GPS, and general travel genie.
A Camera since Portugal is super photogenic. I use a mix of my Nikon D810 and my Samsung8 smartphone these days.
A Great Day Bag so you can carry what you need with you (like your camera, snacks, water, sunscreen, cash, etc). My current favorite is the Pacsafe Citysafe, which is especially great for Portuguese cities because it has many anti-theft features designed to deter pickpockets.
It also transitions to a night bag more easily and won't embarrass you if you go to dinner directly after sightseeing all day.
More Portugal Travel Resources
Headed to Portugal? Check out how to travel Lisbon on a budget, what to do in Belem and the best Portugal Instagram captions. You can also check out my podcast Rick Steves Over Brunch which has multiple Portugal episodes!
Don't Forget About Travel Insurance!
Before you leave for Portugal make sure you have a valid Travel Insurance Policy because accidents happen on the road. I pay for World Nomads, and I happily recommend them. It's especially important to get travel insurance if you'll be hanging out in cities like Lisbon where tourists can easily become the targets of pickpockets.
I have been a paying customer of World Nomads for travel insurance for three years, and I happily recommend them. If you get sick, injured, or have your stuff stolen, you'll be happy to have the ability to pay for your medical bills or replace what's stolen or broken.
Pin these Portugal Quotes & Portugal Instagram Captions for Your Trip!