This post may contain affiliate links. Please see my disclosure page for more details.
Last Updated on: 6th February 2023, 03:17 pm
Looking for beautiful quotes about Cyprus?
The Island of Love has inspired some truly beautiful travel quotes.
So whether you're looking for travel inspiration or Cyprus Instagram captions or Facebook statuses, here are my favorite Cyprus quotes!
Read next: 250 Inspirational Travel Quotes & Travel Instagram Captions
Can't read now? Pin for later!
My Favorite Travel Booking Sites for 2023
These are my favorite companies that I use on my own travels.
Protect Your Trip via Safety Wing
Find the best city tours, day tours, bus tours, & skip-the-line tickets on GetYourGuide and Viator.
Find the best deals on hotels & vacation rentals on Booking.com.
For English-speaking private airport transfers, book through Welcome Pickups.
For road trips and independent travel, rent a car through Discover Cars.
Find information and cruise reviews on Cruise Critic.
For packing and travel essentials order via Amazon.
Book an affordable family or romantic photography session on your trip through Flytographer (Use the code HISTORYFANGIRL for 10% off your first photoshoot).
For travel guidebooks to have with you during your trip, I always pick one or two from Rick Steves and Lonely Planet.
How to Use these Cyprus Quotes
Feel free to use this post to find beautiful quotes about Cyprus for your photo captions, Cyprus Instagram captions, Cyprus Whatsapp status, Viber status, Cyprus Facebook status, or however you want!
If you do use one, I'd love if you linked or tagged me so I can enjoy your work! 
If you use one on a website, please link to this post. Otherwise, you can follow and tag me on social media so I can see you using them in action:
Instagram: @historyfangirl
Facebook: Stephanie Craig – History Fangirl
Twitter: @ahistoryfangirl
The Best Cyprus Quotes & Cyprus Instagram Captions
Here are my favorite quotes about Cyprus, including inspiration from poems, literature, pop culture, and quotes by famous Cypriot authors!
Cyprus Travel Quotes
I've been waiting over 40 years to come to Cyprus, and it has not disappointed – the birthplace of Aphrodite, the Crossroads of Civilization… Joe Biden
In Cyprus, our house was right on the beach. I could walk out of our front door, cross a road, and there was the sea. -Theo Paphitis
Thus weary of the world, away she hies,
And yokes her silver doves; by whose swift aid
Their mistress mounted through the empty skies
In her light chariot quickly is convey'd;
Holding their course to Paphos, where their queen
Means to immure herself and not be seen."
― William Shakespeare
Cyprus has a reputation as a laundromat for the Russians who are trying to avoid sanctions. -Mike Quigley
Two goddesses now must Cyprus adore; The Muses are ten, the Graces are four; Stella's wit is so charming, so sweet her fair face; She shines a new Venus, a Muse, and a Grace. -Callimachus
The people of Cyprus have sent a strong message… of stability, credibility, and change. -Nicos Anastasiades
If Aphrodite chills at home in Cyprus for most of the year, then Fez must be the goddess's playground. –Raquel Cepeda
The man tilted back his head, raised his eyebrows, cast his eyes to heaven, pouted his lips, and said, "Tch!"
"That performance," said the chief, "is the Cypriot way of saying 'No'…." –Peter Paris
Lawn as white as driven snow; Cyprus black as e'er was crow; Gloves as sweet as damask roses. -William Shakespeare
I lived in Cyprus for six years where I learnt all about flatbreads. -Paul Hollywood
Love Travel Quotes?
I'm a little obsessed with travel quotes. If you are too, check out this massive guide to 250 Inspirational Travel Quotes & Travel Instagram Captions, plus:
More Cyprus Travel Resources
Headed to Cyprus? Check out my guide to the best Cyprus beaches. Then hit up my guide to the best things to do in Cyprus.
If you love visiting UNESCO World Heritage Sites, I have overviews on visiting the Painted Churches in the Troodos, Paphos, and Choirokoitia.
If you love street art, here are my favorite pieces of street art in Nicosia. And here's why I didn't like the town of Paphos.
Need more captions? Check out these funny Cyprus puns.
5 Things to Pack for Cyprus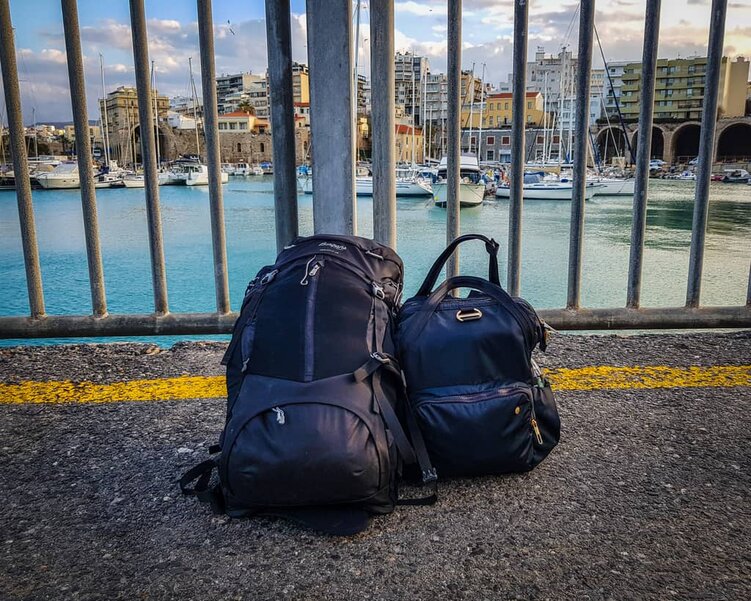 The Lonely Planet Cyprus guidebook for your trip. It can be hard to find big, international guidebooks once you land (or they'll be way overpriced). Get yours ahead of time, either a hard copy or on a Kindle.
Beach Bag: You can throw everything in a canvas tote bag or a multi-purpose day bag like this large Longchamp that I use as a purse on the road and a beach bag when needed.
Go Pro: If you have one, bring it here. You're going to want to get underwater photography at most of the beaches.
Full-Sized Travel Towel: This towel is the perfect travel towel to have for both using at your hotel/hostel but also taking to the beach since it's so big and beautiful. Rolls up small and comes with its own pouch so it takes up almost no room in your beach bag. Seriously, I'm obsessed with my travel towel.
Water shoes or sandals that can handle rocks, since many of the beaches here have underwater rocks. I use these Travel Jellies.
Don't Forget About Travel Insurance!
Before you leave for Cyprus make sure you have a valid Travel Insurance Policy because accidents happen on the road. I pay for World Nomads, and I happily recommend them. It's especially important to get travel insurance if you'll be enjoying the great outdoors or Cyprus's famous nightlife.
I have been a paying customer of World Nomads for travel insurance for three years, and I happily recommend them. If you get sick, injured, or have your stuff stolen, you'll be happy to have the ability to pay for your medical bills or replace what's stolen or broken.
Pin these Cyprus Quotes & Cyprus Instagram Captions for Your Trip!