This post may contain affiliate links. Please see my disclosure page for more details.
Last Updated on: 15th September 2021, 10:37 pm
Looking for beautiful quotes about Rome, Italy? The Eternal City has inspired novelists, historians, and travel writers for centuries. From its beautiful ruins to its sumptuous cuisine, the city never ceases to delight. Whether you're looking for travel inspiration or Rome Instagram captions, here are my favorite Rome quotes.
Read next: 50 Hilarious Rome Puns & Inspiration for Rome Instagram Captions
Can't read now? Pin for later!
My Favorite Travel Booking Sites for 2023
These are my favorite companies that I use on my own travels.
Protect Your Trip via Safety Wing
Find the best city tours, day tours, bus tours, & skip-the-line tickets on GetYourGuide and Viator.
Find the best deals on hotels & vacation rentals on Booking.com.
For English-speaking private airport transfers, book through Welcome Pickups.
For road trips and independent travel, rent a car through Discover Cars.
Find information and cruise reviews on Cruise Critic.
For packing and travel essentials order via Amazon.
Book an affordable family or romantic photography session on your trip through Flytographer (Use the code HISTORYFANGIRL for 10% off your first photoshoot).
For travel guidebooks to have with you during your trip, I always pick one or two from Rick Steves and Lonely Planet.
The Best Quotes about Rome
Here are my favorite Rome quotes from literature, history, travel, and beyond.
A fool is one who admires other cities without visiting Rome. -Francesco Petrarca
From the dome of St. Peter's one can see every notable object in Rome…He can see a panorama that is varied, extensive, beautiful to the eye, and more illustrious in history than any other in Europe. -Mark Twain
Only in Rome is it possible to understand Rome. -Goethe
I thought I knew everything when I came to Rome, but I soon found I had everything to learn. -Edmonia Lewis
I found Rome a city of bricks and left it a city of marble. -Augustus Ceasar
Oh Rome! my country! city of the soul! -Lord Byron
Italy has changed. But Rome is Rome. -Robert De Niro
When thou art at Rome, do as they do at Rome. -Miguel de Cervantes
Rome holds my psyche in balance. Whenever I'm there, it's like a holiday. -Giambattista Valli
Rome-the city of visible history, where the past of a whole hemisphere seems moving in funeral procession with strange ancestral images and trophies gathered from afar. -George Eliot
Rome will exist as long as the Coliseum does;
when the Coliseum falls, so will Rome;
when Rome falls, so will the world.
-The Venerable Bede
If I'm in Rome for only 48 hours, I would consider it a sin against God to not eat cacio e pepe, the most uniquely Roman of pastas, in some crummy little joint where Romans eat. I'd much rather do that than go to the Vatican. That's Rome to me. -Anthony Bourdain
The fall of Rome seemed unthinkable to people at the time but inevitable to historians reflecting upon it with the benefit of context. -Mary Pilon
Rome is a little bit different. There is something in Rome, incredible, like in a Fellini movie. Everybody's screaming and laughing very loud. -Alessandro Michele
If we could be reborn wherever we chose, how crowded Rome would be. -Francine Prose
Rome is not like any other city. It's a big museum, a living room that shall be crossed on one's toes. -Alberto Sordi
Rome is the city of echoes, the city of illusions, and the city of yearning. -Giotto di Bondone
Yes, I have finally arrived to this Capital of the World! I now see all the dreams of my youth coming to life. -Goethe
Rome was a poem pressed into service as a city. -Anotole Broyard
Rome is magic. -Maria Grazia Cucinotta
Rome is a place almost worn out by being looked at, a city collapsing under the weight of reference. -Graham Joyce
I like things that are kind of eclectic when one thing doesn't go with another. That's why I love Rome. The town itself is that way. It's where Fascist architecture meets classic Renaissance, where the ancient bangs up against the contemporary. It has a touch of everything. -Giambattista Valli
Rome is a city wherein every corner you have a reminder of the sacred world. That's why I have sacred music, minimalist sacred music, which is also music I like because, at the end of the day, that's what I want to do. -Paolo Sorrentino
Italy will never be a normal country. Because Italy is Italy. If we were a normal country, we wouldn't have Rome. We wouldn't have Florence. We wouldn't have the marvel that is Venice. -Matteo Renzi
The thing I love about Rome is that it has so many layers. In it, you can follow anything that interests you: town planning, architecture, churches, or culture. It's a city rich in antiquity and early Christian treasures, and just endlessly fascinating. There's nowhere else like it. -Claire Tomalin
The beauty of Rome is that you can wander into a pizzeria just about anywhere and get a real Italian pizza that's thankfully worlds away from the Super Supreme I used to order at Pizza Hut as a kid. -Ed Stoppard
Rome has not seen a modern building in more than half a century. It is a city frozen in time. -Richard Meier
When in Rome, live as the Romans do; when elsewhere, live as they live elsewhere. -Saint Ambrose
I am a sucker for those old traditional places, and Rome is as good as it gets, particularly when you throw in Italian food. -Roger Federer
I wanted to get across the idea that underneath Rome today is ancient Rome. So close. I am always conscious of that, and it thrills me. -Federico Fellini
Rome is one enormous mausoleum. There, the past lies visibly stretched upon his bier. There is no today or tomorrow in Rome; it is perpetual yesterday. -Thomas Bailey Aldrich
Rome is one of my favourite cities in the world. -Erin Heatherton
You look at passers-by in Rome and think, 'Do they know what they have here?' -Frank McCourt
There's one thing that I like about Rome that was stated by Napoleon: that from sublime to pathetic is only one step away. And in Rome there's a constant shifting between sublime and pathetic. -Paolo Sorrentino
In Rome, I particularly love the history, churches, sculptures, and architecture and the fact that you can walk along a tiny cobbled street and turn the corner to find the Trevi Fountain. -Philip Treacy
I'm sure when they partied when Rome was burning, that was a really great party. -Adam McKay
All roads indeed lead to Rome, but theirs also is a more mystical destination, some bourne of which no traveler knows the name, some city, they all seem to hint, even more eternal. -Richard Le Gallienne
Ancient Rome was as confident of the immutability of its world and the continual expansion and improvement of the human lot as we are today. -Arthur Erickson
Rome was great in arms, in government, in law. -Goldwin Smith
All the bad things that have ever happened to me have always happened in Rome. -Richard Burton
Ancient Rome declined because it had a Senate, now what's going to happen to us with both a House and a Senate? -Will Rogers
All things atrocious and shameless flock from all parts to Rome. -Tacitus
They say Rome wasn't built in a day, but I wasn't on that particular job. -Brian Clough
I think there are two cities in the world – New York and Rome. -Frank McCourt
Rome has grown since its humble beginnings that it is now overwhelmed by its own greatness. -Livy
Ancient Rome was a violent place. -James Purefoy
Oddly enough, I'm not religious but I'm also very fond of St Peter's in Rome. When I'm there, I always know there's a good meal not far away. -Jonathan Pryce
Going around Rome, you can find beauty because, quite simply, Rome is very beautiful. But the beauty of the people is sometimes harder to discover. -Paolo Sorrentino
Have you read any beautiful quotes about Rome recently? If so, leave them in the comments, and I'll add it to the list!
5 Things to Pack for Your Trip to Rome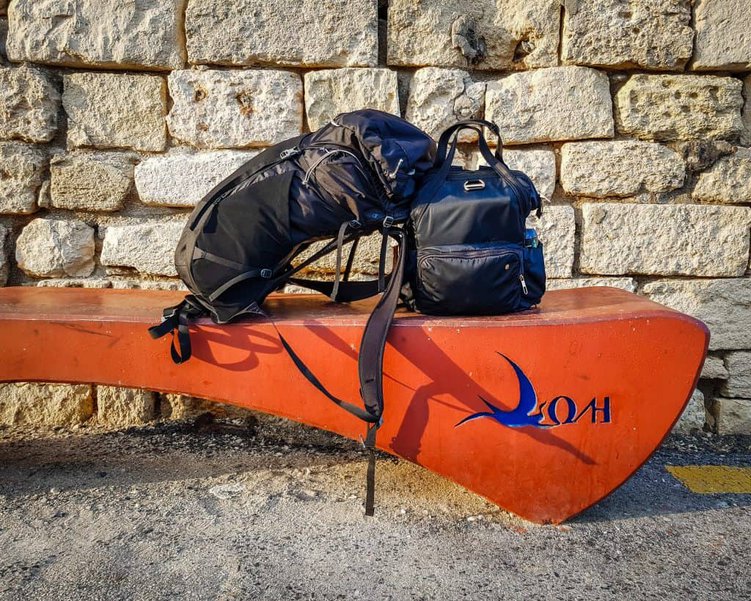 The Lonely Planet Italy guidebook or the Rick Steves Italy guidebook for your trip. It can be kind of a pain to find the major guidebooks once you arrive in Italy, or you'll find them overpriced. I always like to pick mine up ahead of time.
An Unlocked Cell Phone so that you can use an Italian sim card while here to help navigate the trains.
Backup Charging Bank for your cell phone since you'll be using it as a camera, GPS system, and general travel genie.
A Camera since Rome is super photogenic. I use a mix of my Nikon D810 and my Samsung8 smartphone these days.
A Great Day Bag so you can carry what you need with you (like your camera, snacks, water, sunscreen, cash, etc). My current favorite is the Pacsafe Citysafe, which is especially great for Italy because it has many anti-theft features.
Where to Stay in Rome
There are tons of hotels in Rome, but it can get confusing comparing value when thinking about all the different locations you can pick during your time here. I'm including recommendations for hotels and hostels in these three budget categories:
Budget: A room in a hostel, usually $25-35 USD per night for a dorm bed or under $70 for a double.
Mid-range: Around $75-125 USD per night
Luxury: Around $150 per night or more
Budget: Rome has a ton of hostels to choose from, but most of them are blessed with pretty bad reviews (even for hostels). For an affordable hostel dorm that people actually love staying in, pick New Generation Hostel Santa Maria Maggiore. Just a ten or fifteen-minute walk to the Coliseum and Termini Station, the hostel has a great location that will make your time in Rome easy. Complete with free wifi and shared kitchens, it will also help keep your overall costs down. Check the pricing, reviews, and availability here.
Mid-Range: For modern rooms and a fabulous location at a mid-range price, check out The Wesley Rome. Hotels in the city have gotten so much better since my first trip to Rome, and The Wesley is a great example. While the rooms are smaller than at some other hotels, the location can't be beaten! It sells out very fast, so book your room here early. Check the pricing, reviews, and availability here.
Luxury: For a complete Roman luxury vacation, stay at the five-star Sina Bernini Bristol which is the iconic Roman hotel located behind the Bernini Triton fountain on Piazza Barberini. With a great location that's walkable to most of Rome's best sites, you'll feel at home right in the heart of the city. After long days of exploring the city, you can retreat to the hotel's sauna and Turkish bath. Check the pricing, reviews, and availability here.
Rome Italy Resources
If you're going to be visiting Rome, check out my interview with Mike Duncan on the history of the Roman Forum. I also have three episodes about Rome on Rick Steves Over Brunch, including this episode on Rome recorded with Rick Steves himself!
Looking for more Rome Instagram caption inspiration? Check out the 50 best Rome puns.
In addition, I have guides to visiting Ostia Antica from Rome and how to choose between Pompeii or Ostia Antica.
If you're headed to Venice, check out my podcast episode Rick Steves Over Brunch: Venice and my collection of quotes about Venice and hilarious Venice puns and jokes.
Headed to Milan? Be sure to check out these beautiful ancient Milan churches while you're there!
Finally, check out my list of books to read before your vacation in Italy.
Are you a fan of travel quotes? If so, here are over 250 inspirational travel quotes, plus the best quotes about Paris, Venice, Belize, and Iceland.
Don't Forget Travel Insurance!
Before you leave for Italy make sure you have a valid Travel Insurance Policy because accidents happen on the road. I pay for World Nomads, and I happily recommend them. It's especially important to get travel insurance if you'll be hanging out in cities (like Rome…ahem) where tourists can be the victims of pickpockets. Italy is the only country I've been to (out of almost seventy) where I've had someone try to pick my pocket!
I have been a paying customer of World Nomads for travel insurance for two years, and I happily recommend them. If you get sick, injured, or have your stuff stolen, you'll be happy to have the ability to pay for your medical bills or replace what's stolen or broken.
Pin these Rome Quotes & Rome Instagram Captions for Your Trip!